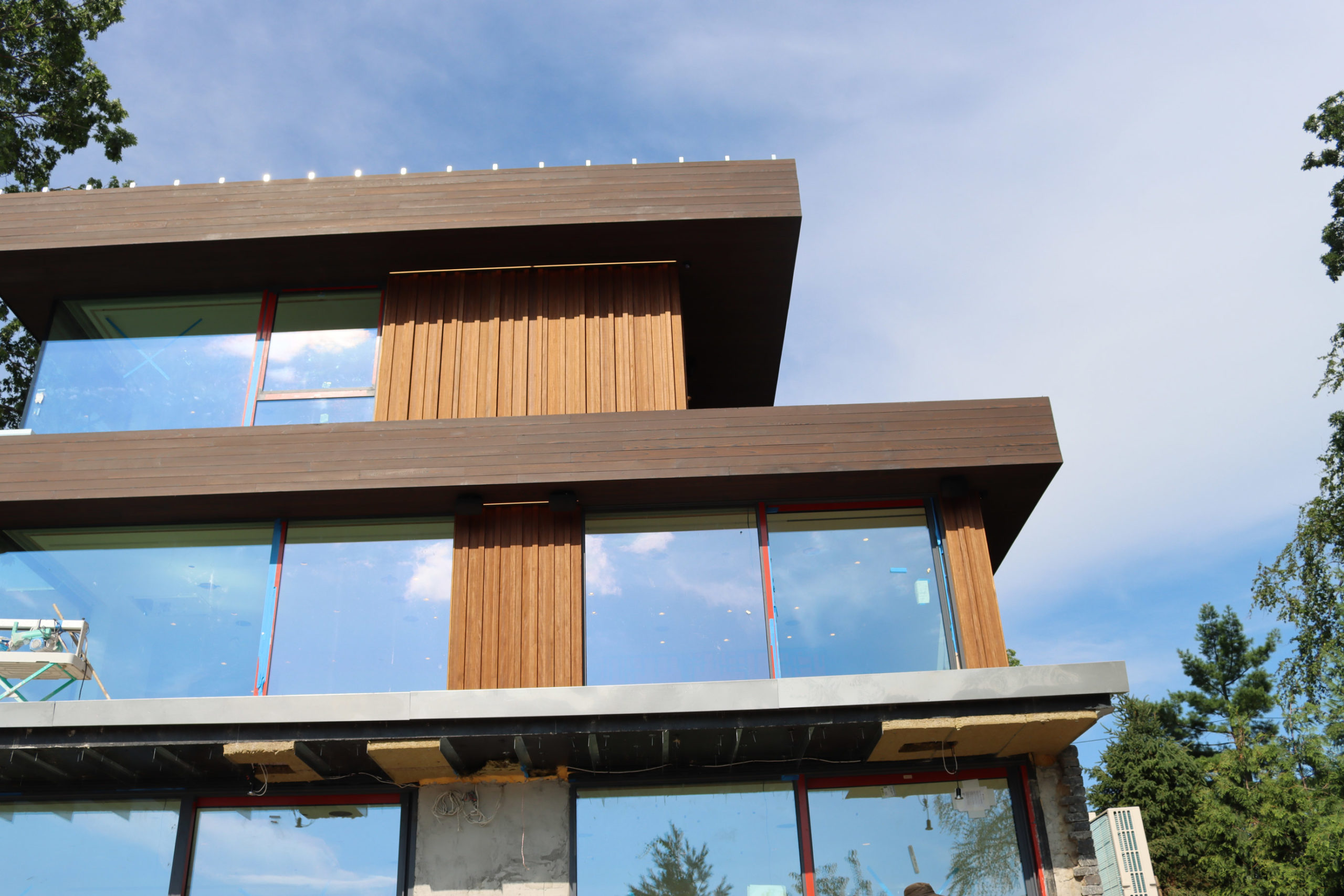 New Fairfield Lake Residence – Connecticut
DETAILS
Location: New Fairfield, CT
Architect: Worrell Yeung
Exterior Cladding:
reSAWN TIMBER co.
TEAK – FSC-Certified Abodo® wood
Species: Radiata Pine (Pinus radiata)
FSC® Certified: FSC® Mix Credit
CVG (Clear Vertical Grain)
Finished on face only, sealed on back & 2 long edges
Fine Sawn Face
Varied thicknesses and widths
6′-16′ random lengths
WB12
reSAWN TIMBER co.
PONZU – shou sugi ban charred cypress
Select Grade
Finished on face only, sealed on back & 2 long edges
Solid +/- 13/16" thick x +/- 5-1/8" wide x 6′-16′ random lengths
Tongue & Groove
This private residence features almost 4,000 sq. ft. of Abodo cladding and slats finished with the color TEAK and 3,000 sq. ft. of PONZU charred Cypress. The varying widths and thicknesses of the Abodoexterior cladding provide an artistic depth to the project. Located in a gated community on Candlewood Isle, this home has fantastic panoramic views of Candlewood Lake, the largest lake in Connecticut. The Isle not only offers stunning views but also provides a clubhouse, tennis courts, camps for kids, bocce, and social events.
TEAK by reSAWN TIMBER co. features Abodo Vulcan Cladding finished with Abodo Protector Oil which uses the latest in waterborne oil technology combining refined plant oils, UV protection, advanced water barrier composition, and an enhanced fungicidal package for superior exterior performance. Vulcan thermally modified wood cladding is created from New Zealand plantation timber and engineered with a patented vertical grain orientation for superior weathering characteristics. reSAWN TIMBER co's Abodo Fine Sawn Face Vulcan Cladding provides a unique, textured surface with beautiful grain depth. This fine sawn texture opens the wood grain to allow for optimal coating performance. The thermal modification process and vertical grain structure mean Vulcan cladding has superior stability and reduced resin content.
Worrell Yeung is an architecture and design studio based in New York City and founded in 2014. The practice is an award-winning full-service architectural firm with a diverse portfolio that includes residential, public, and commercial spaces. They focus on design solutions that are rigorous and concept-driven that respond to the inherent and unique complexities of each project. Attention to project environments, longevity, quality, and richness of spaces, are all areas they carefully investigate throughout the design process. Backed by technical proficiency and experience, their work is characterized by a minimal, refined, and restrained aesthetic, relying on a balanced play of elements such as light, color, form, and material, to create unique and comfortable spaces. Worrell Yeung is a certified Minority-owned Business Enterprise.