WEATHERED WOOD
EXTERIOR WOOD SPECIES DESIGNED TO WEATHER GRACEFULLY

reSAWN's WEATHERED designs highlight wood's natural beauty and allow the material to age gracefully in place with little to no maintenance.  Some of the WEATHERED designs feature our reactive finishes which seek to minimize the variation between newly installed and aged wood siding. We also offer unfinished Accoya (see KOWHAI) which is a high performing exterior wood that is meant to weather naturally to grey post-install.  
WEATHERED IMAGES
Roll over images to see a simulation of how materials weather over time
Weathered images meant to be representative only. Actual weathering will depend on weather, altitude and facing.  Contact reSAWN for photos and documentation of accelerated weather testing with Q-labs.
Unfinished western red cedar tends to weather unevenly due to varying climate and weather condiitions. reSAWN's finishing process intends to combat an unappealing aesthetic by providing designs with a weathered look at installation. A commonly used exterior material, western red cedar contains natural characteristics that resist decay caused by rot, insects, and moisture.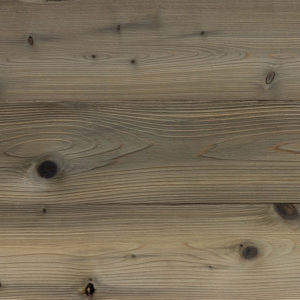 Receiving the highest rating in durability and decay resistance from the U.S. Forest Products Laboratory, atlantic white cedar is a frequently used exterior cladding material. Similar to western red cedar, unfinished atlantic white cedar weathers to a silvery-grey color at a rate that depends on weather and climate conditions. reSAWN's finishing process creates an aesthetic that resembles a weathered look at installation with little change as it ages.
Because Accoya has a very high resistance against rotting, a popular choice is to use it in various applications uncoated, and left to weather naturally to a silvery-gray color. This graying of the surface of unprotected wood exposed to outdoor circumstances is caused by UV. The rate of weathering will vary according to the amount of UV, elevation on a building, the surroundings, and the surface structure. Depending on aformentioned influences, Accoya will gray out at a similar rate as most other wood species. Partial shading of a surface will lead to uneven graying.
Minimal Contrast Between Overhangs and Siding
Even Weathering
Easy Transitions Between Exterior and Interior