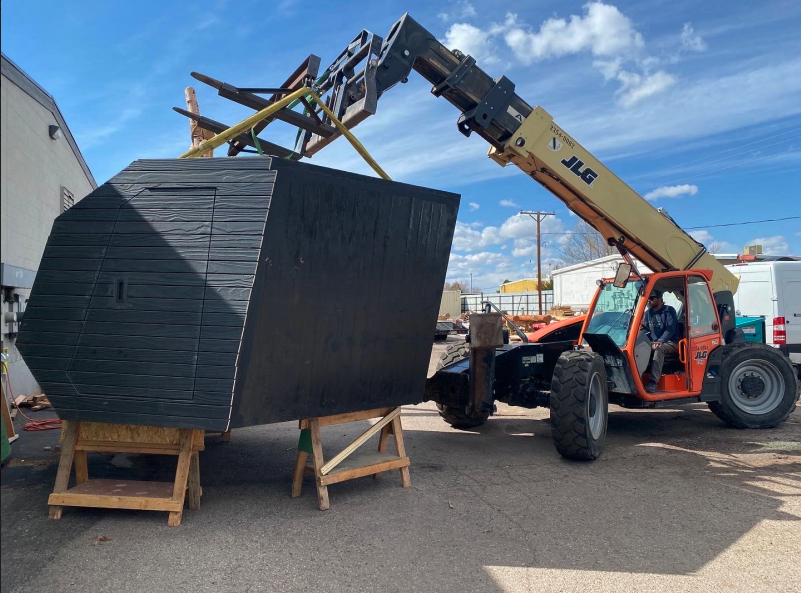 Playhouse Pods – Boulder, CO
DETAILS
Location: Boulder, Colorado
Builder: Treecraft Design Build
Exterior Cladding
IKIGAI – shou sugi ban charred FSC-Certified Accoya® wood
Species: Radiata Pine (Pinus radiata)
FSC® Certified: FSC® Mix 70%
Burnt on face only, sealed all 4 sides (exterior)
Solid +/- 3/4" thick x +/- 3-1/2" wide x 6′-16′ random lengths
Solid +/- 3/4" thick x +/- 7-3/4" wide x 6′-16′ random lengths
S4S
(not pictured) NIGIRI – shou sugi ban charred FSC-Certified Accoya® wood
Species: Radiata Pine (Pinus radiata)
FSC® Certified: FSC® Mix 70%
Burnt on face only, sealed all 4 sides (exterior)
Solid +/- 3/4" thick x +/- 3-1/2" wide x 6′-16′ random lengths
S4S
Custom Handrail
IKIGAI – shou sugi ban charred FSC-Certified Accoya® wood
Species: Radiata Pine (Pinus radiata)
FSC® Certified: FSC® Mix 70%
Burnt on face and two long edges, sealed all 4 sides (exterior)
Solid +/- 1-1/4" thick x +/- 2" wide x 6′-16′ random lengths
Custom Handrail
S4S
This unique project consists of two playhouse pods clad with Accoya wood in a  rainscreen application. Only one of the pods is pictured – the second is currently beginning the build process. Once completed,  the pods will be set into the niche of a retaining wall in a beautifully landscaped property in Boulder, Colorado. A live roof and a beautiful water feature will also be part of the completed project.
Shou sugi ban Accoya is a combination of high-performance modified wood and an award-winning charred technique. Inspired by an ancient Japanese process that dates back to the 1700s, shou sugi ban enhances the exterior performance and aesthetic value of natural wood products. Due to the enhanced durability of Accoya, a dense outer char layer allows the wood to seamlessly transition to a beautiful weathered look.
Treecraft is a custom treehouse design-build business based in Fort Collins, Colorado.  Founded by Aaron Smith in 2015, Treecraft combines architectural sensibility with years of experience working under master builders to bring to life inspired works of craftsmanship.  The treehouse can be many things – from a kids playhouse, fort, or high-ropes style adventure course, to a retreat for adults, a peaceful studio space, or a full-on tinyhouse in a tree.  Above all, a treehouse is a place for the imagination to soar.