ACCOYA
exterior cladding :: interior cladding :: decking
Accoya® is wood, but not as you know it. It is modified timber in which a process called acetylation, a cutting-edge patented technology, enables it to resist rot, defy the elements and stay strong for decades. Guaranteed for 50 years above ground and 25 years in ground or freshwater, its performance and properties are remarkable. From joinery for the home to bridges submerged in water, Accoya wood is a leading material that stands up to every application challenge – decking, cladding and more.
Shou sugi ban Accoya® is the combination of high-performance modified wood and an award-winning charred technique. Inspired by an ancient Japanese process that dates back to the 1700s, shou sugi ban enhances the exterior performance and aesthetic value of natural wood products. Due to the enhanced durability of Accoya®, a dense outer char layer allows the wood to seamlessly transition to a beautiful weathered look. All of our CHARRED shou sugi ban Accoya® products are FSC certified and come with a 50-year warranty on the wood when used above ground; 25-year warranty when used at/below ground level.
1. Wood is Sourced
Accoya sources sustainable, plantation grown Radiata Pine.
2. Raw wood reacts with acetic anhydride.
Naturally occurring free hydroxyl groups are exposed to acetic anhydride (a byproduct of acetic acid) and the molecular structure is changed.
3. Free hydroxyl groups transform to acetyl groups.
The ability of the wood to absorb water is greatly reduced, and the wood is now more dimensionally stable and durable.
4. The resulting acetic anhydride is recycled.
Acetic anhydride comes from acetic acid (vinegar in a dilute form), and releases no toxins into the air.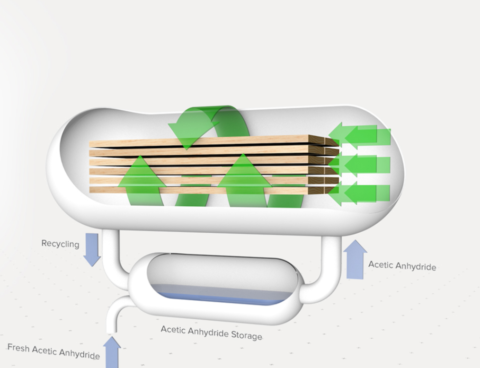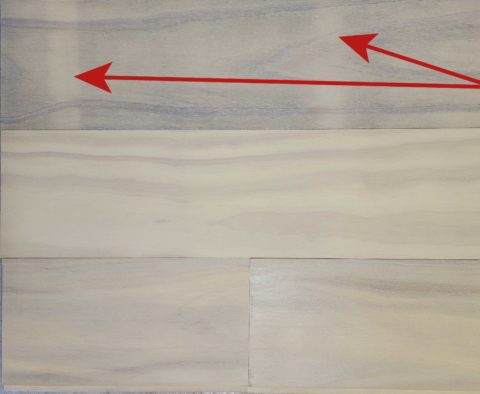 Sticker stains are caused by separating planks with sticks (or 'stickers')
during the process of acetylation.
For Accoya® designs finished with lighter, transparent top coats, such as MAHO (shown) and PALAWAN, these sticker stains will be visible on day 1. After about 2 months of weathering, the visual contrast will fade and be less noticeable.

Dimensional Stability.
Swelling and Shrinkage Reduced by 75% or More

Insect Barrier.
Indigestible to a wide range of insects, including termites

Outstanding Durability.
50 year above ground warranty; 25 year in ground/freshwater warranty

From Sustainable Sources.
Sourced from FSC and other regionally certified woods.

Non-toxic and Recyclable.
May be safely reused,
recycled and incinerated.

Naturally Insulating.
Ideal for applications where energy conservation is important.