Advantages of Utilizing Prefinished Exterior Wood Siding Materials
Prefinished wood cladding, also known as machine-finished or factory-finished is simply any type of siding that is pre-coated or finished to a certain specification by a manufacturer prior to it being installed at a job site.
Even for the most experienced painter, it can be difficult to avoid minor on-site mishaps like oversprays, streaks, drips, job site dirt pick-up, or lap marks. Utilizing prefinished wood products provides several advantages over site finishing. When factory-finished exterior wood cladding products are specified, it expedites field time and provides a consistent, fully vetted, quality-controlled product that can be installed year-round.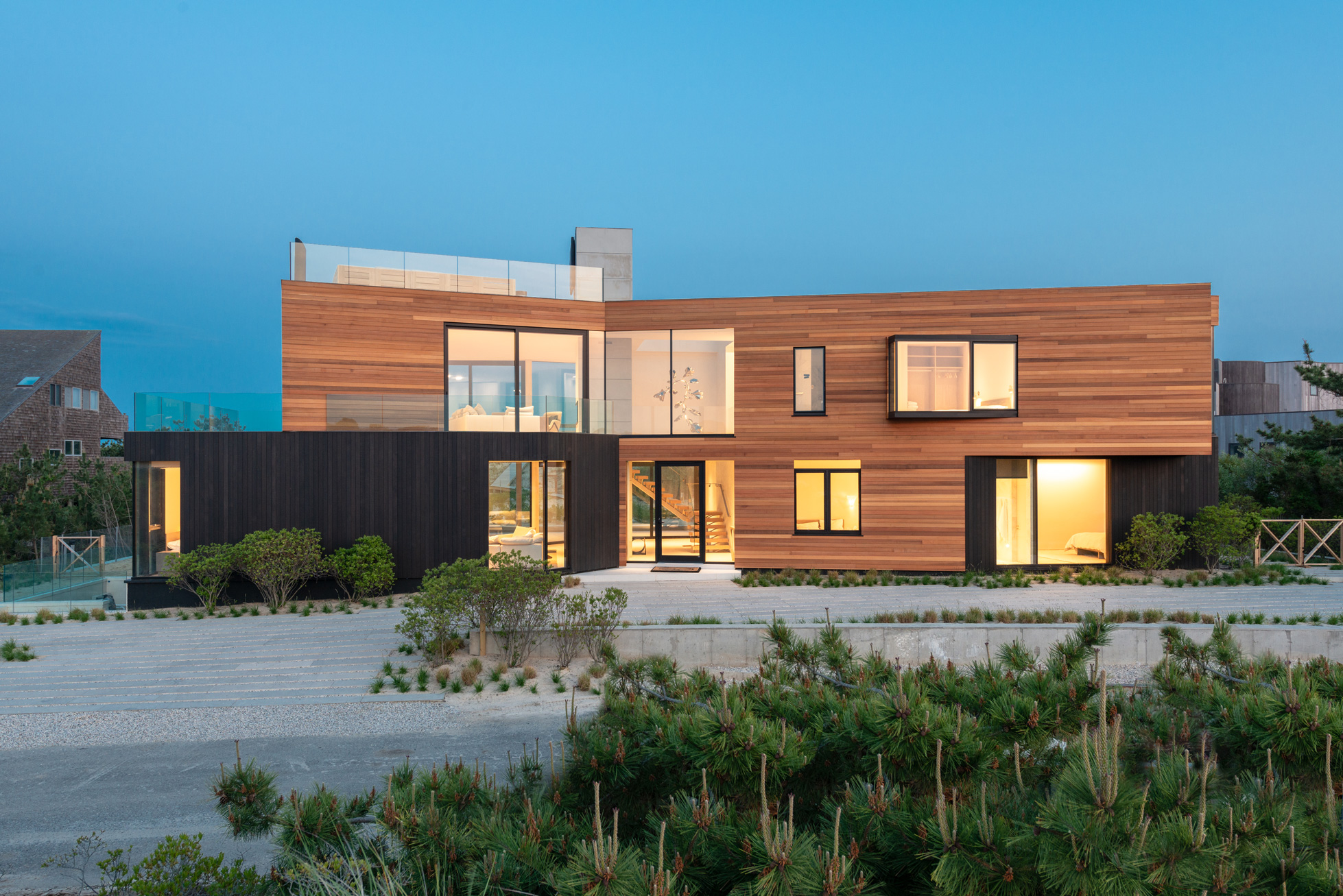 Amagansett Beach House
Situated right on the water in Amagansett, New York, sits a 5,280 sq. ft. picturesque home. This project was coined the Bow Tie House due to its architecture – the floor plan is pinched in the middle and flares out at either end, with a central chimney that anchors the colliding geometries. The residence offers six bedrooms and seven full bathrooms on a half-acre of land and was featured on Netflix's Million Dollar Beach House. The property features visual contrasts in the most aesthetically pleasing way. The light and dark wood variations are further enhanced with contrasting vertical and horizontal cladding. reSAWN provided Custom Western Red Cedar and PACKARD Charred Western Red Cedar exterior cladding for this project.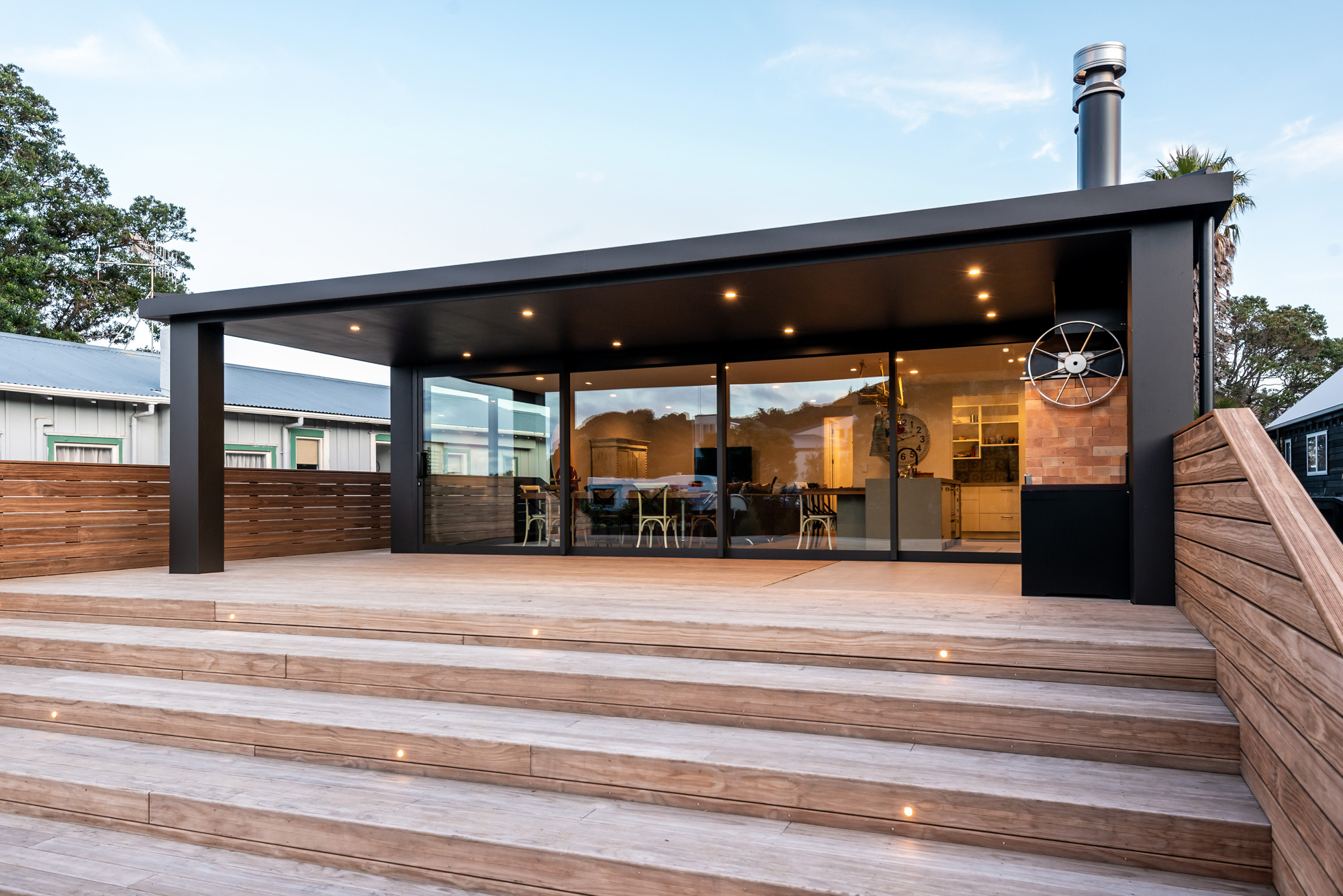 Its Decking Season – Are You Ready?
reSAWN offers several sustainable, durable options for real wood exterior decking.
The exterior entertaining space includes stadium-style stairs overlooking the lawn, and a covered barbecue area. The deck needed to be substantial since the summer months are largely spent outdoors. Abodo® Vulcan Decking finished with Clear Protector Oil provides a low-maintenance finish that will silver off as it weathers to provide the longest possible life between maintenance cycles. Plus, it's made using a waterborne formulation, which means it is safe on bare feet and won't leach chemicals into the environment.
Alaskan Yellow Cedar – New Pre-Weathered Designs
Available Now
reSAWN offers Alaskan Yellow Cedar (AYC) as a sustainable exterior material. Yellow Cedar trees can be found along the North American Pacific Coast from the California-Oregon border to Southern Alaska. AYC is highly aromatic and highly decay resistant. It has exceptional resistance to exterior elements and insects and is easy to work with. It can be used for exterior wall & roof cladding and interior wall & ceiling cladding.
Using a classic building material like Alaskan Yellow Cedar, reSAWN has modernized and expanded the possible design options with more pre-weathered finishes. Our Alaskan Yellow Cedar clear vertical grain (CVG) and select tight knot (STK) designs are finished in beautiful brown and grey tones. The palette authentically aligns with the look of exterior wood cladding that has weathered naturally over time.
SCHEDULE A CEU PRESENTATION
An approved AIA CES Provider, reSAWN TIMBER co. is excited to present its course on wood as exterior cladding for one (1) LU/HSW credit. reSAWN examines the sustainable, performance, and aesthetic benefits and innovations that have made exterior wood cladding an ideal material for architectural projects.
reSAWN TIMBER co. provides new and reclaimed wood products for architectural specifications for flooring, interior wall cladding, ceilings, exterior siding, furniture and custom millwork.
Our carefully curated offering includes award-winning shou sugi ban charred woods, reclaimed woods, newly harvested american wood species and european oak.  We provide only the highest quality materials milled to exacting standards and finished in a way that enhance the natural beauty of the wood. Our extensive offering includes wide plank flooring,  FSC® Certified woods, and custom furniture with traditional joinery.
We specialize in meeting the needs of architects, designers and contractors, and providing superior service and guidance in developing your specifications.  Our products can assist you in achieving your project goals in aesthetic, performance and sustainability.  Contact us to learn more about our FSC® products.
NEWEST PROJECTS from reSAWN TIMBER co.