INTRODUCING :: ROUGH SAWN ATLANTIC WHITE CEDAR
an elegant option for both interior and exterior cladding
reSAWN TIMBER co. is pleased to announce the addition of 4 rough-sawn weathered ATLANTIC WHITE CEDAR designs to our sought after cedar offering – for exterior cladding and interior wall/ceiling cladding.
We offer ATLANTIC WHITE CEDAR because of its propensity for resiliency, beauty, and versatility. Its lightweight, straight grain, ease of machining, ease of finishing, low shrinkage, and extreme resistance to decay make it a trusted and elegant option for both interior and exterior applications.
ATLANTIC WHITE CEDAR that is uncoated and exposed to weather over time will develop an attractive silver/gray patina. The rate of that color change depends on climate zones, the orientation of the home/structure and exposure to weather. reSAWN's finishing process on our pre-weathered ATLANTIC WHITE CEDAR designs solve for wood's natural propensity to grey out by resembling a weathered look at the time of installation, with little change as it ages in place. 
An additional benefit to our pre-weathered designs is the ability to achieve consistent color on all differing exterior exposures and to attain a seamless interior/exterior aesthetic from day one when exterior cladding is brought to the interior (see the BRIZA image below for an example). From the start expect a soft, consistent weathered color and texture that looks natural, appealing and interesting. For interior applications, expect little to no change from the day of installation.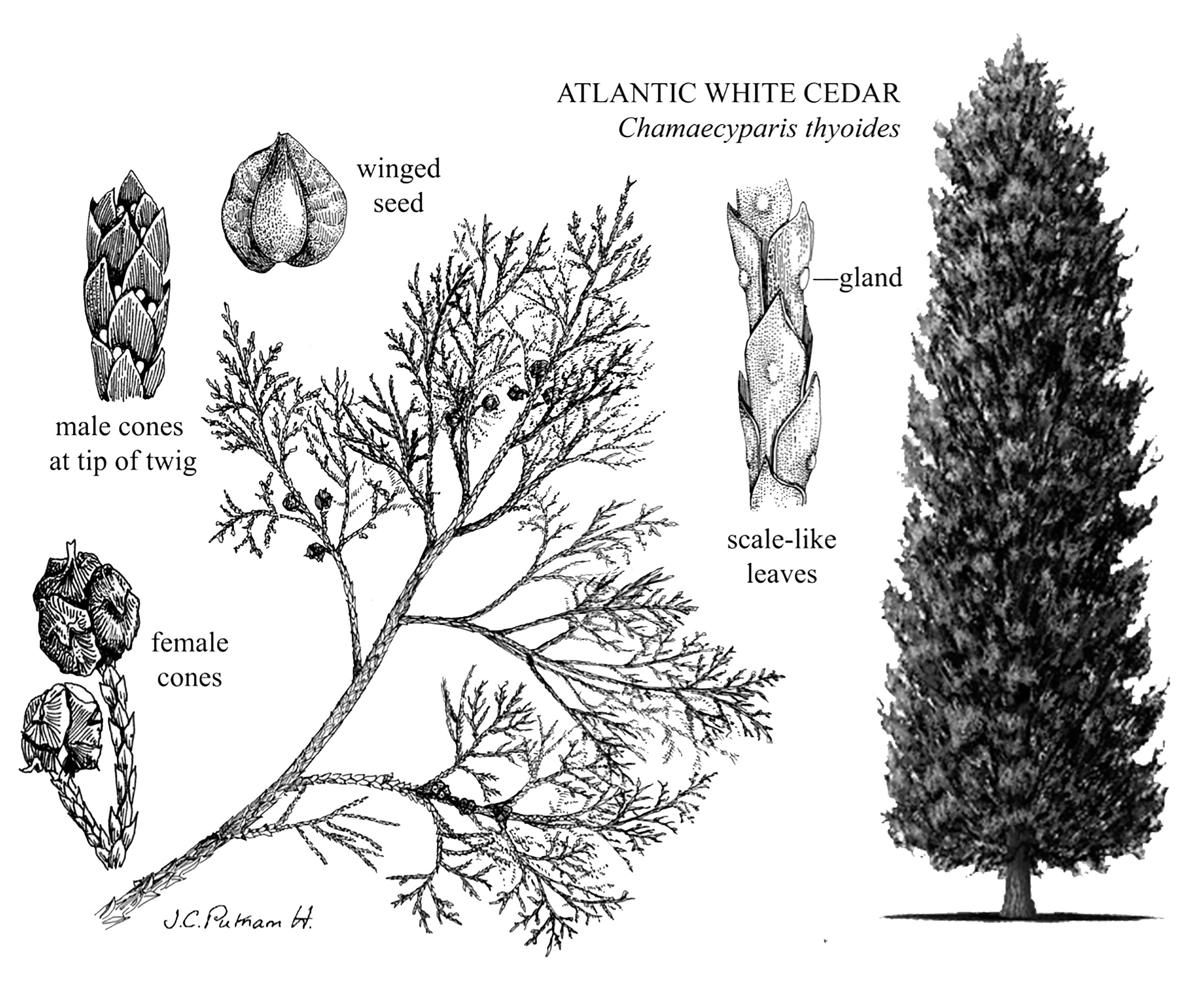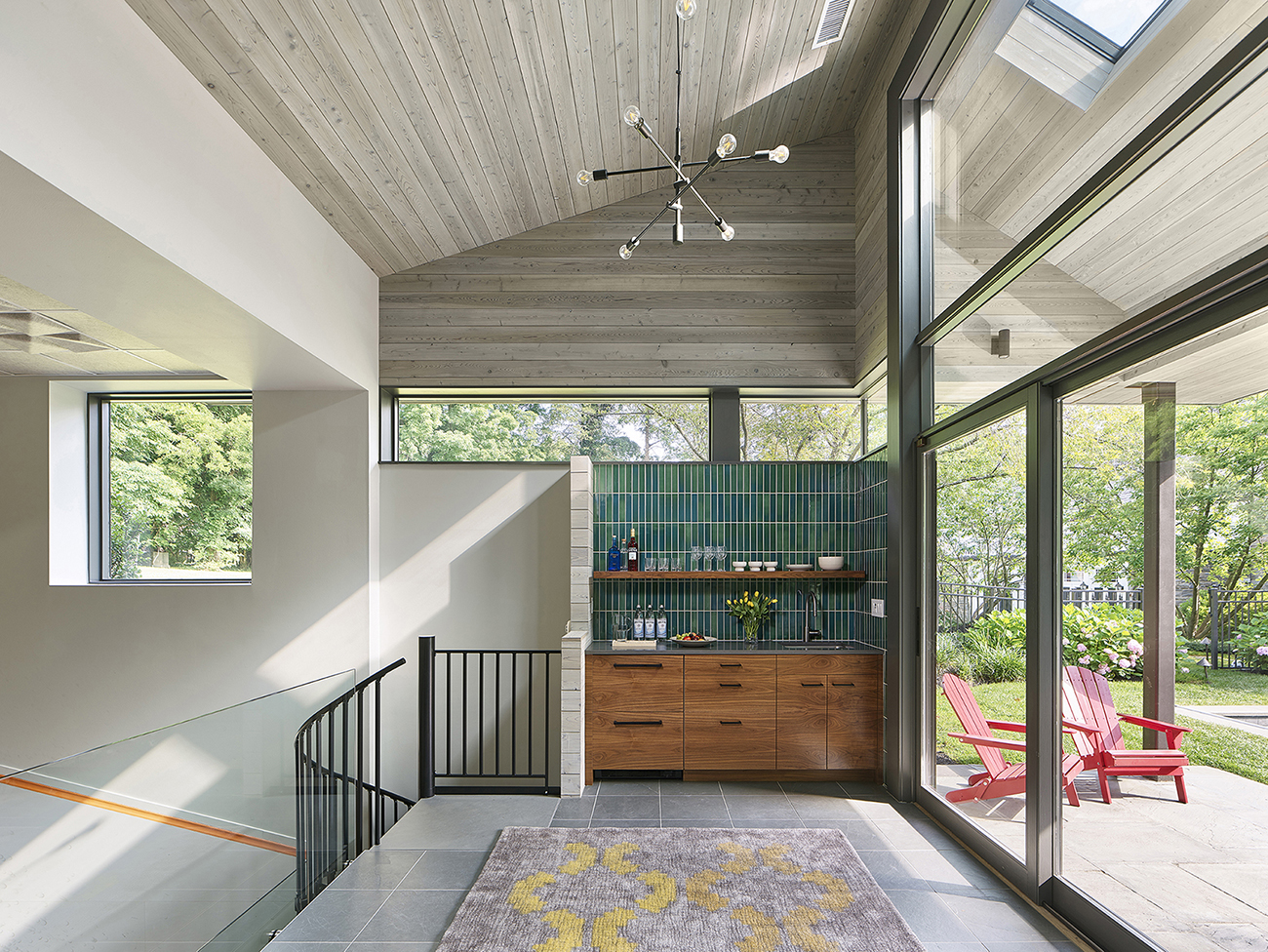 BENEFITS OF ATLANTIC WHITE CEDAR:
Since ATLANTIC WHITE CEDAR trees grow larger, it is available in longer lengths when compared to Northern White Cedar
Natural antibacterial and anti-fungal properties
Durable, resistant to decay, lightweight, and greatly aromatic
Superior insulation properties – the R value is 1.35″ (34mm) of thickness
Shrinks and warps very little, resists swelling, cupping and cracking
The oil in cedar will allow water to bead up to resist water naturally
Aesthetically, many designers, builders and furniture makers choose cedar because of its uniform consistency and pleasing appearance
Sustainably harvested along the east coast of the United States
Because the species is indigenous to the US, specifically the east coast, ATLANTIC WHITE CEDAR is not subject to trade tariffs, which keep costs lower than Western Red Cedar.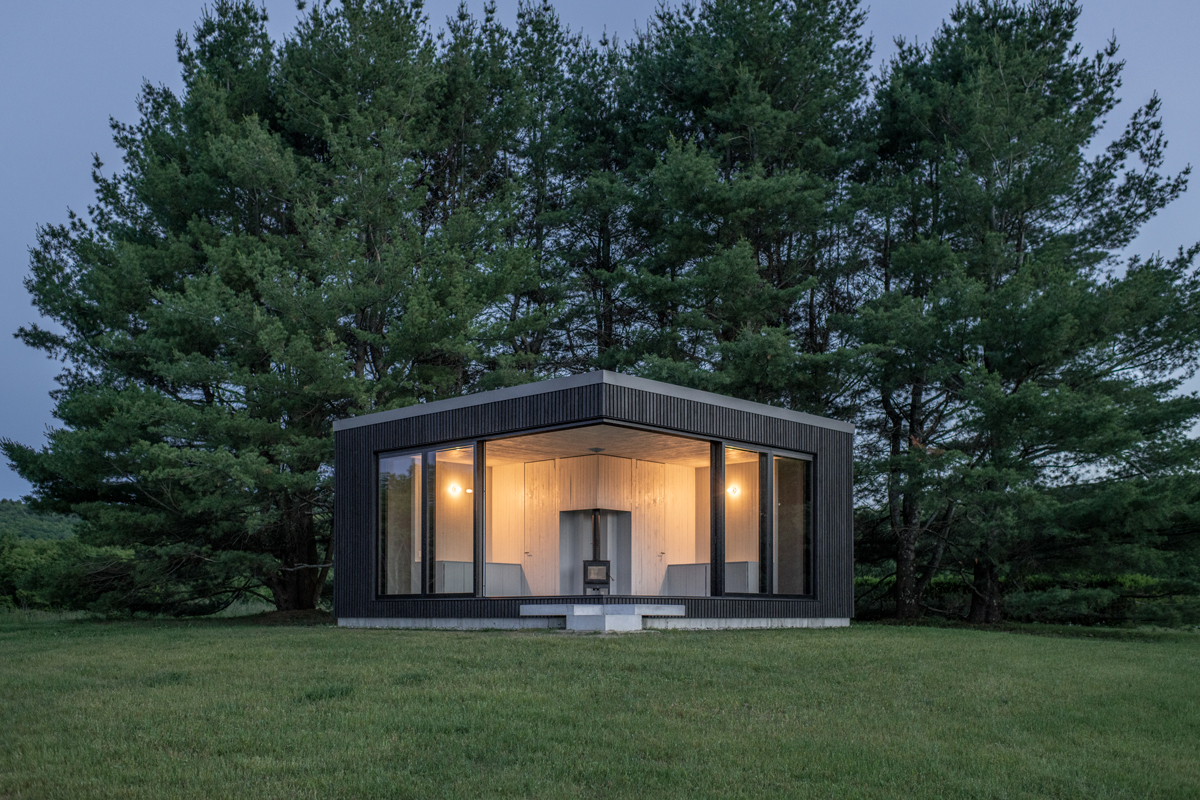 Artists Studio – Vermont, US
Daisy Jacobs 'studio', located on an open field in the forests of Vermont, US.
Planned to provide a getaway for writers and artists, the cabin is clad with reSAWN's MATSU shou sugi ban charred Accoya and can entirely open up to the hilly green landscape, while it's interior is as white as an empty canvas. It offers protection from and exposure to nature at the same time.
The interior cladding and the built-in furniture were made out of rough sawn timber, the floor was poured as part of the foundation and the exterior facade was clad in reSAWN's weather-proof burnt Accoya. The Studio is a simple timber frame construction with the roof built out of engineered timber joists. That way the traditional building techniques could be used for this contemporary building.
The studio has been featured in Design Boom, Arch Daily, and Archello.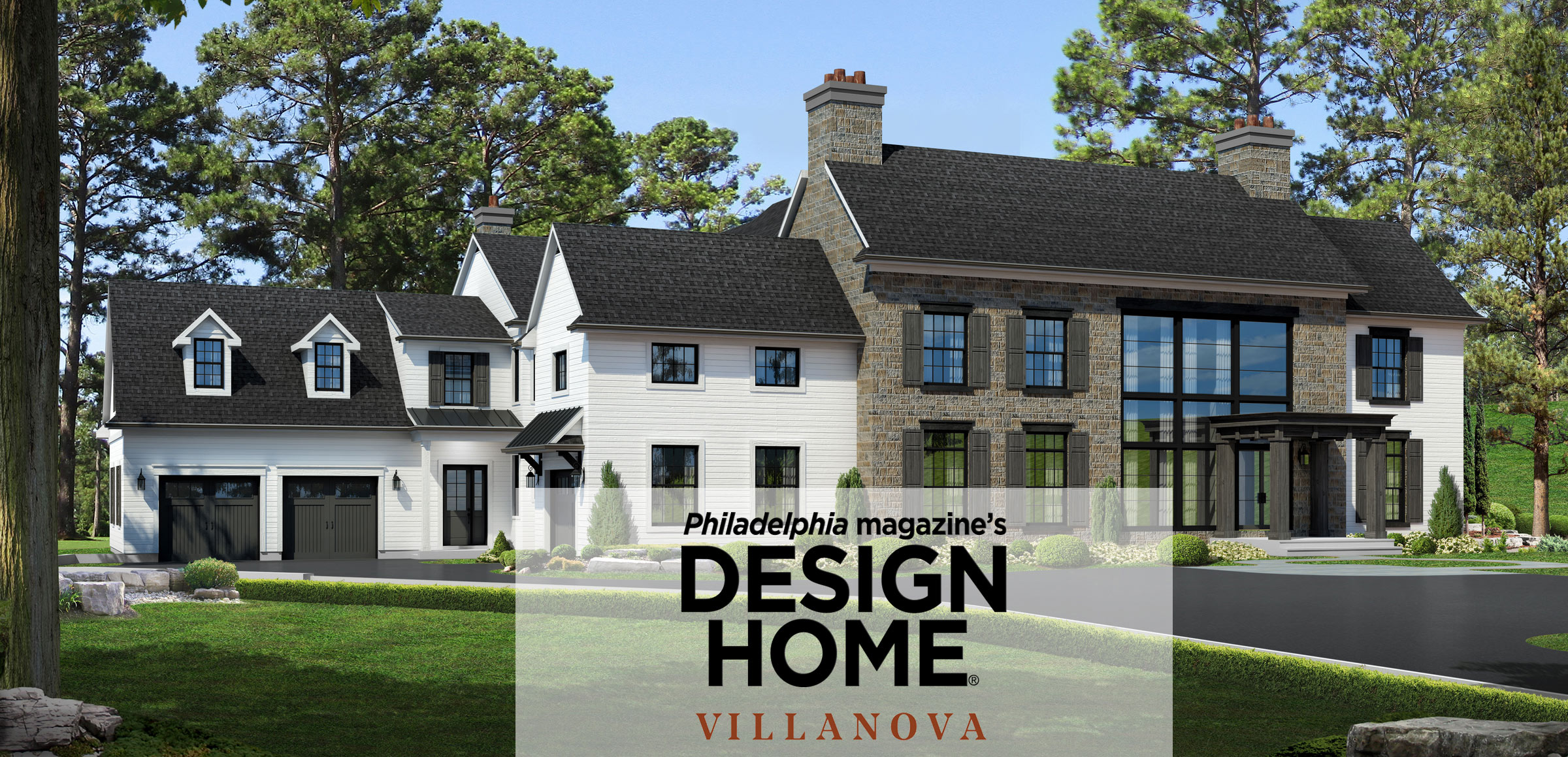 See reSAWN's Charred Kebony at Philadelphia Magazine's Design Home 2019
We're excited to announce that Philadelphia Magazine's Design Home 2019 will feature reSAWN TIMBER co.'s custom shou sugi ban interior cladding, as well as our much sought after VETTE: Kebony® shou sugi ban exterior cladding.
In partnership with a local builder and interior designers, Philadelphia magazine creates Design Home, an extraordinary showcase of craftsmanship, architecture, and design. With a new location each year, the project brings something new to the regional home market. The home is open for 3 weeks with tours and special events that allow you to admire the details which will leave you feeling inspired. We invite you to tour this exceptional home where modern design meets traditional living.
SCHEDULE A CEU PRESENTATION
An approved AIA CES Provider, reSAWN TIMBER co. is excited to present its course on wood as exterior cladding for one (1) LU credit. reSAWN examines the sustainable, performance, and aesthetic benefits and innovations that have made exterior wood cladding an ideal material for architectural projects.
reSAWN TIMBER co. provides new and reclaimed wood products for architectural specifications for flooring, interior wall cladding, ceilings, exterior siding, furniture and custom millwork.
Our carefully curated offering includes award-winning shou sugi ban charred woods, reclaimed woods, newly harvested american wood species and european oak.  We provide only the highest quality materials milled to exacting standards and finished in a way that enhance the natural beauty of the wood. Our extensive offering includes wide plank flooring,  FSC® Certified woods, and custom furniture with traditional joinery.
We specialize in meeting the needs of architects, designers and contractors, and providing superior service and guidance in developing your specifications.  Our products can assist you in achieving your project goals in aesthetic, performance and sustainability.  Contact us to learn more about our FSC® products.
NEWEST PROJECTS from reSAWN TIMBER co.