EUROPEAN WHITE OAK
flooring :: interior wall/ceiling cladding :: millwork & stairs
The European White Oak products from reSAWN TIMBER co. features wide plank flooring, wall cladding, and millwork/stairs that is prefinished and available in engineered construction. The engineered material comes standard at 5/8" thick with a substantial 4 mm wear layer, or 3/4" thick with a full 6 mm wear layer for a truly superior product. The 7" face width showcases the full character and grain pattern that european white oak has to offer.
We offer several shou sugi ban charred designs on select grade european white oak in 3/4″ thick (6mm) X 7″ wide.  The shou sugi ban treatment accentuates the natural wood grain adding texture and visual interest.
Select products can be specified in both Herringbone and Chevron styles. All designs are available as FSC ® upon request.
WIDE PLANK
Understanding the importance of width in determining a project's flooring or wall cladding aesthetics, reSAWN offers additional width options for many of its european white oak products. Standardly, european white oak is 7″ wide, but the following widths are available in select products.
5″ wide – ACE, AMITY, BASTILLE, DOSH, KIP, POSH, PROPER & MATE
8-5/8″ wide – ACE, AMITY, BASTILLE, CHEERIO, DOSH, KIP, GOVERNOR, MARGOT, MATE, POSH, PROPER, & TOFF
HERRINGBONE
Originating over a century ago, herringbone is a very popular parquet floor pattern that creates a slightly staggered aesthetic. The traditional pattern is typically found in dining or living areas, and provides a formal elegance to any room. reSAWN offers engineered herringbone flooring at 4″ wide and 24″ long in the following designs: ACE, AMITY, BARTEK, BASTILLE, DOSH, KIP, MATE, POSH and PROPER.
reSAWN's original cut European White Oak incorporates plain sawn (blue shading), rift sawn (no shading) and quarter sawn (red shading) grain patterns and all grades and character marks into the final product.
This seemingly simple cut actually requires advanced knowledge and experience in the milling and drying process of wood to ensure that the harder heart wood does not become brittle and break apart through the drying or milling process. This is not a new method of cutting but rather a modern take on a historic theme.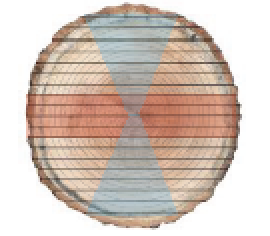 RELATED WHITE OAK PROJECTS