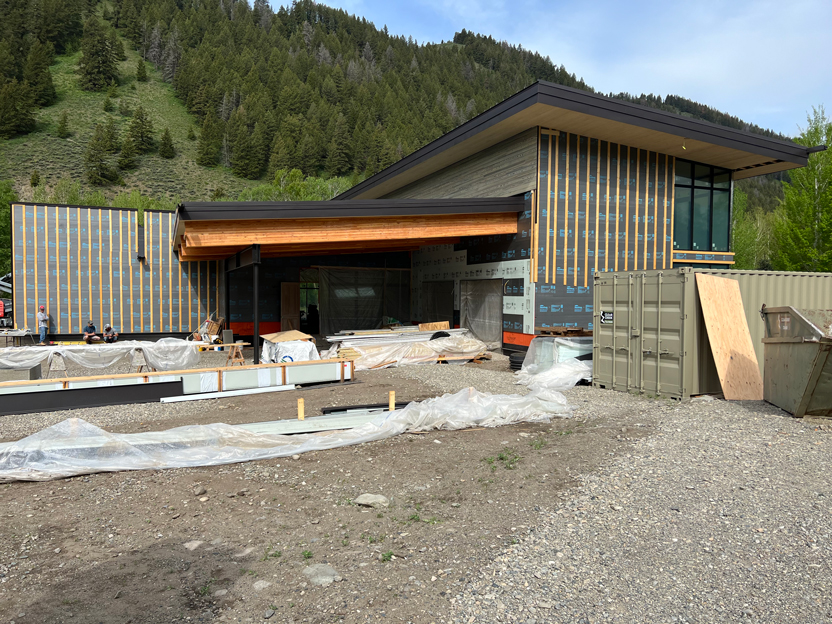 River Ranch Residence  – Ketchum, ID
DETAILS
Location: Ketchum, ID
Interior Design: Jennifer Hoey
Exterior Cladding
SORA Shou Sugi Ban Charred Cypress
Select grade Burnt on face only
Sealed all 4 sides
Solid +/- 13/16" thick x +/- 5-1/8" wide x 6′-16′ random lengths
Tongue & Groove Quantity

PALAWAN 2C Accoya Wood
Species: Radiata Pine (Pinus radiata)
FSC® Certified: FSC® Mix 70%
1-Coat finishing on all 4 sides, 2nd coat applied on site
Solid 3/4″ thick x 5-3/8″ wide x 6′-16′ random lengths
Tongue & Groove Quantity

The beautiful River Ranch in Ketchum, ID, will feature 4,600 sq.ft of SORA Shou Sugi Ban Charred Cypress and 6,000 sq. ft. in PALAWAN 2C Accoya exterior cladding. Ketchum is a charming and vibrant city located in central Idaho. It is situated in the Wood River Valley and is surrounded by the majestic peaks of the Sawtooth Mountains. It offers endless opportunities for adventure, including hiking, mountain biking, fishing, kayaking, and skiing.
SORA by reSAWN TIMBER co. features CHARRED CYPRESS burnt in the Japanese style of shou sugi ban.  SORA can be used for interior or exterior wall cladding and is available in select grade or #2 common grade cypress. The higher the grade, the better it is felt the wood will perform, especially in exterior applications.
PALAWAN by reSAWN TIMBER co. features Accoya® wood finished with a waterborne exterior oil and can be used for exterior cladding. PALAWAN can be specified as either 1C or 2C. '2C' denotes Accoya wood that is prefinished with one coat of our proprietary exterior oil in the factory AND will require the installer to apply a second coat of finish post-install.

From sketching cabinet details to developing a new stitch for custom upholstery, Jennifer Hoey Interior Designers approach every project with a focus on creating unique homes that reflect the client's lifestyle and personality. The JHD designers tackle every detail from start to finish with efficiency and precision.