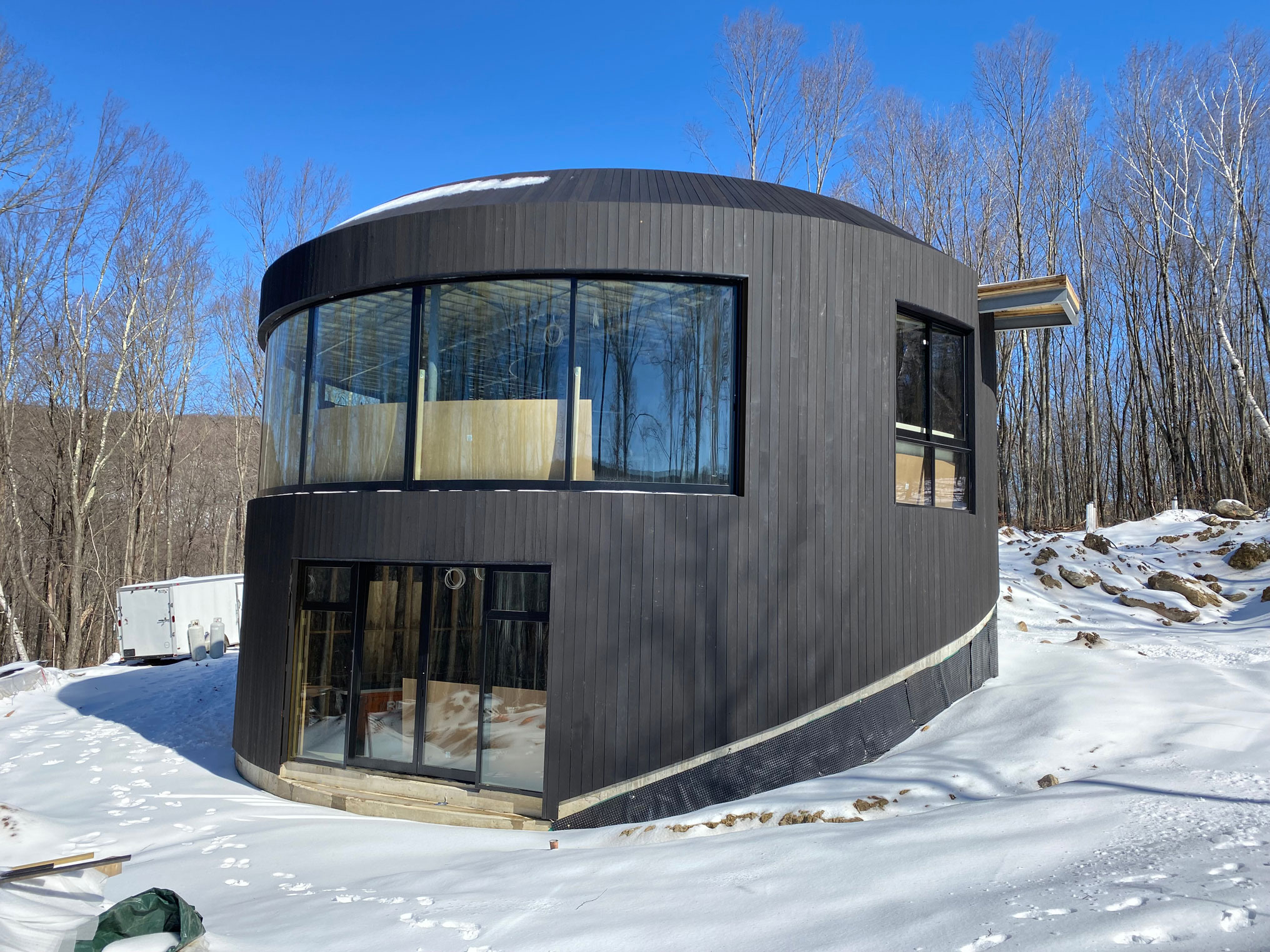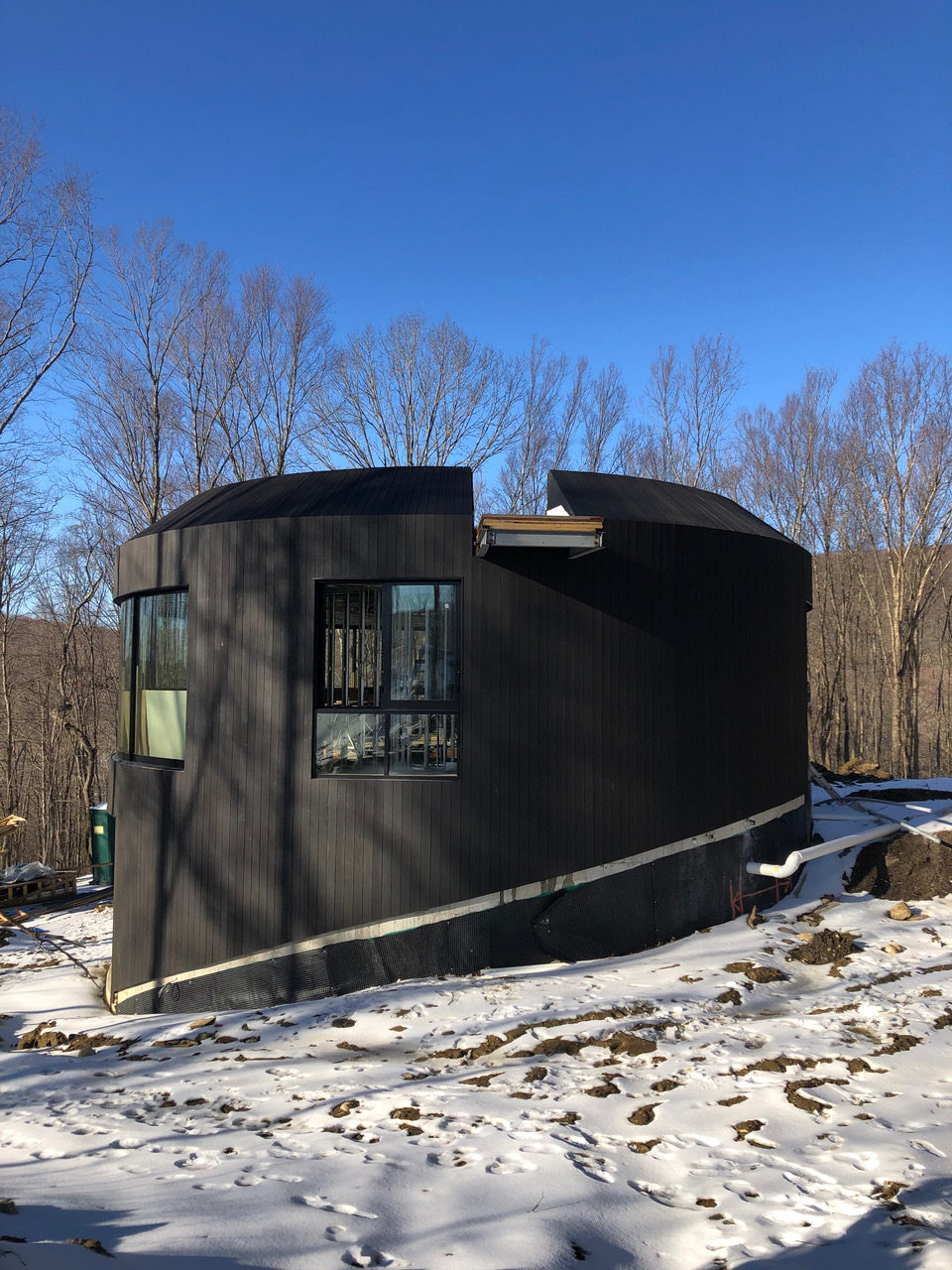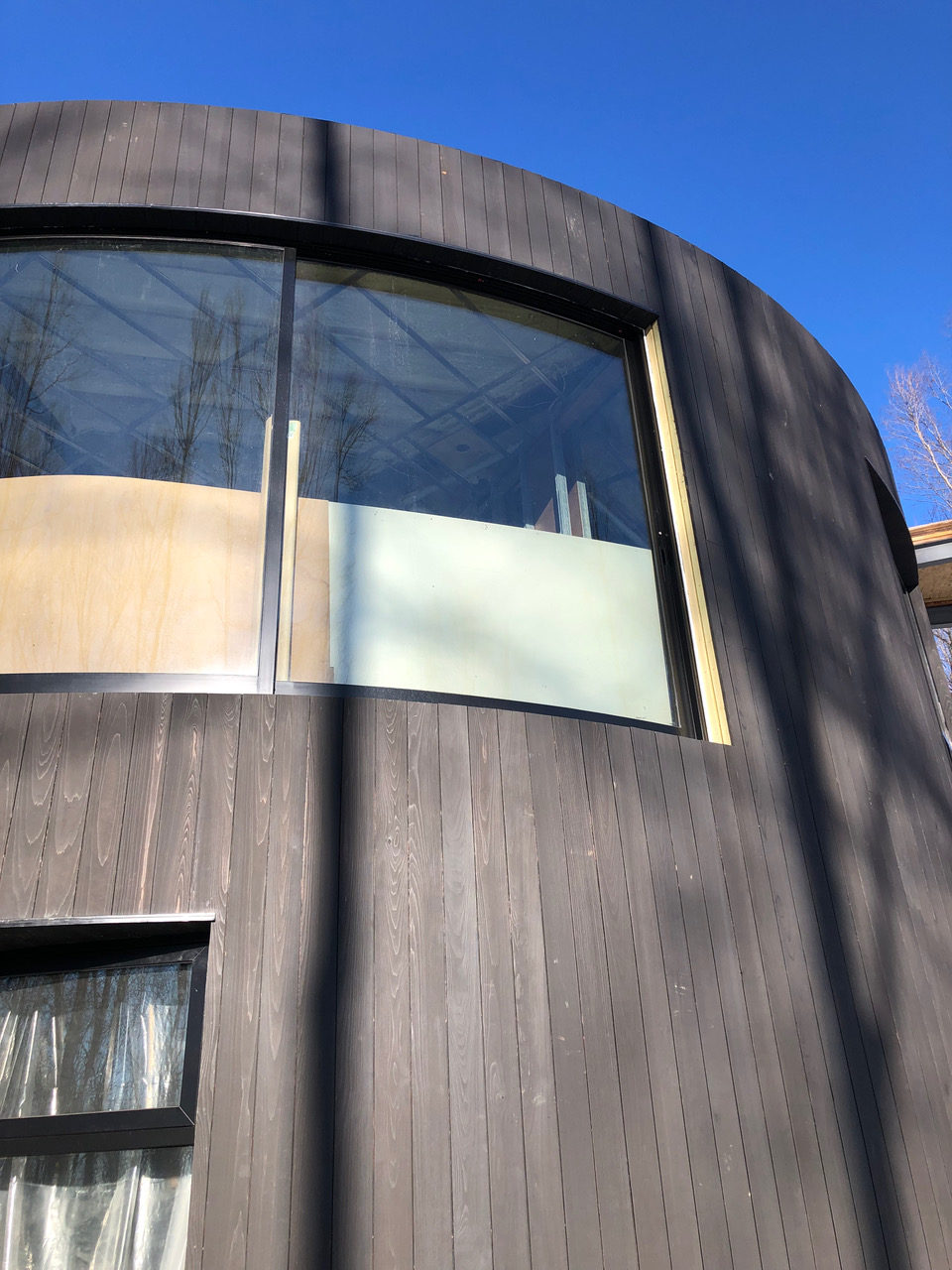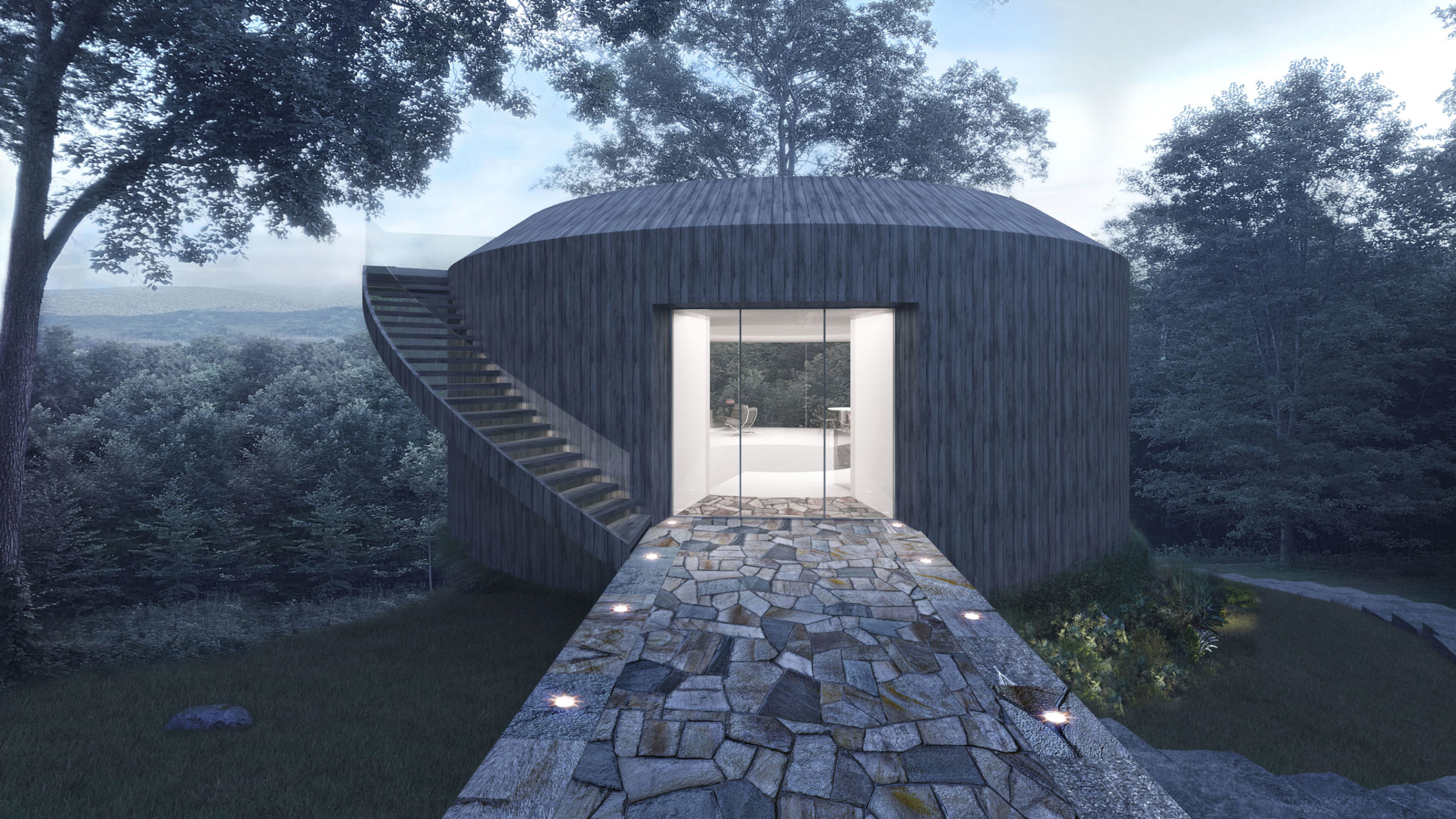 Round House – Kent, Connecticut
DETAILS
Location: Kent, CT
Architect: POP Architecture
Exterior Cladding
MONOGATARI 2.0 – Charred Cypress
Select Grade
Burnt on face only, sealed all 4 sides (exterior)
Solid +/- 13/16" thick x +/- 5-1/8" wide x 6′-16′ random lengths
Tongue and Groove
Angled Roof
MONOGATARI 2.0 – Charred Cypress
Select Grade
Burnt on face only, sealed all 4 sides (exterior)
Solid +/- 13/16" thick x +/- 5-1/8" wide tapering to +/- 4-1/8″ wide x
320 pieces @ 63″ fixed lengths*
Solid +/- 13/16" thick x +/- 5-1/8" wide tapering to +/- 4-1/4″ wide x
5 pieces @ 63″ fixed lengths*
Solid +/- 13/16" thick x +/- 5-1/8" wide tapering to +/- 3-7/8″ wide x
5 pieces @ 63″ fixed lengths*
S4S
Jambs
MONOGATARI 2.0 – Charred Cypress
Select Grade
Burnt and sealed all 4 sides (exterior)
Solid +/- 13/16" thick x +/- 7" wide x 10 pieces @ 10 lengths *
S4S
Bench Seat
TAKK – Kebony
Species: Radiata Pine (Pinus radiata)
FSC® Certified: FSC® Mix 70%
Select Grade
Finished on face only, sealed all 4 sides (exterior)
Solid 13/16" thick x 5-3/4" wide x 6′-16′ random lengths
S4S
Bench Seat Trim
TAKK – Kebony
Species: Radiata Pine (Pinus radiata)
FSC® Certified: FSC® Mix 70%
Select Grade
Finished on face only, sealed all 4 sides (exterior)
Solid 13/16" thick x 4" wide x 6′-16′ random lengths
S4S
Decking
TAKK – Kebony
Species: Radiata Pine (Pinus radiata)
FSC® Certified: FSC® Mix 70%
Select Grade
Finished on face only, sealed all 4 sides (exterior)
Solid 13/16" thick x 5-3/4" wide x 12′-16′ random lengths *
E4E decking profile with edge grooves
This project sits on over 36 acres in scenic Kent, CT, and features over 4,000 square feet of reSAWN TIMBER co. products. MONOGATARI 2.0 shou sugi ban charred Cypress is utilized on the exterior cladding, roofing, and jambs. The rooftop deck features TAKK Kebony decking and bench seating. Technical in design with a minimalistic aesthetic, this project centers around biophilic design to embrace the nature around it. The architect notes, "The exterior cladding is done in Cypress wood that respects the surrounding forest". This project is scheduled to be completed later this year.
MONOGATARI 2.0 is made with Cypress sourced from the Southern United States, burnt in the Japanese style of shou sugi ban, and can be used for interior wall cladding, ceiling cladding, and exterior siding. With its legendary beauty and natural durability, Cypress has long been a staple as an exterior wood siding product.  Because cypress generates its own preservative oil, called cypressene, it's an ideal wood for locations with constant heat, humidity, and torrential rains.
TAKK features Kebony wood specifically designed to create a beautifully weathered aesthetic. Developed in Norway, the Kebony technology is an environmentally friendly, patented process, which enhances the properties of sustainable softwood with a bio-based liquid. The process permanently modifies the wood cell walls giving Kebony premium hardwood characteristics and rich brown color. After exposure to sun and rain, the wood develops a natural silver-gray patina.
POP is a lifestyle-driven architecture studio with a focus on sustainability launched in New York in 2018 with residential, commercial, and institutional projects, and enhanced in 2020 with a presence in rural northwestern Connecticut. Their projects are uniquely responsive to the needs of their clients.