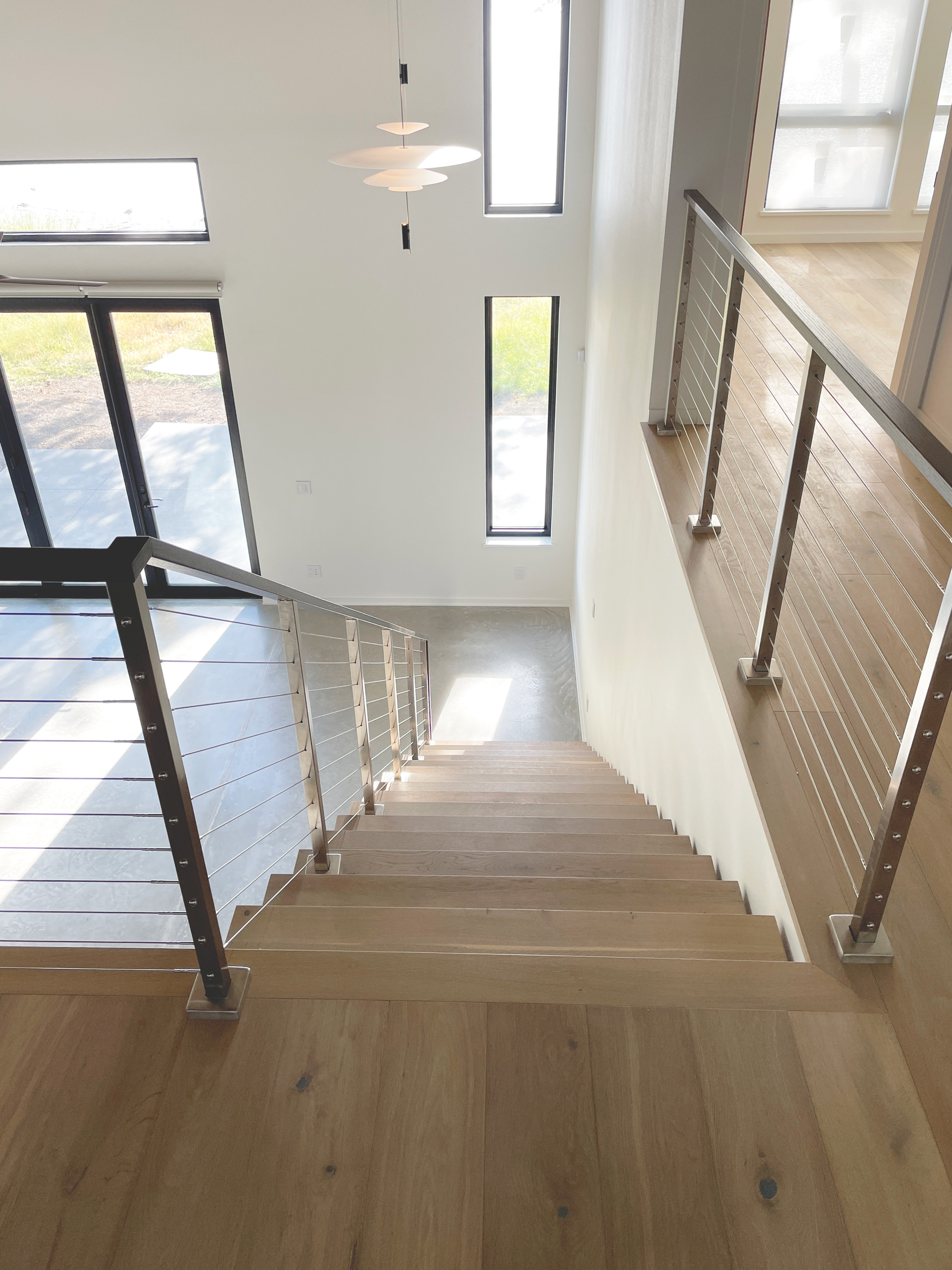 Yacht Haven  – Friday Harbor, WA
DETAILS
Location: Friday Harbor, WA
Architect: Domain Design Architects 
Builder: Ravenhill Construction 
Flooring
CHEERIO – European White Oak
Original cut, character grade
Prefinished with matte polyurethane, voids filled
Tongue & Groove,
Endmatched, Microbeveled Edges and Ends
Engineered: 5/8" thick (4mm wear layer) X 7" wide X 2′-10' random lengths
Stair Treads 
CUSTOM 48" long TREADS
European White Oak – Character Grade – Original Cut
Prefinished to match "CHEERIO" on all 6 sides
(15) treads @ 3-3/4" thick X 12" wide X 48" long
Eased Edges
This new waterfront property with stunning views to the west of D'Arcy and Vancouver Islands is situated on just under an acre of land. The home was designed with longevity in mind, accommodating for current and future generations. Located in the Yacht Haven neighborhood, this 2,100 square foot vacation home will feature reSAWN TIMBER co. PONZU shou sugi ban Cypress on the exterior and CHEERIO European White Oak flooring and stair treads on the interior.
CHEERIO features wide plank European White Oak flooring and wall cladding prefinished with matte polyurethane. reSAWN's European White Oak is prefinished and available in engineered construction. The engineered material comes standard at 5/8" thick with a substantial 4 mm wear layer, or 3/4" thick with a full 6 mm wear layer for a truly superior product. The 7" face width showcases the full character and grain pattern that European White Oak has to offer. Our character grade highlights the natural features of European Oak. We allow for a culled presence of knots, cracks, and sapwood. reSAWN TIMBER co. offers custom-made matching stair treads, risers, and nosing for our flooring products.
Domain Design Architects is a full-service architectural design firm, specializing in new high-performance and energy-efficient residences, remodels, additions, interiors and light commercial projects. From feasibility through construction, they can navigate the entire design and construction process with you. They are truly a 'one stop shop' for their client's needs.