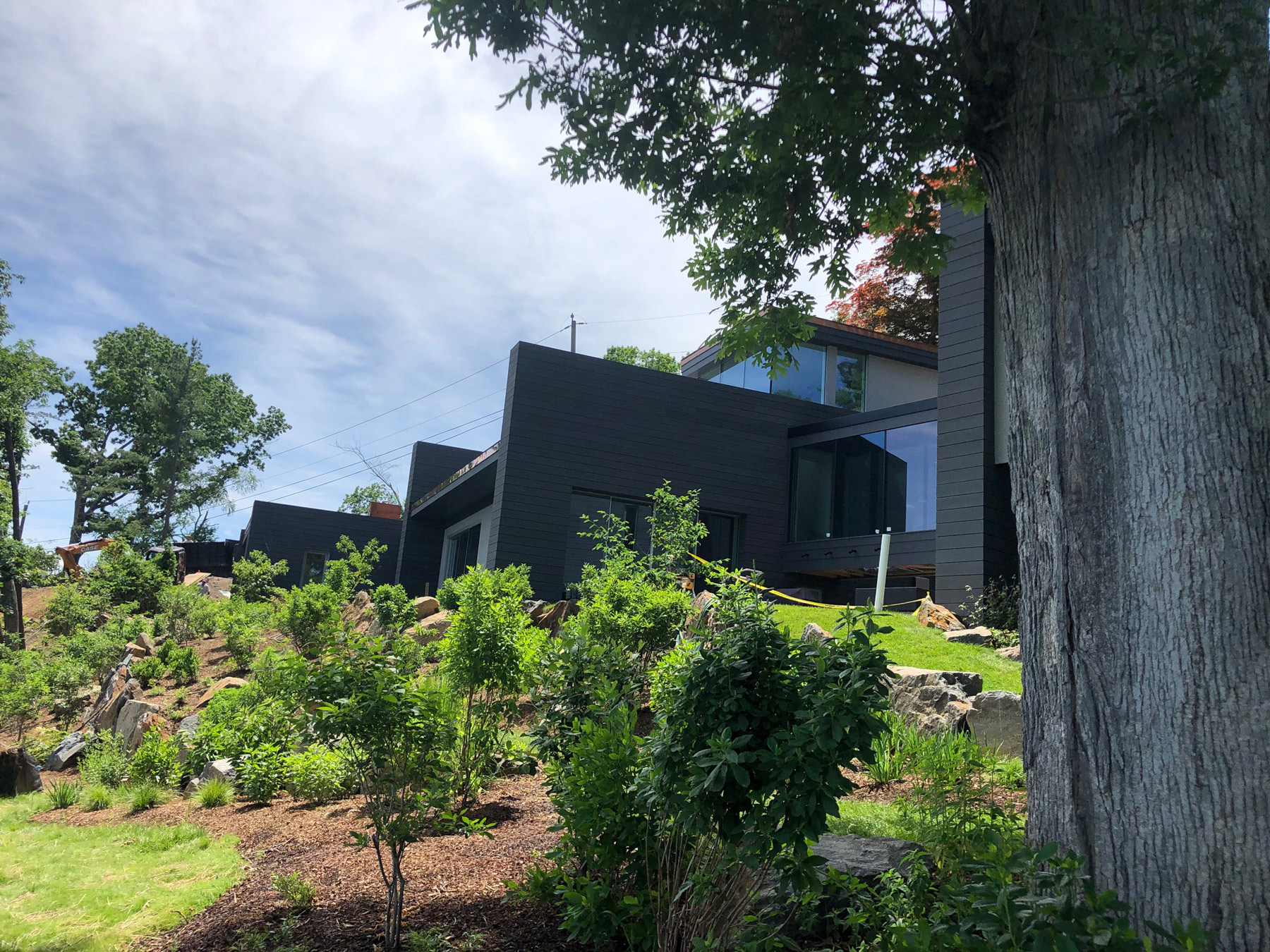 Candlewood Lake Residence – Fairfield, Connecticut
DETAILS
Location: Fairfield, CT
Architect: Wettling Architects
Builder: Wood Works Construction
Exterior Cladding:
reSAWN TIMBER co. – SURETO – shou sugi ban charred cypress
Select grade
Burnt on face only, sealed all 4 sides
Solid +/- 13/16" thick x +/- 7-1/4" wide x 6′-16′ random
lengths
S4S
Soffits:
reSAWN TIMBER co. – VETTE – shou sugi ban charred Kebony® wood
Species: Radiata Pine (Pinus radiata)
FSC® Certified: FSC® Mix 70%
Select Grade
Burnt on face only, sealed all 4 sides
Solid
This modern new home build features over 6,000 square feet of SURETO exterior cladding, not to mention matching rain screen, custom matching corners, and trim. The walkway also features VETTE soffits. The residence sits right on Candlewood Lake, providing a stunning view of the water and the mature tree lines surrounding it. The home also features many floor-to-ceiling windows and outdoor living areas to fully enjoy the property's beauty. This project is scheduled to be finished in the Fall of 2021.
SURETO is made with cypress sourced from the Southern United States and can be used for interior wall cladding, ceiling cladding, and exterior siding. Cypress is not only a beautiful wood, it is durable and easy to maintain. It contains the natural preservative oil cypressene, making the wood resistant to rot, insects, and decay. This makes Cypress a natural choice in locations with constant heat, humidity, and torrential rains. With its legendary beauty and natural durability, cypress has long been a staple as an exterior wood siding product. 
Wettling Architects guides clients toward a full realization of their vision by helping them conceptualize the greatest potential for their particular space. The goals are to integrate fun into function, to generate opportunities from site constraints, and to produce designs that are consistently bright, clear, and honest. The architects value the uniqueness of each client, site, and community, and are eager to approach each project – and each challenge therein – with fresh, inspired, case specific insights.