SUGIO by reSAWN TIMBER co. features CHARRED Accoya® wood burnt in the Japanese style of shou sugi ban, finished with a waterborne exterior oil. SUGIO can be used for exterior wall cladding and can be specified as either 1C or 2C.
1C
'1C' denotes Accoya wood that is prefinished with one coat of our proprietary exterior oil in the factory. There is no need to apply a second coat of finish post-install. Contact reSAWN for accelerated weathering images of our 1C offering.  

2C
'2C' denotes Accoya wood that is prefinished with one coat of our proprietary exterior oil in the factory AND will require the installer to apply a second coat of finish post-install. This finish will be included on the sales order and shipped with the materials.  Applying a second coat of finish post-install will further saturate the initial color of the cladding and extend the duration of this deeper color.  Contact reSAWN for accelerated weathering images of our 2C offering.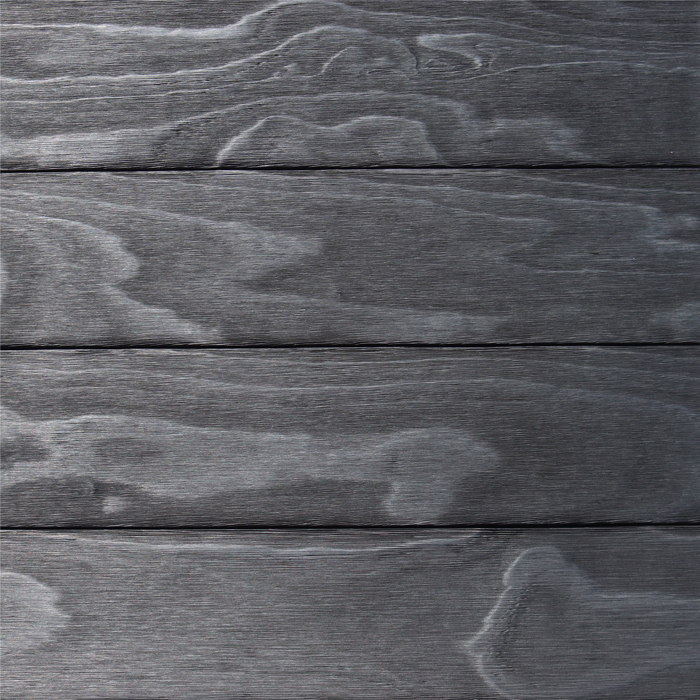 Accoya wood is the result of decades of research and development that has brought together a long-established, extensively proven wood modification technique and leading-edge patented technology – acetylation to create a high-performance wood, ideal for outdoor use and challenging applications. 
By significantly enhancing the durability and dimensional stability of fast-growing and abundantly available certified wood species, Accoya wood provides compelling environmental advantages over slow-growing hardwoods (which are often unsustainably sourced), woods treated with toxic preservative chemicals, and non-renewable carbon-intensive materials such as plastics, steel, and concrete.
The Accoya wood patented modification process adds nothing to the wood that does not already naturally occur in it
Class 1 durability – facilitating a longer lifespan, improved carbon sequestration potential, and lower lifetime material consumption versus other materials
Outstanding dimensional stability, resulting in lower maintenance frequency and therefore less coating over the lifetime of the product
Superior thermal insulation, providing energy conservation advantages when used for applications such as windows and doors
All Accoya wood is produced from well managed sustainable sources, including FSC® and other regionally certified woods
Low carbon footprint: Accoya wood is an environmentally compatible substitute for carbon-intensive materials
Environmentally compatible: 100% recyclable and reusable, naturally renewable
Rapidly renewable materials: use of abundantly available and fast-growing source species
Accoya wood has been tested over prolonged periods in all types of weathering conditions – above ground, below ground, and even in water – and has been proven to withstand even the toughest of external environments. Not only is its durability proven, but it has also been shown to retain its appearance, requiring much less frequent maintenance than other wood species. This gives added reassurance to the manufacturers, architects, specifiers, builders, and property owners who have chosen Accoya wood for a diverse range of projects. Accoya wood is also being tested for additional uses by leading independent institutes worldwide.
Sustainable Attributes and Benefits of SUGIO 1C or 2C Accoya:
Low VOC Finish (85 g/L)
50 yr Warranty above ground
25 yr Warranty below ground
EXPECT BEAUTIFUL WEATHERED WOOD
Our charring & finishing process makes for beautifully designed exterior wood siding.  Like any exterior wood siding prefinished or finished in place, these materials will weather naturally over time and will require maintenance. 
reSAWN's CHARRED offering features Accoya, Kebony, cypress, cedar, black walnut, reclaimed hemlock and newly harvested western hemlock that is burnt in the Japanese tradition of shou sugi ban. Our award-winning CHARRED products pay homage to the traditional Japanese technique of "shou-sugi-ban" aka "yakisugi" without being literal.  Historically very specific in their definition, "shou-sugi-ban" and "yakisugi" have become common nomenclature for modern charred wood designs in general.  All of reSAWN's CHARRED products are made in the USA, in our facility in Telford, PA.
Contact us for reSAWN TIMBER co. specific EXTERIOR Installation Guidelines. The Accoya Exterior Installation Guidelines on this page are a supplement only.