Given rising labor & material costs and ever-expanding lead times, even the smallest element executed incorrectly can have detrimental implications to a project's budget and schedule. Solid execution is particularly critical for exterior features that safeguard a structure from the elements. That is why field mockups for exterior wall assemblies have become such an essential part of planning during residential and commercial projects.
Mockups provide architects, designers, contractors, and owners the opportunity to assess an in-person, three-dimensional representation of a design so that functionality, aesthetics, and quality can be evaluated down to the smallest detail.
The building enclosure (envelope, skin, facade, etc.) represents one of the greatest risk elements of construction. Water penetration, air leakage, and increased energy consumption are common consequences of poorly designed and constructed building enclosure assemblies.
Exterior wall cladding is the visible and exposed surface of a wall assembly and the primary water-shedding layer. It is subjected to the elements and must be constructed to endure long-term deterioration and weathering.
Fortunately, a wall surface does not have to be completely waterproof in order to resist rain and snow. It simply needs to be able to prevent water from getting past the surface material and into the rest of the wall assembly. This concept is what led to the development of rainscreen layered wall assemblies – one of the most reliable ways of keeping exterior walls dry or allowing them to dry out when they do get wet. It's reSAWN's preferred method.
Rainscreen assemblies are built on the assumption that water does not move on its own. Rain and snow, the two most common types of water that fall on an exterior wall, are either pushed downward by gravity or pushed sideways by the wind. The airspace behind a building's cladding or exterior finish has a significant impact on the physical consequences of rain on built environments and their ability to dry after getting wet.
A rainscreen deploys an outside surface – a rainscreen cladding layer – to break the power of sideways, wind-driven water movement, allowing any water that passes through the microscopic gaps in the surface to lose speed. The majority of water merely bounces off the surface or runs down the side of the building.
Why Do a Field Mockup for Exterior Wall Assemblies?
When specifying wood cladding materials for exterior applications, weathering is something that architects, interior designers, and building owners should keep in mind. Since wood is a natural material, when it's continually exposed to environmental elements such as moisture, sunlight, and wind, the physical attributes of the material change and weather over time. With an exterior wood cladding assembly mockup, specifiers can choose products confidently, knowing that the cladding suits the exact exterior conditions where the structure is being built, by observing how it weathers and moves over time in a project-specific climate.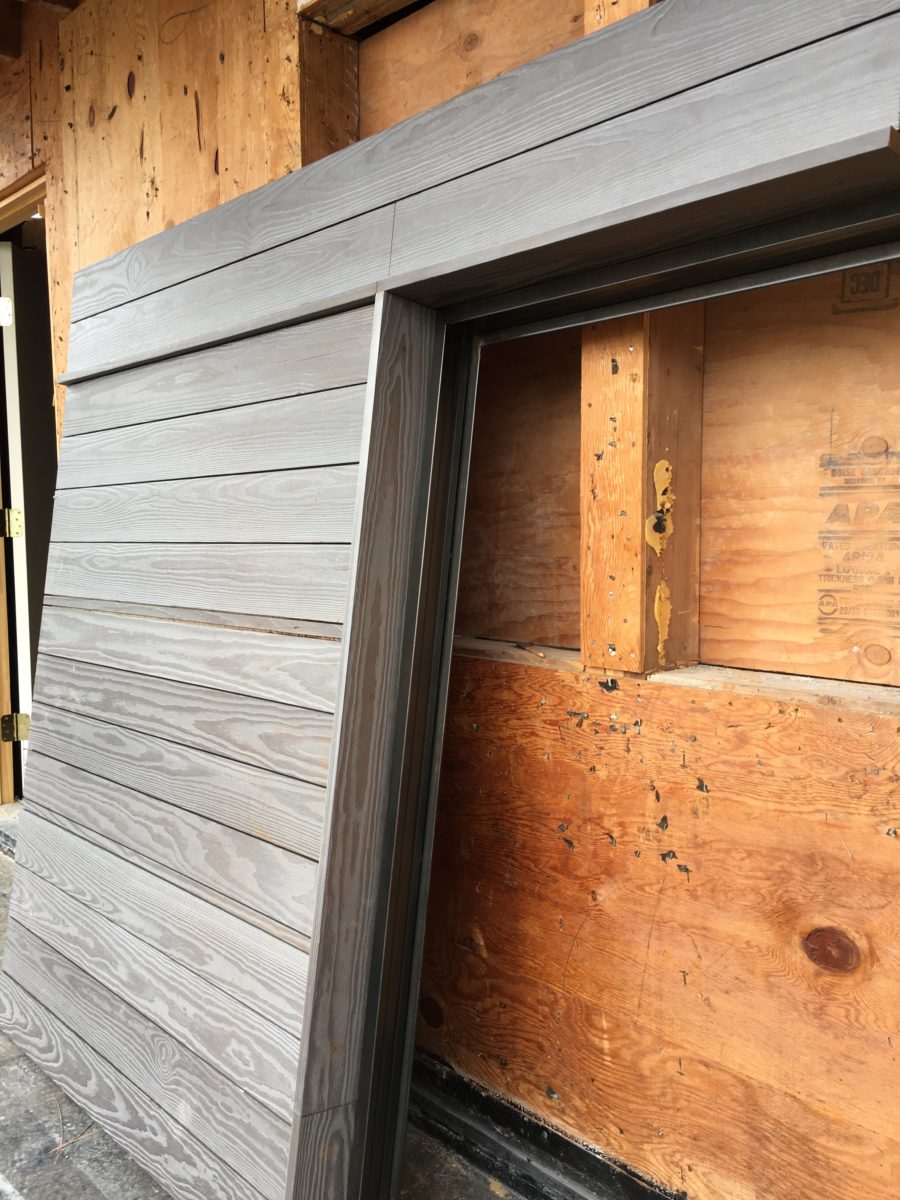 Mockups create an opportunity to refine a design approach before the actual fabrication of components begins and before any unresolved or unknown issues are constructed into the building. Once completed, exterior wall assembly mockups serve to establish the technical, quality, and aesthetic standards for the wall cladding and the project.
The integrity of an exterior wall assembly depends on the performance of its individual components & systems and the transitions between said systems. By taking the time to construct and test a mockup, architects, designers, and contractors can be sure they have the proper materials, a working assembly, and quality execution.
Even with today's photorealistic rendered images through building information modeling (BIM), full-scale mockups do more than a drawing or rendering can.
Exterior wall system mockups allow project teams to touch, see and interact with the finished product while it's still early enough to make changes without cost impact. Furthermore, since every structure and location is unique, and there are innumerable building material possibilities available, BIM or computer-aided design (CAD) detailing cannot resolve field-dependent variables the way a full-scale field mockup for exterior wall systems can.
When done correctly, the construction of a mockup allows a project team to collaboratively work out detailing and compatibility issues that arise during the course of construction, verify the proper function of the intended construction, and apply the results from the process to the project, thereby avoiding costly repeated defects in the completed residential or commercial building.
Benefits of Field Mockups for Exterior Wall Cladding Assemblies
Specify material confidently, knowing that the product suits the exact exterior conditions where the structure is being built.
Observe some amount of wood weathering in a project-specific climate.
Observe tolerance for wood movement in a project-specific climate. Most wood movement occurs in the first 6-8 months after installation.
Understand wood cladding appearance over a larger field of material.
Monitor effectiveness in rear ventilation & drainage through assembly details (i.e. rainscreens).
Mockups are useful for obtaining approval from stakeholders who may find it difficult to understand drawings and specifications.
With a mockup, project teams have the chance to see how the material will perform at the project site prior to full-scale construction.
Performance mockups provide assurance that the specified materials will function as required under a variety of extreme climatic conditions.
The most seasoned trade partners can benefit from using a exterior wall cladding assembly as a teaching tool to show teams how the work should be done. This reduces the risk of quality issues while improving the speed of construction. 
In the interest of sustainability, creating a mockup to to help ensure materials will only have to be installed once, can proactively reduce waste on a construction project.
Creating and testing a building enclosure mockup on a small scale, ensures it is done right on a grand scale. It saves project time, money, aggravation, and waste. 
If you're interested to see how reSAWN TIMBER co.'s exterior cladding will perform on your project site, we offer field mockups for wall cladding assemblies.
We meet the needs of architects, designers contractors, and building owners by designing modern, high-performance exterior products that are meant to age in place with grace.
Click here to get started. We're happy to assist.