The natural beauty, durability, and availability of wood have made it one of the world's oldest and most sustainable building materials. Today, architects and designers use real wood not only in a traditional sense but also in highly imaginative ways – both visually and technically. From an end-user perspective, a common issue with choosing real wood cladding for exterior facades is the perceived ongoing maintenance and uneven weathering on different structure parts.
Uneven Weathering on Uncoated Exterior Wood Cladding
In the last decade, wood finish manufacturers such as SiOO:X Wood Protection have improved the category's overall design and performance capabilities to solve common building envelope issues. Now there's a wood cladding finish option that combats weathering and ongoing maintenance issues by taking advantage of several technological advancements.
The SiOO:X Wood Protection System is a reactive coating system that creates a unique protective barrier to timber. It is designed to minimize the frequency of maintenance when compared to other semi-transparent coatings by creating a surface that becomes more attractive as it ages. SiOO:X mirrors the natural aging process of wood by accelerating the creation of a weathered, silver-grey appearance while giving long-life protection in a completely environmentally friendly way.
This also solves the issue of uneven weathering where some areas fade due to UV exposure, and others don't. SiOO:X creates a consistent grey tone that mimics the look of weathered wood subjected to years of exposure from exterior elements. With SiOO:X, the wood will resemble a weathered look starting around 10-16 weeks after exterior installation, depending on the area's climatic conditions.
Abodo® Vulcan Cladding in SiOO:X Finish
Abodo Vulcan Cladding in SiOO:X Finish
How Does SiOO:X Work?
SiOO:X is a patented, two-part application silicon technology system. Part one protects and strengthens the wood's structure, and part two seals and protects the application of part one until the curing process is complete. Once applied SiOOX cures by reacting with carbon dioxide and moisture in the atmosphere to form an insoluble and flexible silica network within the timber surface. The silicon molecules then grow and expand in the cells and around the wood fibers, deep into the wood, creating the network. The formation of the silica network toughens the surface of the timber and forms an effective barrier against moisture, insect attack, and rot. The network fuses the silicon to the wood, strengthening it while creating a unique silicon shield that protects and gives the surface a natural grey finish. SiOO:X wood protection can last up to 15 years.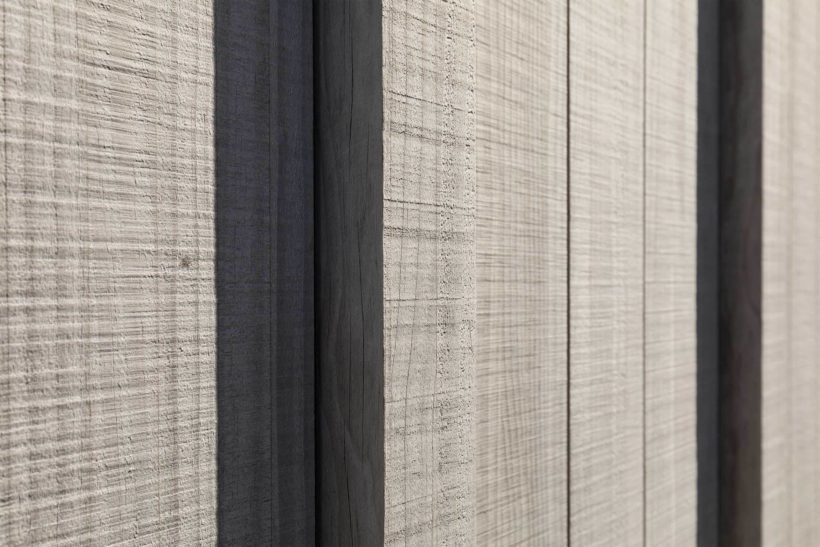 Abodo Vulcan Cladding in SiOO:X Finish
SiOO:X Wood Protector is applied first – it opens up and penetrates surface fibers in the wood cells where it forms a network of silica crystals, creating a barrier bonded to the surface. An application of SiOO:X Surface Protector is then applied which binds with the Wood Protector and prevents water penetration.
Step 1 – The first component, SiOO:X Wood Protector, has tiny silicon molecules that penetrate deep into the wood, where they react and form a solid protective layer over time.
Step 2 – The second component, SiOO:X Surface Protector, acts to seal and protect the first component until it is fully cured, and at the same time forms an inert water-resistant envelope. SiOO:X Surface Protector allows the right amount of moisture to enter, ensuring optimum conditions for the continued process of hardening and mineralization. The result is timber with a beautiful and uniform grey-driftwood appearance, long life protection, and less maintenance overall.
Is SiOO:X An Environmentally Sound Wood Surface Protector?
Yes. SiOO:X is a water-based and environmentally friendly wood surface protector inspired by how nature protects itself using silicon. Silicon is a naturally occurring mineral found in the natural world. It is in trees, other plants, and humans. Trees and plants absorb silicic acid from the soil which dissolves in water and is then transported in trunks and stalks, precipitating out in the organisms and making them stronger. The same natural process strengthens both teak wood in the rain forests and aspen trees in Swedish forests.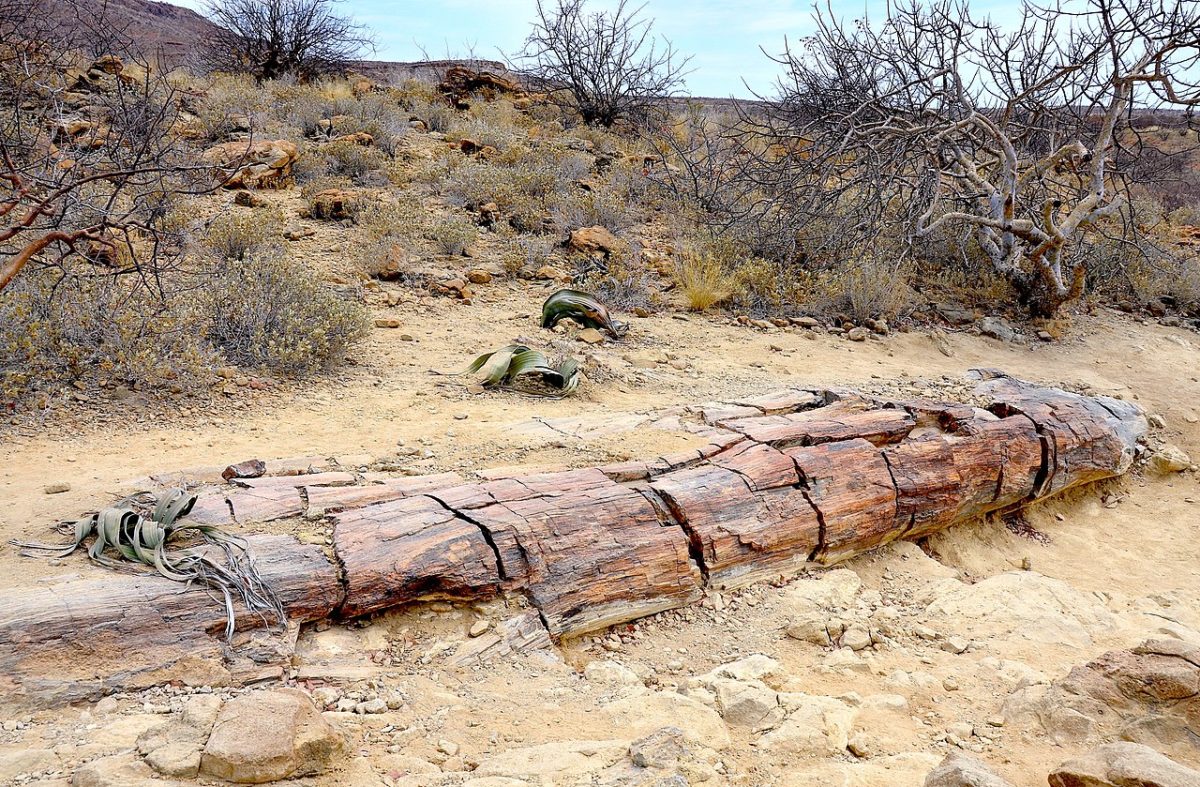 Petrified Log and Welwitschia at Namibia
Silicon also preserves wood. This can be seen in trees with petrified wood, which can be found in many locations worldwide. The cellulose in petrified trees is replaced with silicon, protecting them from the weather for millions of years.
What Are The Benefits of Using SiOO:X Wood Protection?
SiOO:X works with wood to protect against:
Sunshine and UV rays
Rain, frost, and snow
Rot
Algae and mold
Termites other unwanted insects
Advantages of SiOO:X Wood Protection:
Low Maintenance – Timber finished with SiOO:X can be regarded as low maintenance and can be left for 5-7 years before considering re-application. The wood will have cured to a naturally weathered appearance when a recoat is suggested in most circumstances. If a weathered appearance is desired, reapplication is not needed nor required.
Aesthetics – SiOO:X provides a long-term weathered look in a short period of time while keeping wood protected for years.
Penetrating – Non-film-forming coating penetrates into the timber surface and forms a natural protective barrier.
Natural – Plant-based ingredients that are safe for people and the environment.
Red List Free – Free from Red List chemicals as required by the Living Building Challenge.
Water-borne – Only water is needed for clean-up. No solvents are required.
Product Performance from Patented technology – SiOO:X carried out extensive tests at their sawmill and production site. In addition to this, they have an independent piece of research underway in conjunction with Napier University's Centre of Wood Science and Technology. See test results here.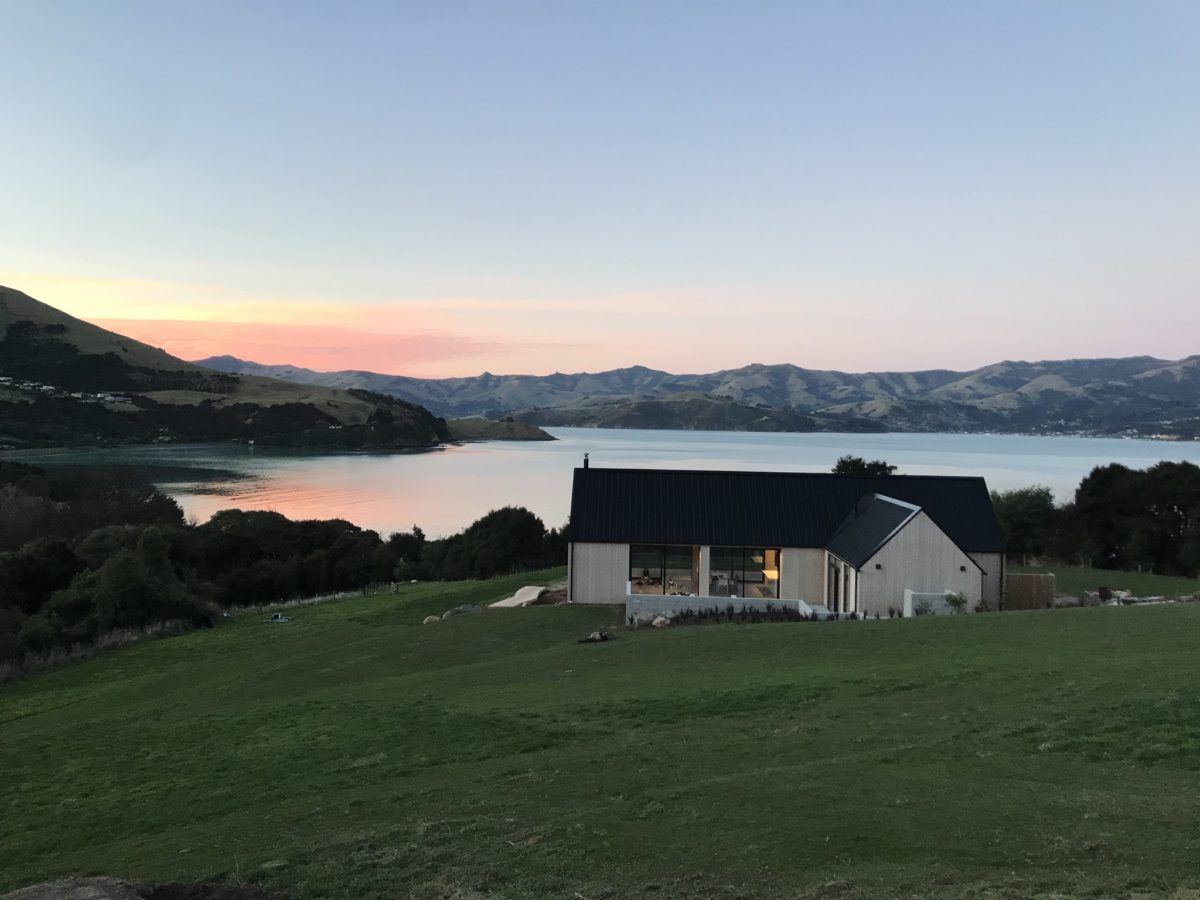 Abodo Vulcan Cladding in SiOO:X Finish
Benefits of Specifying SiOO:X Prefinished Exterior Cladding from reSAWN TIMBER co.
Research & Development – For each wood species, a certain understanding of how that species accepts finishes and how it will weather is crucial. reSAWN has the research, industry knowledge, and exterior wall assembly expertise to guide a specifier, builder, or end-user through the process. reSAWN TIMBER co.'s Research and Development team has tested SiOO:X Wood Protection extensively. Repeated testing found wood surfaces do consistently become more attractive while resisting wear, wind, and weather in even the most demanding conditions. reSAWN's weathering guidelines are available for prospective specifiers and customers.
State of the Art Finishing and Texturing Equipment – Our state-of-the-art finishing and texturing equipment offers sophisticated results that cannot be achieved during site finishing.
Maximum Finish Penetration – Our machine applications ensure proper spread rates are maintained. SiOO:X is brushed deep into the surface for a longer product life span.
Drying Time & Space – Drying racks that hold wet cladding on a job site are costly and take up much-needed space. reSAWN TIMBER co.'s prefinished wood materials are finished and dried in a controlled environment prior to arriving on a job site.
Product Protection – Wood siding is protected from exposure to water and sunlight until it arrives at the construction site.
Save Space – Save physical space on a job site by eliminating the coating phase from the construction process.
Year-Round Finishing & Installation – No weather or humidity delays for stain application. reSAWN's manufacturing facility is climate controlled and operates 12 months out of the year.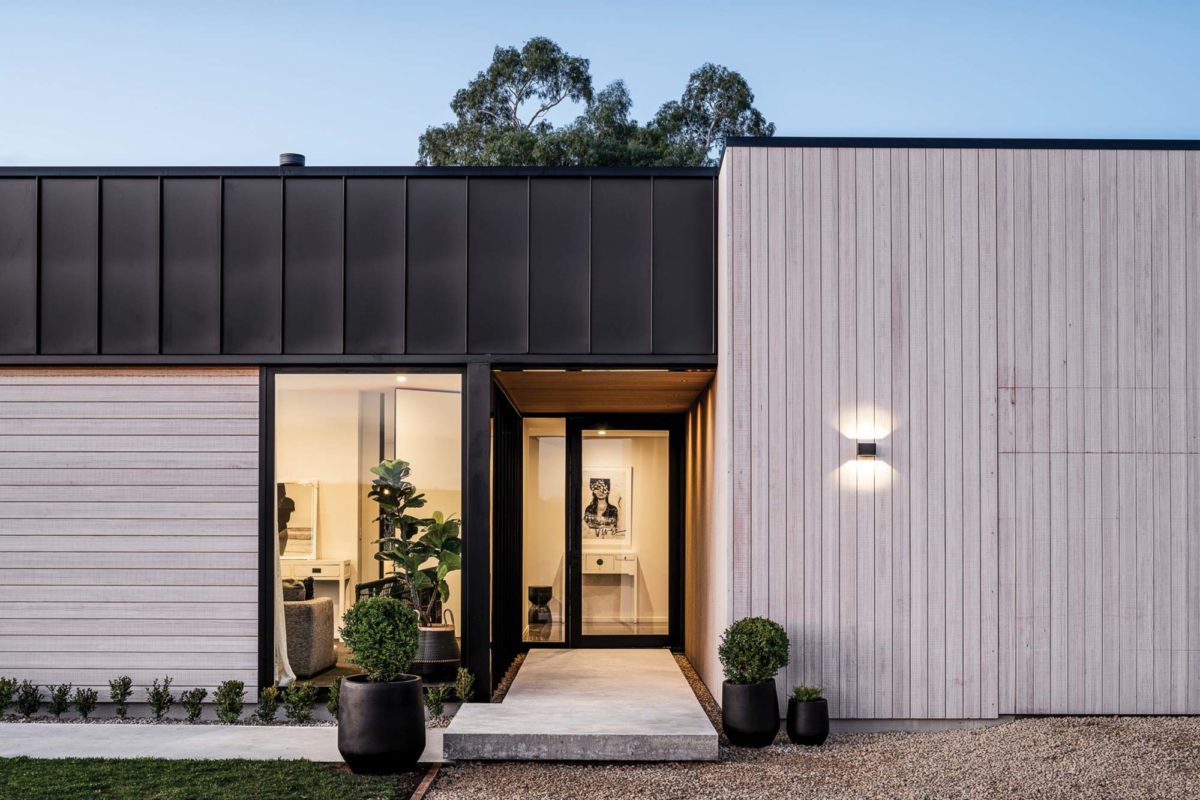 Abodo Vulcan Cladding in SiOO:X Finish
How Long Does It Take For Exterior Wall Cladding To Become Silver-Gray?
Treated wood is initially yellowish-brown and a bit mottled. The curing and bleaching process starts in contact with water, and after 6–12 months, the cladding will begin to have a lovely, even silver-grey tone. The curing and bleaching process then continues for up to 2 years by which time the timber will be a pale, grey driftwood color.
SiOO:X Finish – Day 1
SiOO:X Finish – Weathered 6 Months
Will all exterior areas cure to the same tone, regardless of exposure to rain and other climatic elements?
Yes, however extremely sheltered areas (for example, under large overhangs) may take longer to turn entirely grey. Sheltered areas can be doused with water periodically to speed up the curing/weathering process. This process can be repeated several times as required.
Abodo Vulcan Cladding in SiOO:X Finish
This color variation evens out quickly and, over a period of 10-16 weeks once exposed to moisture and humidity in the atmosphere, the timber will lighten and develop a uniform appearance as the SiOO:X cures.
If I order exterior cladding pre-coated in SiOO:X, what color will it be when delivered to a job site?
Immediately after the application of SiOO:X, the color can range from the wood's original color to a dark brown. The color of the boards may also vary depending on the tannin content.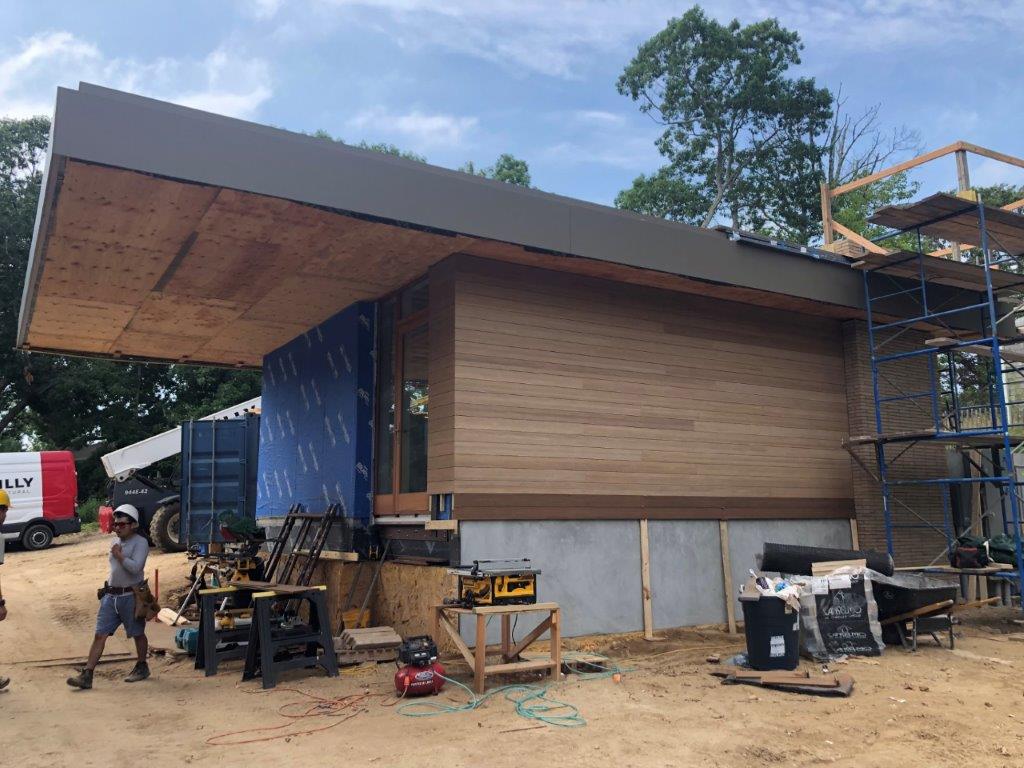 Job Site Photo: Sag Harbor, New York – Abodo Vulcan Cladding in SiOO:X Finish
Abodo Vulcan Cladding – SiOO:X Finish
What's the Best Timber Substrate?
SiOO:X works on many types of timber; however, according to SiOO:X Technologists: "Abodo Vulcan Cladding is recommended. It's a thermally modified softwood that is durable with low movement. These are key aspects to maximize the performance of the SiOO:X wood protection system."
Abodo Vulcan Cladding by reSAWN TIMBER co. finished in SiOO:X
"Furthermore, the medium density of Abodo Vulcan timber combined with its textured sawn face means that the reactive wood protection can penetrate well into the timber and react with it to create the best possible durability."
When Abodo Vulcan Cladding is finished with SiOO:X Wood Protection system, the result is timber with a beautiful and uniform grey driftwood appearance, long life protection, and less maintenance overall.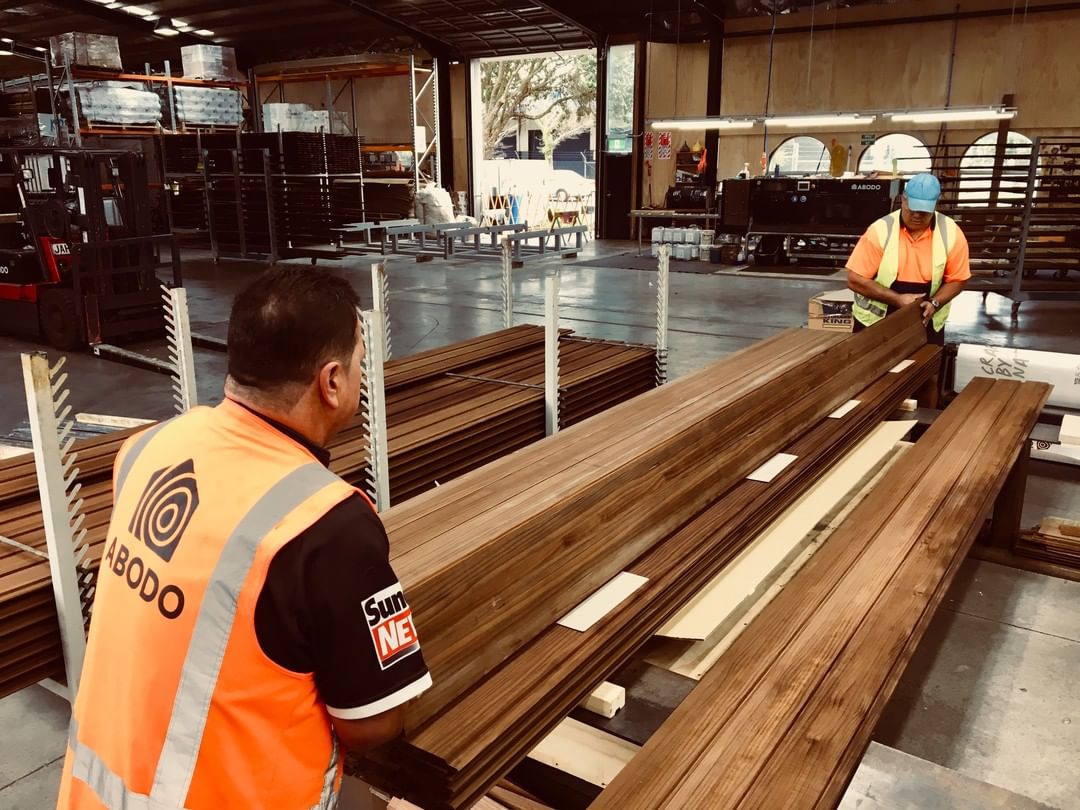 Abodo Wood Manufacturing Facility, New Zealand
Abodo Vulcan thermally modified wood cladding is created from New Zealand plantation timber and engineered with a patented vertical grain orientation for superior weathering characteristics.
The thermal modification process and vertical grain structure give Vulcan cladding superior stability and reduced resin content. It's naturally durable so the timber doesn't require any chemical preservatives, and has a beautiful, consistent brown tone. reSAWN TIMBER co. is proud to be the exclusive manufacturer and distributor of Abodo thermally modified Abodo Vulcan Cladding and in the USA.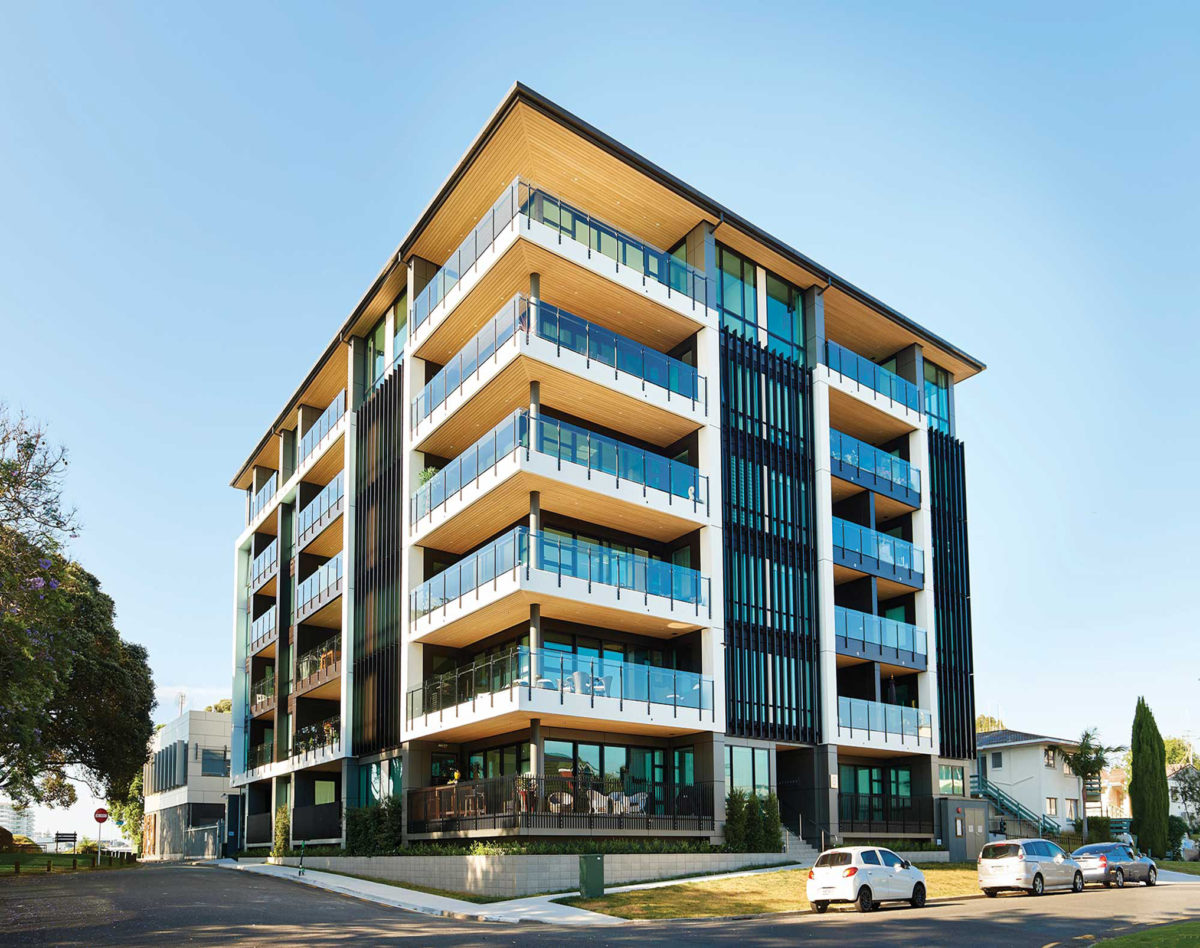 Abodo Vulcan Cladding Ceiling Soffits in SiOO:X Finish
Experience the Difference of Wood Protection with Patented Silicon Technology
SiOO:X Wood Protector products are specified by world-leading architects, designers, and homeowners seeking sustainable and natural wood protection solutions. Experience the difference of an even consistent, beautiful patina and wood protection that preserves wooden surfaces and protects them at depth using nature's own silicon technology.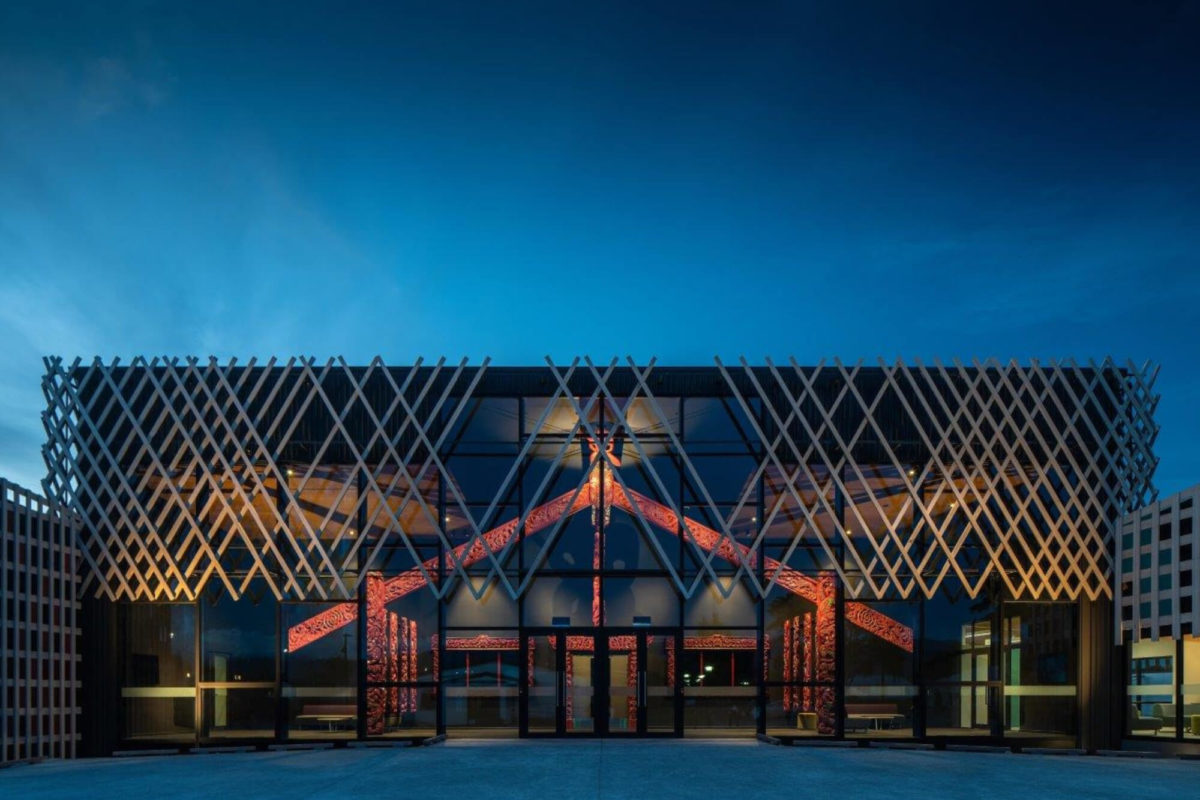 Abodo Wood Vulcan Timber Screening – SiOO:X Finish
Samples of our SiOO:X prefinished wood are available for architects and designers at no cost and shipped via UPS Ground. Click on the button below for more information about SiOO:X prefinished exterior cladding.