In this video, Scott Stevens from reSAWN TIMBER co. walks us through the Six Square House in Bridgehampton, NY. This 3,500 sq.ft. residence, featuring two bedrooms and three bathrooms, presents a modern interpretation of the area's conventional barn designs. The home is made of six 24' x 24' modules that all feature gabled geometry and a complex-looking roof design that's shaped like an inverted V. Additionally, this layout capitalizes the surrounding landscape, with each module offering a unique view of the lush property.
Young Projects specified reSAWN TIMBER co.'s IKIGAI FSC®-Certified Accoya wood for the exterior cladding and roofing. The design incorporates an open joint rainscreen to promote ventilation and includes a waterfall edge for effective water drainage. In its entirety, the Six Square House explores gabled geometry, achieving a balanced fusion of symmetry and asymmetry.
Returning to the residence three years later, the exceptional endurance and visual appeal of the IKIGAI cladding made a lasting impression, showcasing its minimal need for maintenance or cleaning.
Accoya® Wood: The Beauty of Wood, Without the Maintenance
reSAWN TIMBER co. is honored and proud to have our IKIGAI Shou Sugi Ban product featured on the exterior of the beautiful Six Square House. The high-performing product aged gracefully after three years of installation and will continue to do so due to Accoya® wood's extreme durability. We appreciate Young Projects for specifying our product for this project and look forward to continuing our partnership in the future.
IKIGAI – FSC®-Certified, Shou Sugi Ban Accoya® wood can be used for interior or exterior wall cladding. IKIGAI is finished with a dark gray topcoat designed to protect the wall cladding as it naturally weathers over time. reSAWN's award-winning charring technique adds depth and dimension to Accoya's natural grain pattern.
Architects and designers can request complimentary Accoya samples to assist in your project decisions.
Video transcript:
Hey guys, Scott Stevens here with reSAWN TIMBER co. We're here in Bridgehampton, NY, looking at the Six Square House designed by Young Projects. This home is 3,500 sq.ft. and sits on about two acres of land. Construction was finished in 2020, and we're visiting three years later to observe how the wood siding and wood roof cladding have performed and weathered over time.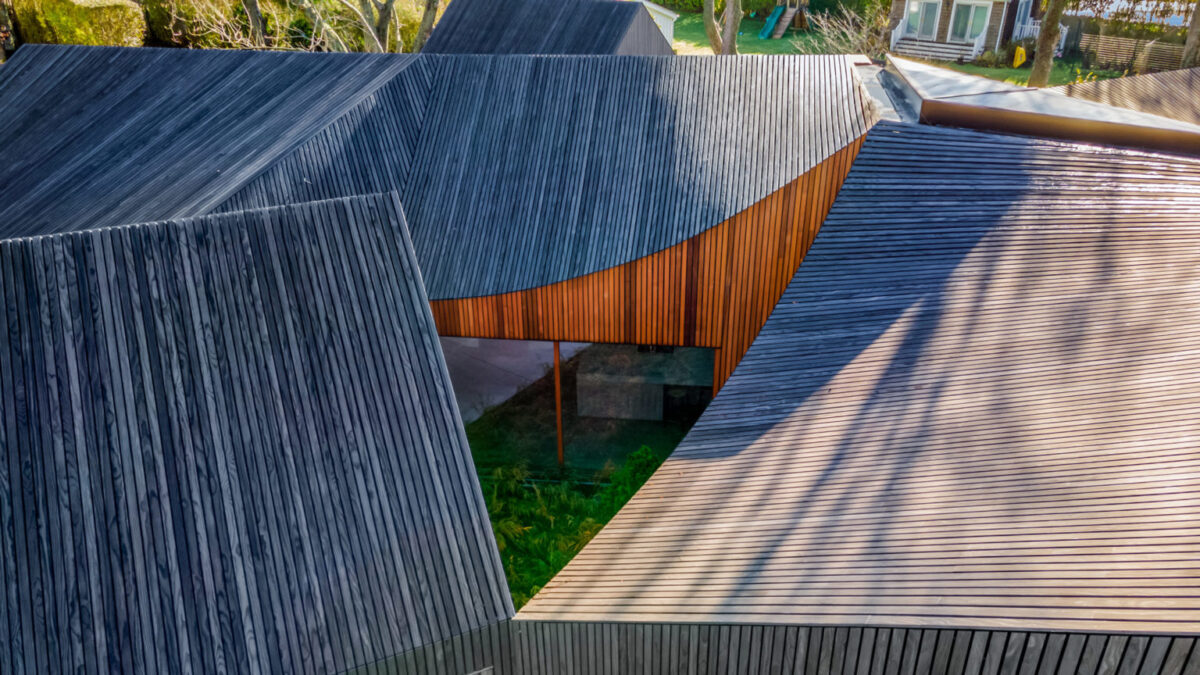 This project utilizes our IKIGAI product, which is produced on Accoya®. Accoya is an exceptionally high-performing modified wood, backed by a 50-year warranty against rot and decay when used above ground (25 years in ground or freshwater). It also offers remarkable dimensional stability, making it a low-maintenance material for your home and this specific finish. IKIGAI is designed to naturally and consistently weather over time.
For this particular application, the architect designed a two and half inch slat in your more traditional open joint rainscreen. What this rainscreen does is that it separates the siding from the sheathing to promote 360 airflow and rear water drainage. The benefit of that is to allow for the wood to fully breathe and dry out. Which adds to the longevity of the material.
Another interesting detail is that they panelized the installation so they were able to blind fasten from behind and hang the panels on the building to ensure a secure fastening so the wood isn't moving or going anywhere. If you take a closer look at the wood roof cladding down to the siding, there's a really nice waterfall edge that allows for actual water to sheath down, but also just a really clean detail well executed by the installer as well to keep those crisp, clean lines that the architect intended.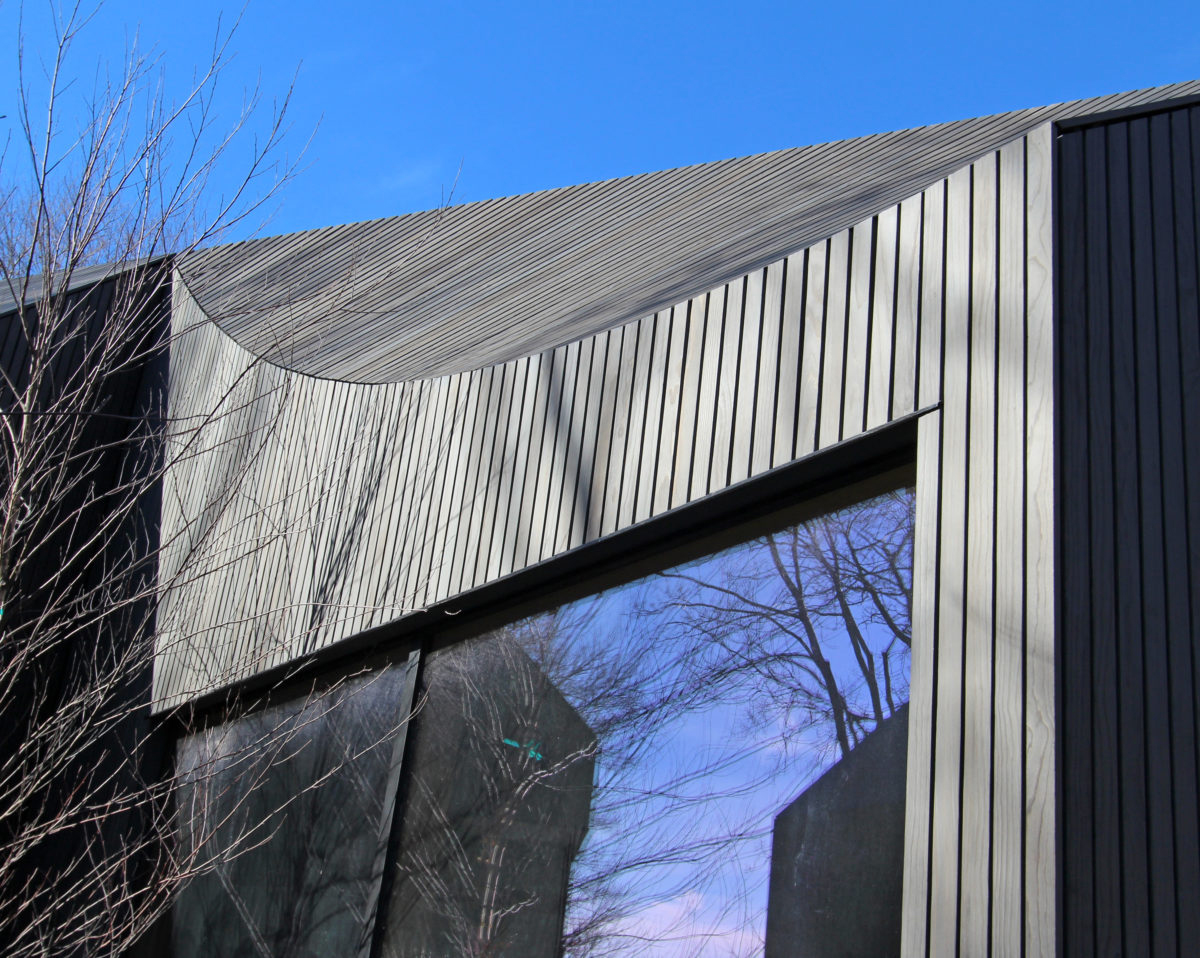 After three years of weathering, it's evident that IKIGAI is evolving and weathering as it's intended to do. Lightening up and fading over time to that really quintessential coastal gray color. Due to Accoya's modification process, there's no need to reapply the finish. Although, it is always good to do so. Freshen it up and you can get back to that original day one color over time.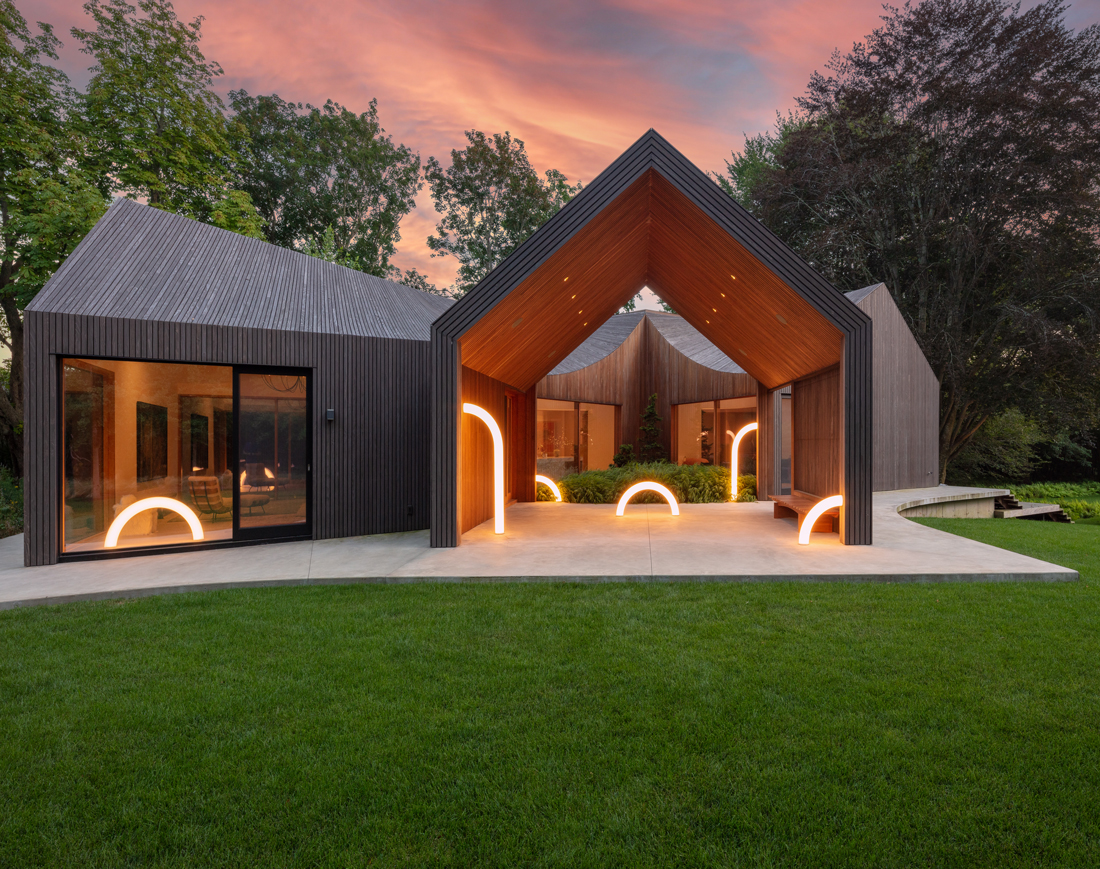 We want to shout out Young Projects for not only specifying our material, but designing such a beautiful project that showcases it along with all the other materials on the project.
If you're very interested in receiving samples of IKIGAI or any of reSAWN's other product offerings, feel free to reach out and we'll connect you with the Specification Consultant in your area to help you select the right product for your project.
Local Project – Architect Designs a Breathtaking Home Connected to Nature
The Local Project offers an in-depth look at the Six Square House, where architect Bryan Young, delves into the project's initial vision and how it came to life. As a meticulously crafted residence, it serves as a prime example of how an architect achieves a breathtaking home through thoughtful design and execution.
Architecture Hunters – Six Square House: Bridging the Private and Public.
In the interview with Architect Hunter, Architect Bryan Young delves into the intricacies of the Six Square House, examining its adaptable and interconnected spaces. Bryan underscores the significance of wood elements in facilitating both visual and tactile transitions between different areas. The house sparks a broader architectural discourse on evolving dynamics in urban environments, thereby paving the way for innovative architectural explorations.