With a primary goal of revitalizing Boston's South End neighborhood, Elkus Manfredi Architects created a design aesthetic that focuses on returning the area to a lively, dynamic mixed-use community. Drawing inspiration from former building owner–the Boston Herald–Ink Block has become a pillar in Boston's revitalization project with classic Bostonian motifs and contemporary, edgy design features.
Ink Block is comprised of three different apartment complexes that have vastly different design themes. 3 Ink offers a traditional industrial design that includes warmer colors and wood integrated throughout the building, and houses reSAWN's WEATHERWORN reclaimed barn siding in the lobby.
reSAWN's WEATHERWORN reclaimed barn siding from the enCORE collection is a beautiful way to incorporate antique building materials into a modern design. WEATHERWORN is an original board face reclaimed wood that was power washed and de-nailed with the original patina left untouched.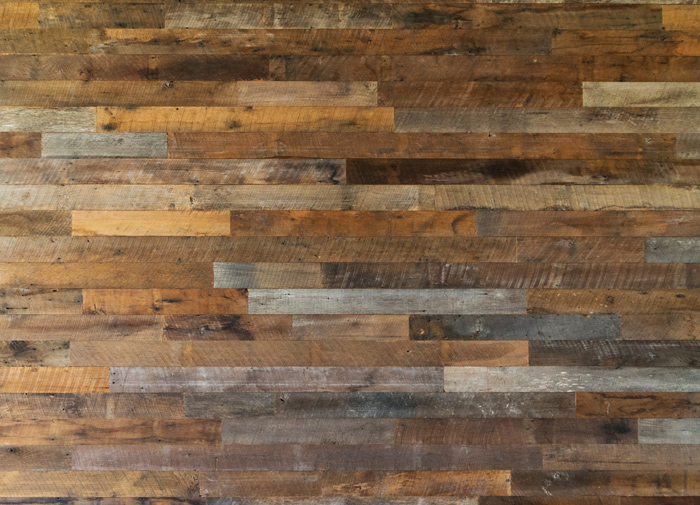 Reclaimed wood also has exceptional performance qualities. Long before Columbus founded the new world, the seedlings of the great North American forests were taking root. Left undisturbed for centuries, these seedlings were able to slowly grow into massive trees, basking in the ample pollution-free air and water of pre-industrial America. This slow growth and natural habitat is key to the unique beauty and strength of antique reclaimed wood. Due to over-milling during the industrial era, all that remains of these majestic woods is preserved in the barns, homes, and buildings of that era.
In line with their contemporary theme and antique accents, Elkus Manfredi Architects hoped to make Ink Block an icon of sustainable building. Ink Block sought to achieve four basic sustainable design goals: resource efficient, support health and wellness for its users, be flexible and adaptable, and be durable and maintainable. With WEATHERWORN being a reclaimed wood that does not contain any VOC finishes and has lasted for countless decades, the wood offered numerous sustainable qualities to the building.
Click here to see the entire Ink Block project.
© 2016 Kevin Bennett Photography