PRODUCTS
Reclaimed Red and White Oak Table:
TOP:  Reclaimed Red and White Oak – Skip Planed
DIMENSIONS: 39″ wide X 96″ long X 42″ high
FINISH: Clear Conversion Varnish all sides
BASE: Steel tube legs
POWER: Built-in Power including Electrical Outlets and USB Ports
MATERIALS: Weathered and Reclaimed Oak – Mixed Red & White Oak
DIMENSIONS: 3/4″ thick X 6″ wide X 4′-12′ random lengths
*Built on job site
ABOUT THE PROJECT 
The Broad Institute of MIT and Harvard is well regarded for their collaborated work spaces, and incorporated reSAWN's skip planed, reclaimed red and white oak table into their office space.
Side view of the reclaimed red and white oak table at The Broad Institute.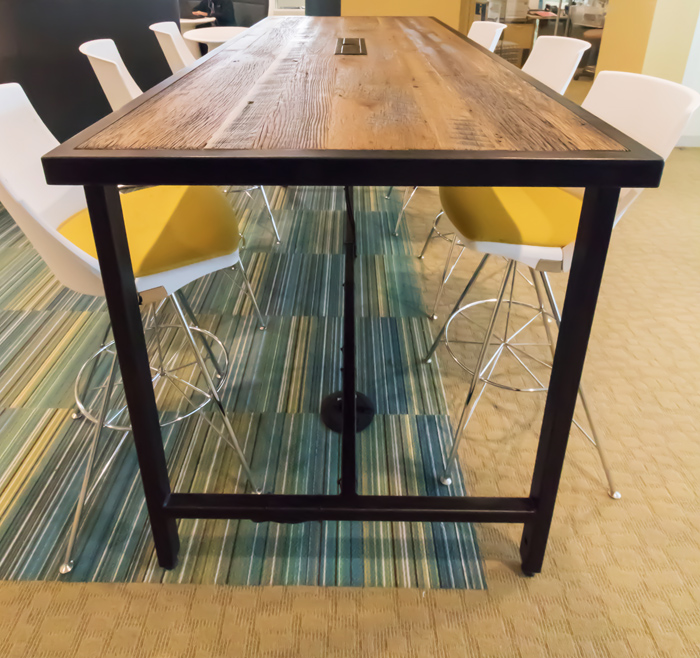 Additionally, reSAWN provided their
WEATHERWORN
reclaimed barn siding for a bench that was built on site.
Originally categorized for flooring and wall cladding in reSAWN's enCORE collection, design group, Nelson, specified WEATHERWORN to add a natural accent to the room's bright aesthetic. WEATHERWORN is a raw, reclaimed barn siding with the original patina of the board face left untouched. WEATHERWORN is available in a variety of species and colors, but this project used a mix of red and white oak. The wood was delivered to the job site where it was constructed into the bench feature.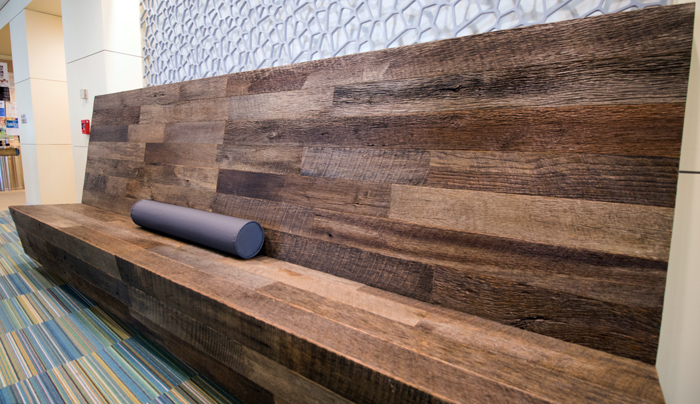 Click here to see the entire project page with added pictures.
RSTco. is a team of skilled craftsmen dedicated to creating beautiful, modern solid wood furniture.  All RSTco. furniture is custom built and finished in our wood shop from locally sourced and sustainably harvested wood species. We prefer and specialize in solid wood construction as well as using traditional joinery wherever possible. We offer a variety of finishes that are both durable and complimentary to the wood.
© 2016 Kevin Bennett Photography