In this video and article, John Marley from Spire Builders takes us on a tour of the construction process of the Lake Shore Drive Project, an 18,000 sq.ft. home in Newtown, PA. The Feng-Shui designed home features a sauna, indoor pool, outdoor pool, tennis court, and multiple outdoor spaces for family-gathering.
This modern home features over 3,900 sq. ft. of reSAWN TIMBER co.'s NIGIRI Charred Accoya® exterior cladding. The exterior ceiling cladding displays reSAWN's LEWIS Western Hemlock. The custom home introduced unique challenges and innovative structures that make this project one of a kind. The home features 40 tons of commercial steel beams to support the main entrance of the home. The framing of the house is supported by a Knightwall system that holds the cladding, the hidden gutters, and the intricate window structures.
Revisiting the residence after three years, the remarkable weathering performance of the NIGIRI cladding leaves an indelible impression of durability and beauty while requiring little to no maintenance or cleaning.
Accoya® Wood: The Beauty of Wood, Without the Maintenance
reSAWN TIMBER co. is honored and proud to have our NIGIRI Shou Sugi Ban product featured on the exterior of the beautiful Lake Shore Drive Project. The high-performing product aged gracefully after three years of installation and will continue to do so due to Accoya® wood's extreme durability. We appreciate Spire Builders for specifying our product for this project and look forward to continuing our partnership in the future.
NIGIRI – FSC-Certified, Shou Sugi Ban Accoya® wood can be used for interior or exterior wall cladding. NIGIRI is finished with a grey topcoat designed to protect the wall cladding as it naturally weathers over time. reSAWN's award-winning charring technique adds depth and dimension to Accoya's natural grain pattern.
Architects and designers can request complimentary Accoya samples to assist in your project decisions.
Video transcript:
Hey, I'm John Marley from Spire Builders. I'm here to give you a tour of one of our custom home projects in Newtown Square.

This is a large, modern house with about 18,000 sq.ft. of residential space. It's built with a commercial-grade steel structure, which weighs about 40 tons. The steel structure is a major component of the house, as you can see in the catwalk area. It was important to get the foundation and steel structure as precise as possible, so we used shop drawings to plan everything out in advance.
Once the steel structure was in place, the framers took over. With modern houses, you have to think about every single detail from the framing stage all the way down to the finishing stage, because it could affect things later on.

This house has a lot of challenges that actually make it really unique. For example, we're building some of the components out of order. We're installing some of the drywall before we finish other installations. Then, once the drywall is in place, we're starting on the flooring and trim. This is a bit of a backward way to build, but it's necessary for this particular house.

All projects start with good drawings and the architect for this project had a very detailed set. We worked out a lot of the details in the mock-up process, but the architect was able to start specifying where he wanted the start corner and other things like that.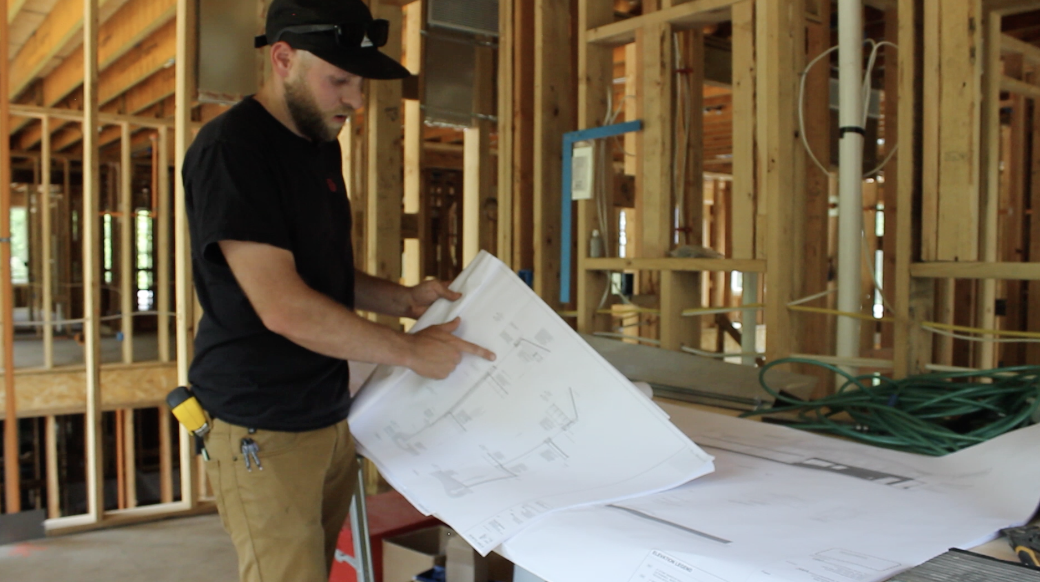 We have incorporated a unique and interesting design feature for the window structure. We have cross-section views that provide a detailed look at the construction. In these views, you can see the siding, concealed gutter system, and the Knight Wall system, which plays a vital role in supporting and securing all the elements of the window structure.
Even better, the cross-section views show that the stone and the siding are all in the same plane. This is because the Knight Wall system impacts everything.
We are working with the TBD architects in New York City. You (reSAWN TIMBER co.) introduced them to some of your materials. We narrowed down our choices to the NIGIRI Accoya® Shou Sugi Ban product which presents a dark grey tone and will keep that consistent color throughout its lifetime.
Accoya® wood is a radiata pine that is chemically modified. It is a modified timber in which a process is called acetylation, a cutting-edge patented technology that enables it to resist rot and stays strong for decades. It has a 50-year rot warranty above grade and a 25-year rot warranty at or below grade.
That was a major deciding factor for the client. The client wanted a material that was both low-maintenance and long-lasting. They wanted something that would not require a lot of upkeep, but that would also age and weather gracefully.

The NIGIRI cladding material used is a 1 x 4 board, measuring three and one-half inches in width and three-quarters of an inch in thickness. It features an open-joint design with square corners.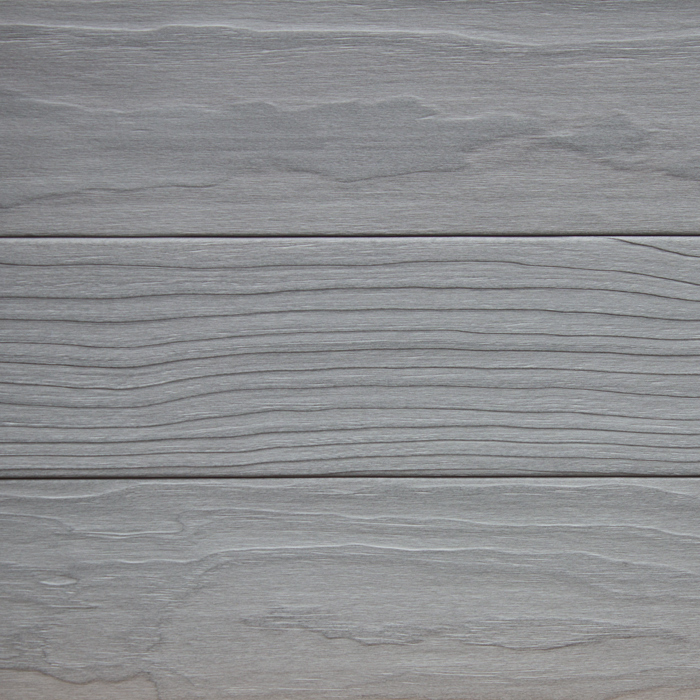 The window jambs run all the way out to the face of the siding material. They are finished on three sides, with the back sides pre-sealed. That extends all the way out to the face, so that way everything is flush.

The window sill has a separate profile that looks very similar. It has a slight pitch and even has a routed groove on the bottom to drain water and moisture away from the sill instead of letting it run back around to the other side of the sill.

We also included an open joint that continues all the way around the window units and in between all the siding.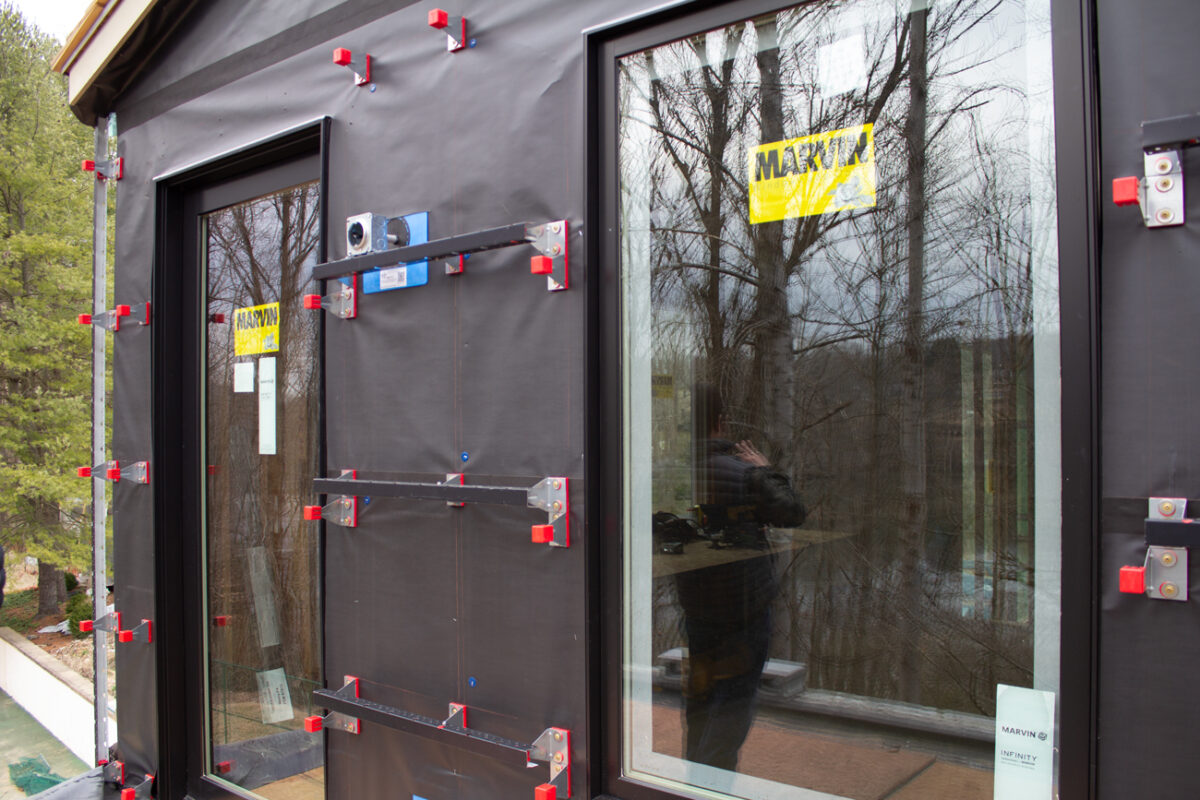 During the mid-construction phase, you can see where the Knight Wall and window trim have been installed. This process starts at the framing stage, where we used a variety of products, including Green Zip and Benjamin Updike InvisiWrap.

Green Zip is typically used for roof applications, but it can also be used as an exterior weather barrier. However, because the open joint siding cannot rely on this as its facade, we use InvisiWrap, a black wrap that can withstand open joint cladding. InvisiWrap has a 365-day exposure rating and can handle up to two-inch open joint gaps, which is perfectly in line with their warranty. The backside of this product is like a diaper in that it allows moisture to pass through it, but not through the face of it. This means that it acts as an extra raincoat, keeping moisture out while still allowing it to escape.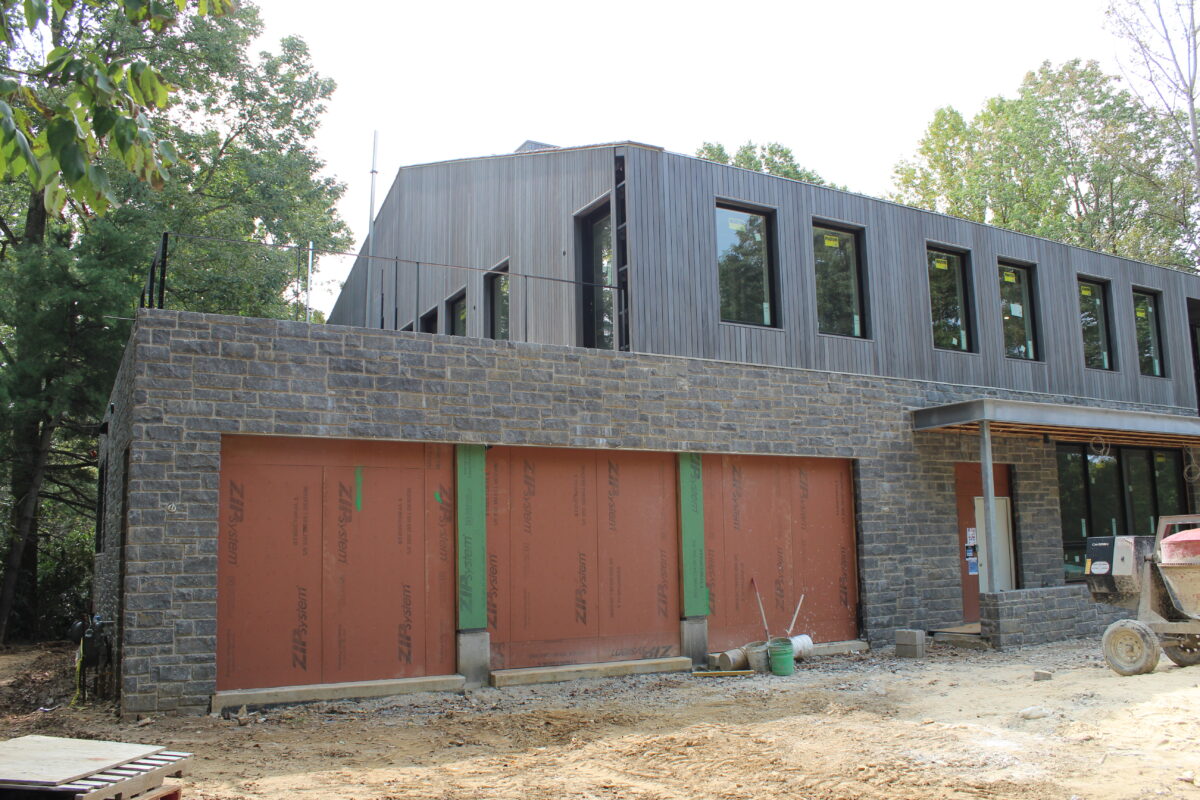 The next component of this project was the Knight Wall system. I specified this system because I had concerns about the architect's original plan to use a wood frame structure that would be painted black to hide everything. I was worried about water and rot causing the substructure to fall apart before the siding, which would void the 50-year warranty.
I was able to find a commercial system that is typically used for exterior insulation. This system uses wall clips and long screws to attach the siding system to the frame, which raises the siding off the wall by six inches. This is done for a few reasons, but it is primarily used for exterior insulation.
The rails that we use can be coated with black paint, so we made sure to get them with that coating. This ensures that the silver siding will be visible, and it even has a soft coating to protect projects in coastal environments.
The architect wanted a deeper window jamb, which is why the Knight Wall system was used. This system creates a more visually appealing exterior, and it also allows for a hidden gutter detail and a flush installation with the stonework. The Knight Wall system also helps hide structural components, which makes for a more seamless and aesthetically pleasing finish. It is really unique and it worked out really well for this project.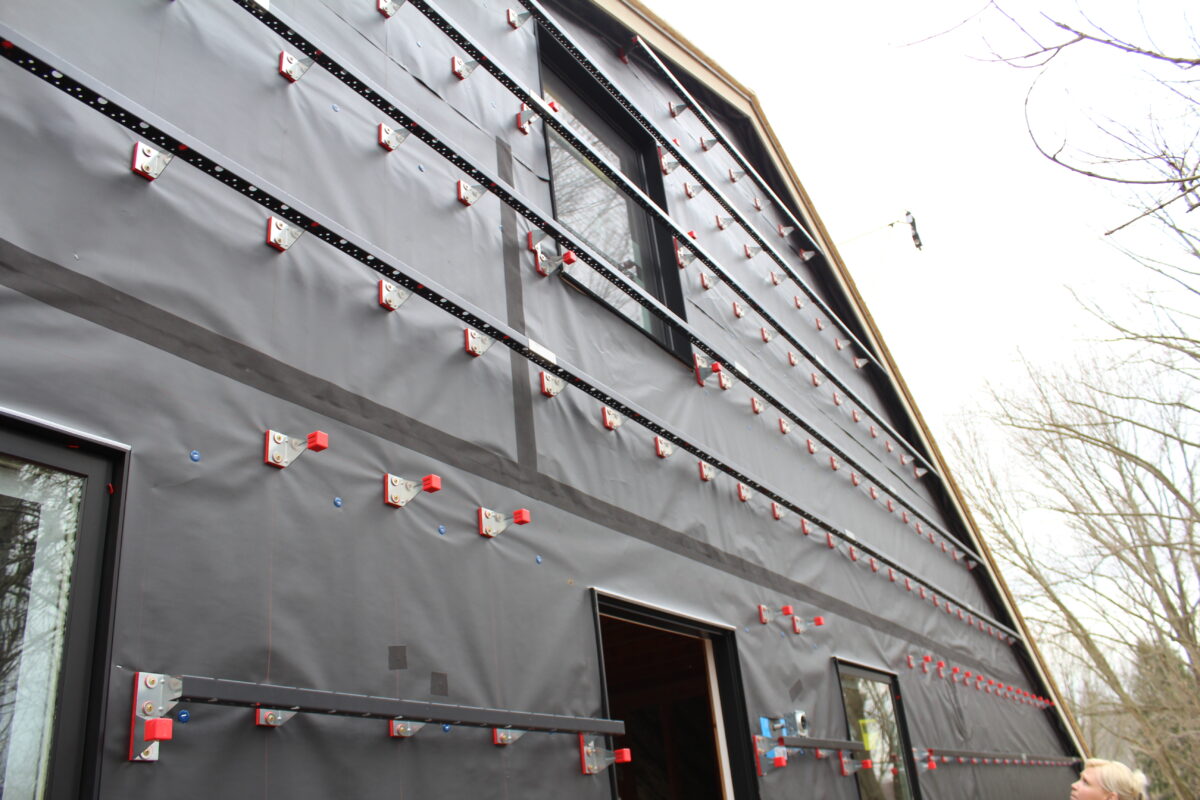 With the open joint design, a significant amount of flashing is required. Traditionally, regular head flashing is used, but for this project, we opted for a zinc-coated copper flashing instead of the traditional lead-coated copper. We employed a double-head flashing profile, which effectively directs water and any debris away from the house.
To ensure a watertight envelope penetration system, we utilized Quick Flash Units. There are various penetrations, such as outlets, hose bibs, electrical boxes, and even camera wires. The open joint system demands thorough attention to detail; nothing can be overlooked.
The siding material is pre-finished on all sides, but all cuts must be glued and sealed. We use a PPG stain that reSAWN TIMBER recommended, and we apply it with little roller applicators. The cuts are not visible here because they are all butt jointed. However, even butt joints need to be pre-sealed to prevent any issues. I actually tested not sealing the cuts, and it didn't affect the finish at all. However, we sealed every cut to be on the safe side.
The hidden gutter design was originally introduced to the architect, who drafted the siding and spaced out the gutter detail. It was up to us to make it a reality. The Knight Wall system actually came after the fact, because they had originally drawn a wood framing system that would actually hold the siding. This would have to be black, and there were concerns that it would rot out. We were even going to have to notch out some of the pipes to get them back into the structure. By using the Knight Wall system, we were able to hide a lot of those pipes behind the structure.
Behind this siding piece is the hidden gutter. There is a drop point, and the pipe runs behind the siding system and stubs out to a drain point. We would not be able to do this with a normal system. It is pretty cool that we are able to run the piping behind the rails and hide everything.
The siding material alone is very custom, but one thing that was even more custom was the window jambs. We had everything drawn up and signed off on, and I was even able to provide a profile for the sill. They were able to completely custom-make all of the profiles for us, which was awesome. We would not have been able to achieve the same look without having everything pre-finished to that profile.
We also had very custom exterior doors made at a later date. We milled the raw material to our specifications and then sent it back to reSAWN TIMBER to be finished. This ensured that the doors would match the siding exactly.
The window jamb material had to be specified exactly. The siding system is six inches, and we know that the flanges tend to feather things out a little bit. So I specified the jamb material at five and three-quarters of an inch. This gave us a little bit of flexibility.
So far, we haven't had to rip any jamb material down. We did order a few extra wide siding boards. In tight little areas, we had to rip it a little bit on site. The edge was then pre-sealed. In certain areas, we might need three and three-quarters or close to four inches. Having those wider boards will actually help resolve those issues.
There are a few different corner details that were done for this project. The architect wanted a simple lap joint, but each corner is being handled a little bit differently.
We measure from ten feet away to ensure that the board lap looks consistent from all angles. For example, we might have to face a board lap forwards or place it on its side, depending on the view. We had to consider the porch area, for instance. They will want to see more of a full board on that side, as opposed to this side, where you can't see it from here unless you're 30 feet down below. Even though it's a simple corner detail, every single corner on the house is thoroughly thought out.
This house has a mixture of cedar and flat roofs structure. The cladding is able to touch grade, but we left a small reveal of about a quarter of an inch along the E-vent's.
On the side of the house, we're able to have a drip cap with the gable window. This will allow the siding to tuck up and hide, and be protected.
In areas where we have a flat roof, we're able to run the siding down. Our deck system ended up butting into that structure and hiding the edge of those boards.
With a 50-year rot warranty, the cladding can touch grade even if it is touching the roof structure. Some materials, like fiber cement siding, require an inch and a half to two inches of exposure to prevent moisture from breaking down the material. However, this material does not require that.
With the 4 x 1 boards, we were able to use a fastener every 24 inches because that is a specification for the Knight Wall. A system like this would typically hold 22 pounds per square foot, and the rails would be spaced 12 inches apart. This is similar to what is required for a stone veneer. However, this system worked better for this project.
We are using a single fine-trim stainless, self-tapping screw for the metal rail system. Even though it is a self-tapper, we are still pre-drilling to prevent the boards from pushing out.
We considered using a Simpson stainless self-drilling trim screw that matches the siding, but the architect was concerned that it would stand out over time. Stainless steel is tried and true, and it looks the same pretty much all year and it has a high resistance to rust.
We use two different sizes of screws for the jambs and the siding. The shorter screw is one inch and a quarter long, and the longer screw is two and a half inches long. The jamb material is one and a half inches thick, and the siding material is three-quarters of an inch thick.
The project started with a mockup. I built the mockup for a couple of reasons. First, I wanted the client to make an informed decision about the products we would use based on their performance and appearance. Second, I wanted to create an instruction booklet for the installation. I took step-by-step pictures of the installation and put them together in a bid packet. This way, all of the subs who were bidding on the project would have the same information. It also helped me to select the right contractor. Some subs turned down the project because it was too much or too involved.
The mockup included reSAWN TIMBER co.'s WABI SABI and NIGIRI exterior siding. We also tried out 1 x 6 and 1 x 4 boards. The client ultimately went with the 1 x 4 boards. The mockup also allowed us to see two different types of stone and the hidden gutter detail.
The mockup has been up for over a year and NIGIRI looks almost exactly the same as it did on day one. The WABI SABI cladding has faded out a bit, which is how it naturally weathers. However, the client preferred the darker tone of NIGIRI and how it stays consistent over time.
The stainless steel fasteners will eventually match the color of the siding, as the siding darkens over time. We used two screws per board in some areas, but with Accoya's specifications, we can actually use one screw per board. This material has very little expansion or contraction.
The siding was installed with a three-sixteenths of an inch open joint, and remarkably, there has been no movement whatsoever. This speaks to the impressive stability of the material. Even the boards that were left unsealed on the underside remain undamaged, showcasing the remarkable durability of this natural wood material.
Three Years Later
After three years, we revisited this residence with NIGIRI siding, an Accoya® material that's been charred and stained. The siding has impressively weathered without any signs of wear, and it has demanded no maintenance or cleaning. The most demanding aspect of the project was constructing the garage doors and exterior door. We had to mill the material according to the door specifications before relying on reSAWN TIMBER to finish it flawlessly.