ABOUT THE PROJECT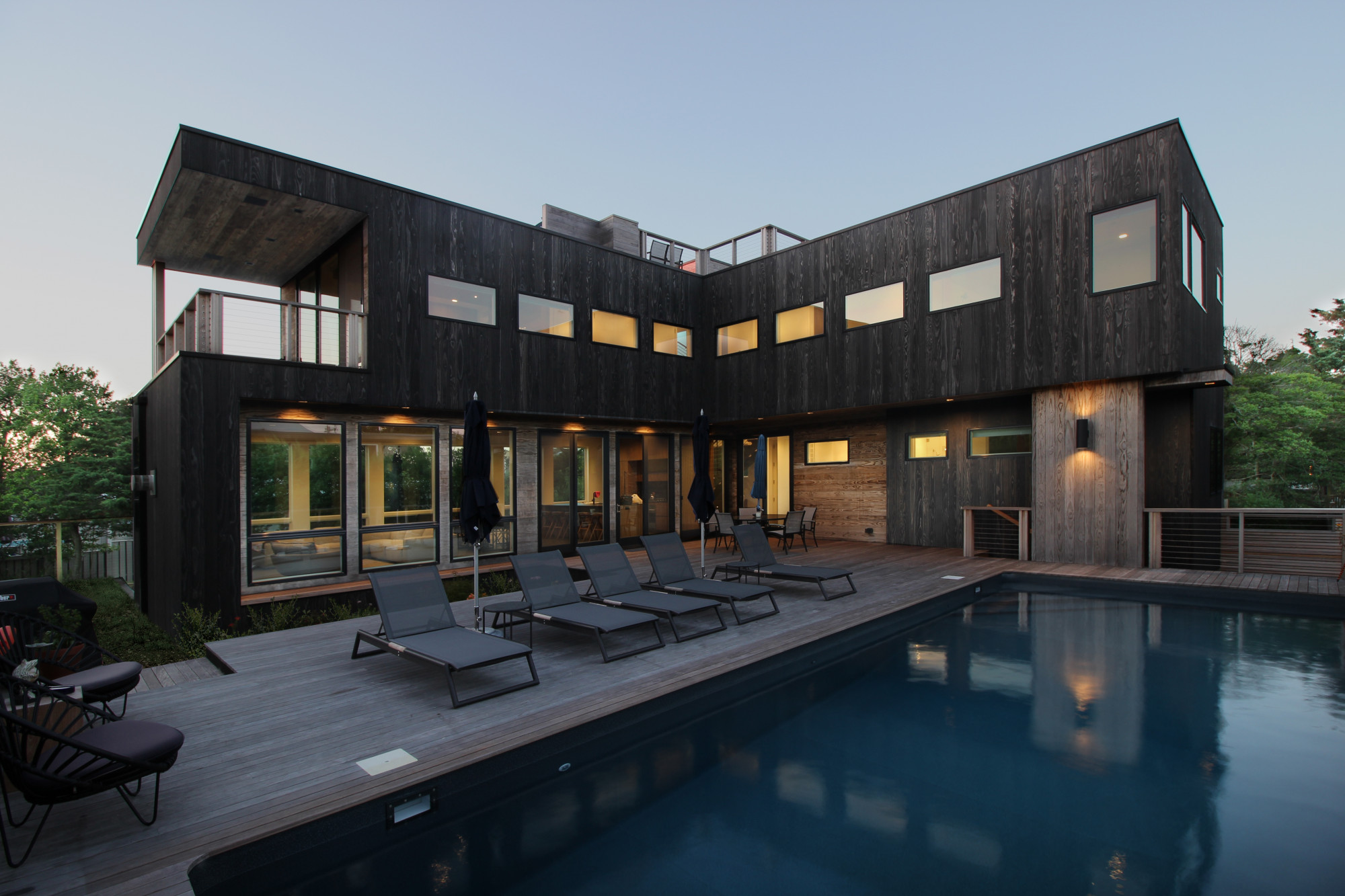 Located in Seaview, Fire Island, this 4 bedroom seasonal home was designed to celebrate the cherished indoor/outdoor experience of Fire Island. Designed by Paul Coughlin of Brooklyn-based PAUL architecture studio, this project utilizes UNAGI and TAKEI shou sugi ban charred Accoya exterior siding and LONGPORT black walnut flooring and ceiling cladding.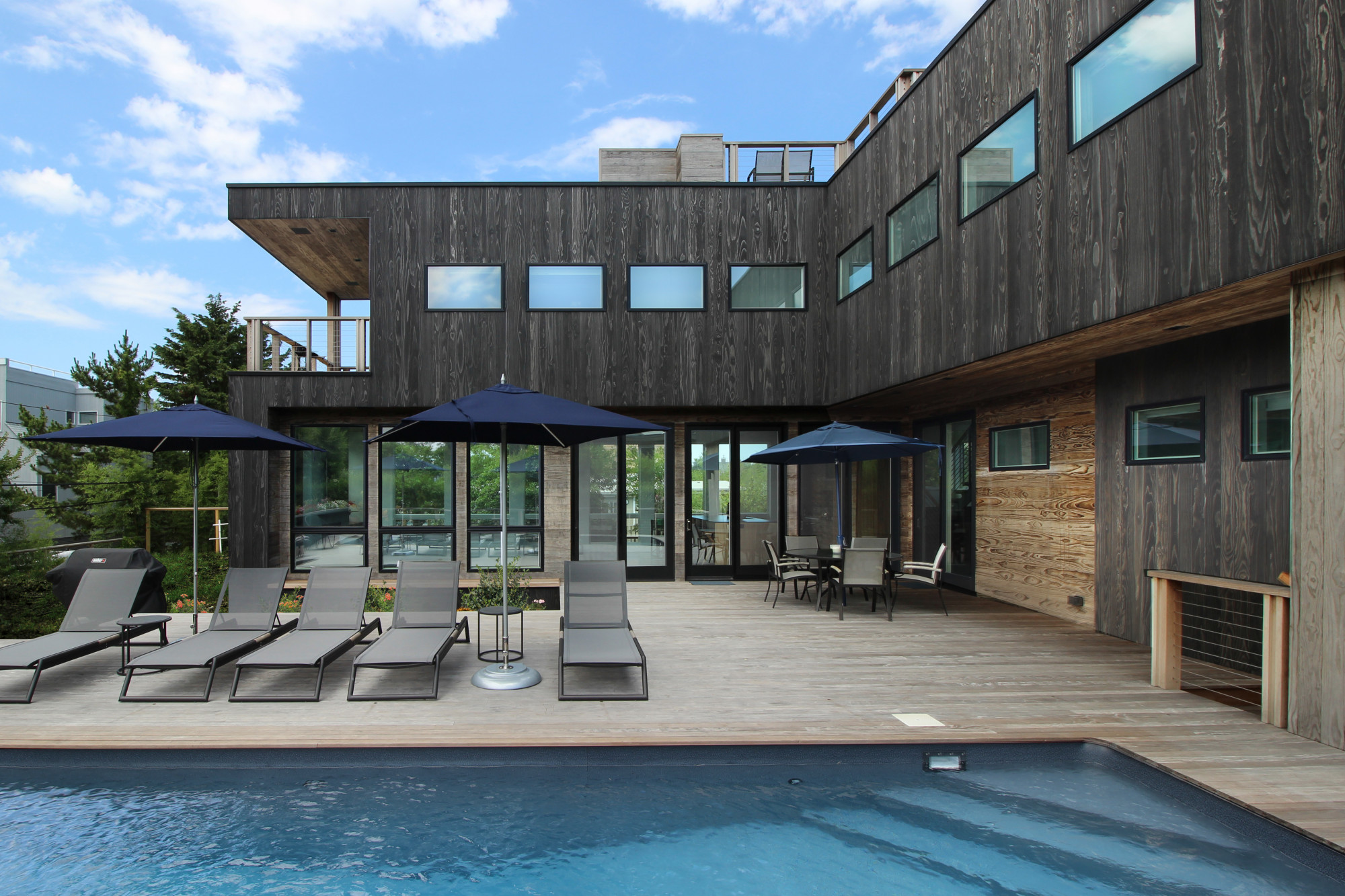 PAUL chose to place the home on the site to take advantage of the sun, wind and views of both ocean and bay. The square site required a precise arrangement of the house and pool that allowed the house to wrap the deck and pool, forming a barrier from the public walk. The "L" shape of the house creates a private enclave of exterior space. A modest roof deck allows for unobstructed sunset and sunrise views.
Clad primarily in reSAWN's UNAGI and TAKEI shou sugi ban charred Accoya, cuts, voids and punches are composed with windows, recesses and overhangs for seemingly unorganized facades.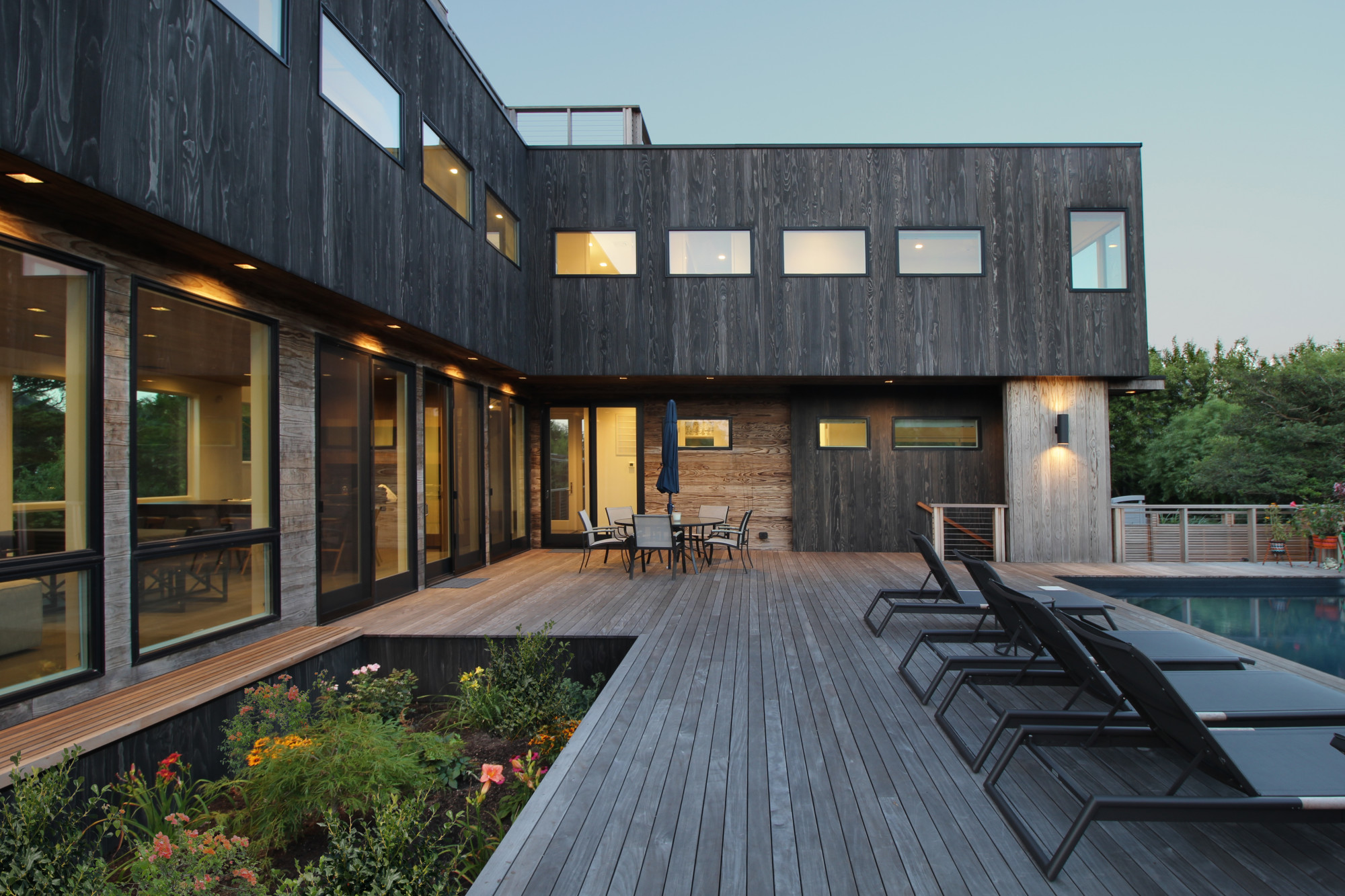 Functionally, the first floor is split at the entry into a south-facing living dining and kitchen zone, and a west-facing guest wing. Bedrooms and a den are located on the second floor. The first floor of the house incorporates reSAWN's LONGPORT black walnut as ceiling cladding, and then includes LONGPORT as flooring and wall cladding on the second floor.
EXPECT BEAUTIFUL WEATHERED WOOD
Our charring & sealing process makes for beautifully designed exterior wood siding. Like any exterior wood siding prefinished or finished in place, these materials will weather naturally over time and will require maintenance.
reSAWN's shou sugi ban CHARRED offering features cypress, western red cedar, Accoya, Kebony, black walnut, red oak, white oak and reclaimed hemlock that is burnt in the Japanese tradition of shou sugi ban. Our award-winning CHARRED products pay homage to the traditional Japanese technique of "shou-sugi-ban" aka "yakisugi" without being literal. Historically very specific in their definition, "shou-sugi-ban" and "yakisugi" have become common nomenclature for modern charred wood designs in general. All of reSAWN's CHARRED products are made in the USA, in our facility in Telford, PA.
Click here for the full Fire Island Residence project write up.