"Summer afternoon—summer afternoon; to me those have always been the two most beautiful words in the English language."

― Henry James
The first day of Summer isn't quite here yet, but as of late, we've been day-dreaming about sun-drenched afternoons, relaxing by the pool with a good book, reconnecting with friends and family, and last but certainly not least, packing our bags and making a carefree escape to a summer house destination.
Whether it's a home with pristine beachfront views or stunning a lakeside retreat, we've rounded up 8 architecturally pleasing abodes that satisfy our lust to wander. These picturesque homes will get your design pulses racing.
1. Private Residence, Seaview, Fire Island
A 4-bedroom seasonal home, located in Seaview, Fire Island, is placed on the site to take advantage of the sun, wind and views of both ocean and bay. The square site required a precise arrangement of the house and pool, that allowed the house to wrap around the deck and pool, forming a barrier from the public walk.
Clad primarily in reSAWN's UNAGI and TAKEI shou sugi ban charred Accoya, cuts, voids and punches are composed with windows, recesses and overhangs for seemingly unorganized facades.
2. Floating House, Lake Huron, Canada
Named Floating House, this two-story building provides a summer residence on the Canadian side of Lake Huron. Thanks to its pontoon base, the house adapts to the changing water levels of the lake, which rise and fall throughout the year.
Externally, the building is clad in a rain screen of cedar planks. Gaps between boards vary at different points, depending on the degree of light and privacy required.
If you are inspired by this look as we are, view reSAWN's BRIZA pre-weathered Atlantic White Cedar. For a slightly darker appearance, view our SANTA ANA weathered Western Red Cedar — It is the combination of durable cedar from the pacific north west and reSAWN TIMBER co.'s award-winning finishing process.
Architect: @mmmosarchitects
3. Private Residence, Montauk, Long Island
This Montauk home designed by Robert Young Architects makes use of rough sawn cedar left to weather naturally over time. In this image you can see the contrast between the exposed cedar which has weathered to a silver grey and the covered cedar still displaying its natural wood tone.
Wide, rough-sawn cedar planks on the exteriors are left untreated to let the sun bleach them out to the silvery hue of driftwood; raw zinc roofs will also develop a mottled patina in time.
reSAWN's pre-weathered designs allow you to achieve this silver-grey aesthetic exposed and covered from day-one. Explore our pre-weathered cedar designs for exterior or interior cladding.


4. Private Residence, Lake Okoboji, Iowa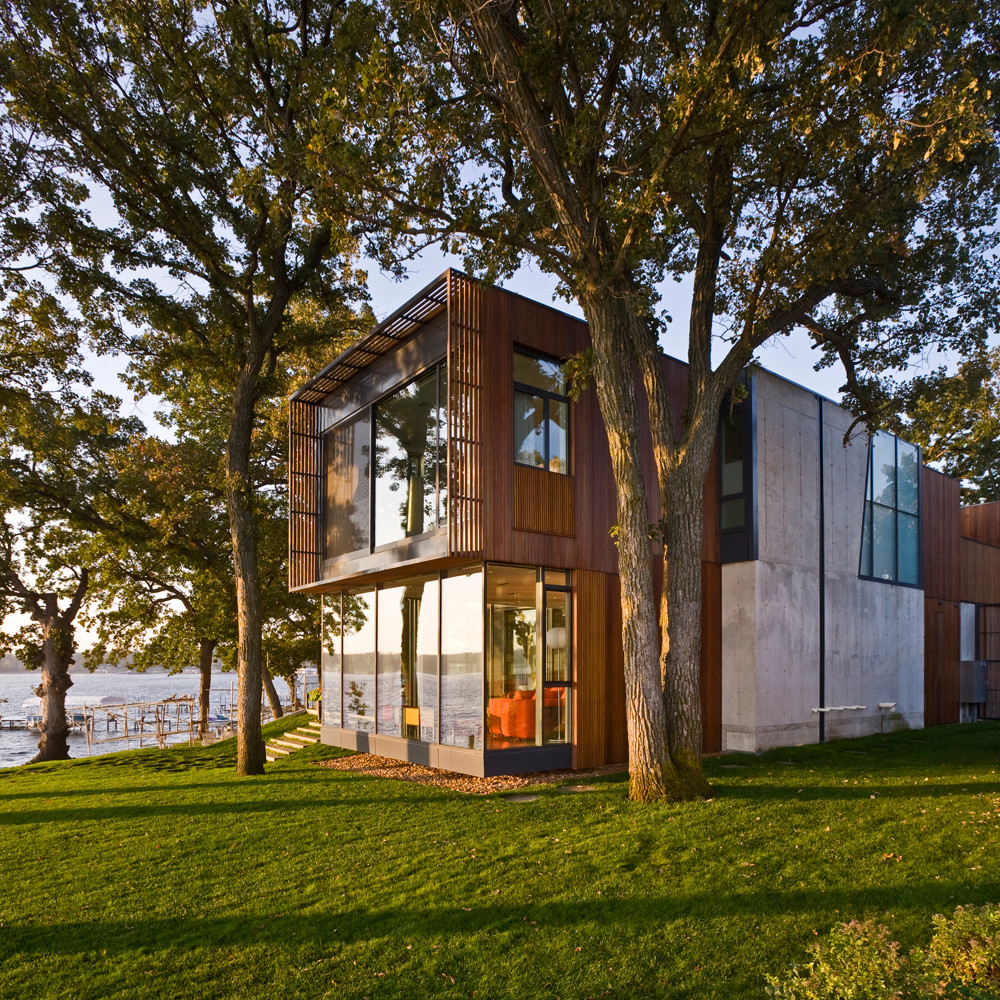 We are feeling inspired by the aesthetics of this vacation home on Lake Okoboji, designed by Min Day in 2008. Volumetrically simple from the exterior, opaque and slatted vertical wood clads are stacked over a set of spatial tubes (the primary living spaces) that are open to the lake and woods views, but visually closed to neighbors on the sides of the house.
Achieve the aesthetic with reSAWN's VEI or MORO designs on Kebony® wood – FSC-certified – these designs are sustainable, durable and require no maintenance beyond normal cleaning.
5. Private Residence, Amagansett, Long Island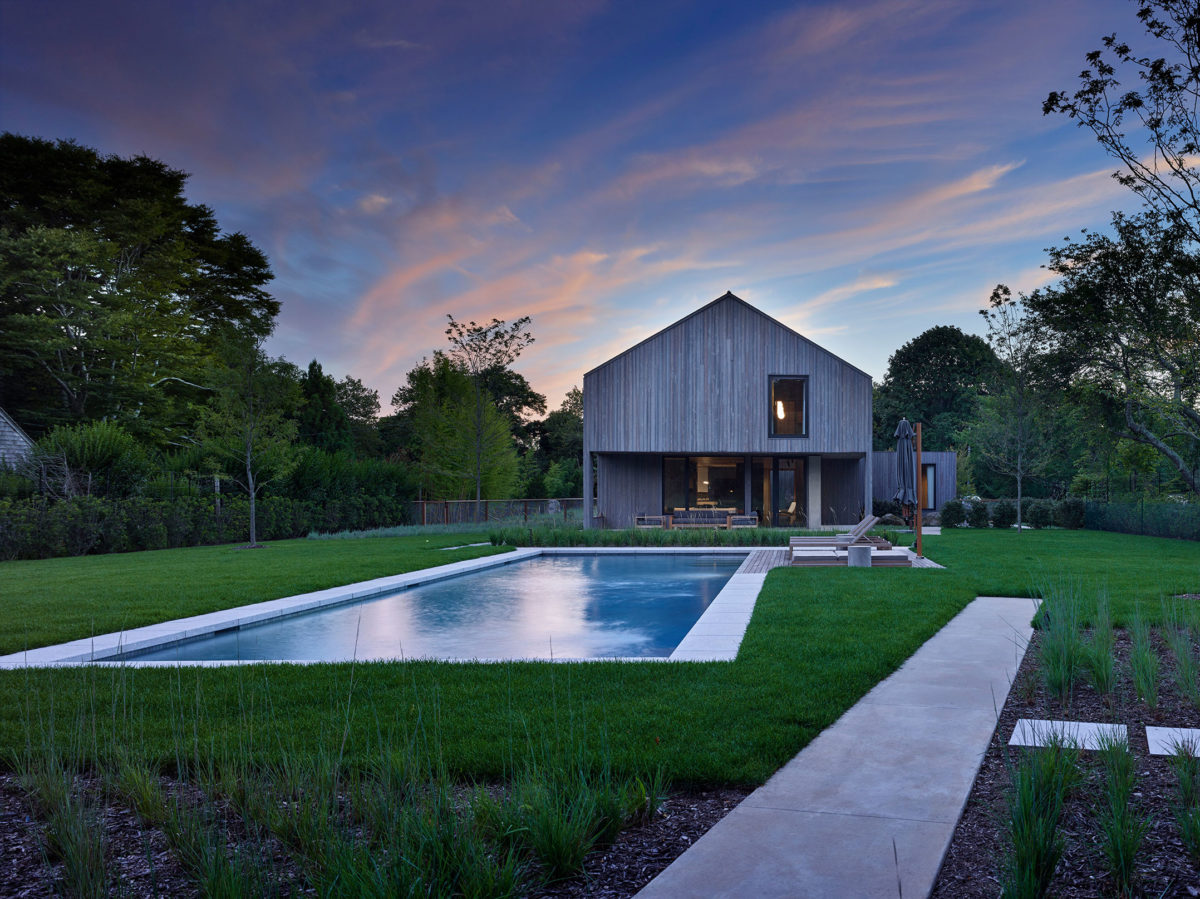 reSAWN's shou sugi ban charred cypress wraps this Amagansett home on the South Shore of Long Island. Designed by @mb_architecture. One of the challenges was creating a home that would accommodate the owner's wish for a maintenance-free house with longevity, inside and outside.
This led to building shapes and materials that would be hardy, devoid of delicate detailing, and require no re-finishing over time. All exterior materials, from reSAWN's custom shou sugi ban charred cypress, to raw concrete walls, to the zinc roof were chosen for their ability to weather and patina naturally over time. On the exterior of the house, the concrete gives way to the shou sugi ban charred cypress, which starts a play between these two materials that extends throughout the house.
6. Private Residence, Fire Island, New York
Originally featured in Architectural Digest in 1979, this Fire Island home has stood the test of time. Massive cedar piers, angled for shade, structure this home into a nine-square grid. Fences were hinged to lower down for completely unimpeded views of the ocean, and vice versa. Architect Arthur Erickson and Interior designer Francisco Kripaz.
Achieve this aesthetic with pre-weathered wood using reSAWN's TRUMAN shou sugi ban charred western red cedar and/or reSAWN's LEVANTERA weathered Atlantic White Cedar.
7. Private Residence, Lake Minnetonka, Minnesota
Overlooking the Brown Bays of Lake Minnetonka, the Wayzata Residence captures a lake house aesthetic with a light, airy color pallet and a natural, wood facade using reSAWN's NIGIRI shou sugi ban Accoya.
The private home takes advantage of the waterside views with large windows, an open deck, and a west-facing balcony that provides a winter view to Lake Minnetonka. Form meets function with transition spaces that allow the front of the house to act as a sound barrier with storage and utility areas while the back, lake facing portion of the house maximizes exposure to nature and relaxation. Featured in Residential Design – CASE STUDY :: The Shimmer on the Lake
8. Red Beach Private Residence, Auckland, NZ.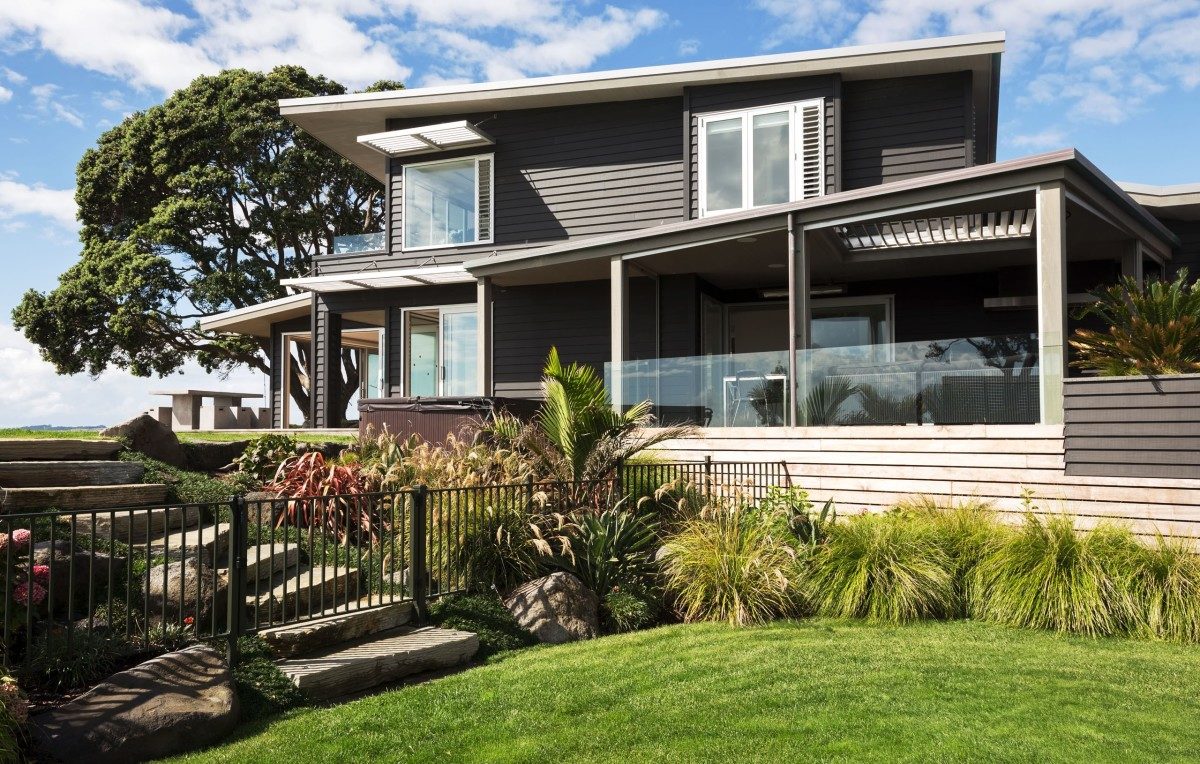 Accoya weatherboards have been realized on a private residence designed by Architecture 37 Limited, at Red Beach, Auckland, NZ.
Designed to fit in a coastal context, the beachfront home is designed to maximize views, yet provide comfortable outdoor spaces that can still be used when the sea breeze makes its presence felt.
reSAWN TIMBER co. offers several sustainable, durable options for real wood exterior cladding. All of our exterior cladding products are finished in the USA, in our facility in Telford, PA.
Contact us to learn more about our product offerings. Or view more inspiration by visiting reSAWN's exterior portfolio. Happy Summer!