Whether you're an architect, builder, or designer at some point decisions need to be made about the exterior envelope of a built environment. There are many exterior siding options on the market, such as fiber cement, metal panels, brick, stucco, and stone to name just a few. However, from a durability and sustainability standpoint, there is nothing quite like genuine wood siding. Besides bringing warmth and beauty to the exterior of a home or structure, sustainably harvested timber cladding is renewable, dimensionally stable, and solid. When finished with care and expertise, exterior wood cladding can handle harsh weather conditions with grace while maintaining beauty for years to come.
Why Finish Real Exterior Wood Cladding?
Wood is a natural, sustainable material. As such, when unprotected wood is exposed to outdoor elements like moisture, sunlight, and wind it begins to weather. Without a protective coating or treatment, exposed wood such as siding and trim will change in appearance in a few months or years when compared to the look of day 1 installation. Protecting and maintaining timber cladding is key to keeping it looking at its best for years to come. Finishes protect wood from the elements by preventing UV deterioration, moisture absorption, and staining from mildew and extractives. Finishes also improve the service life of topcoats and are often used to achieve a certain visual aesthetic.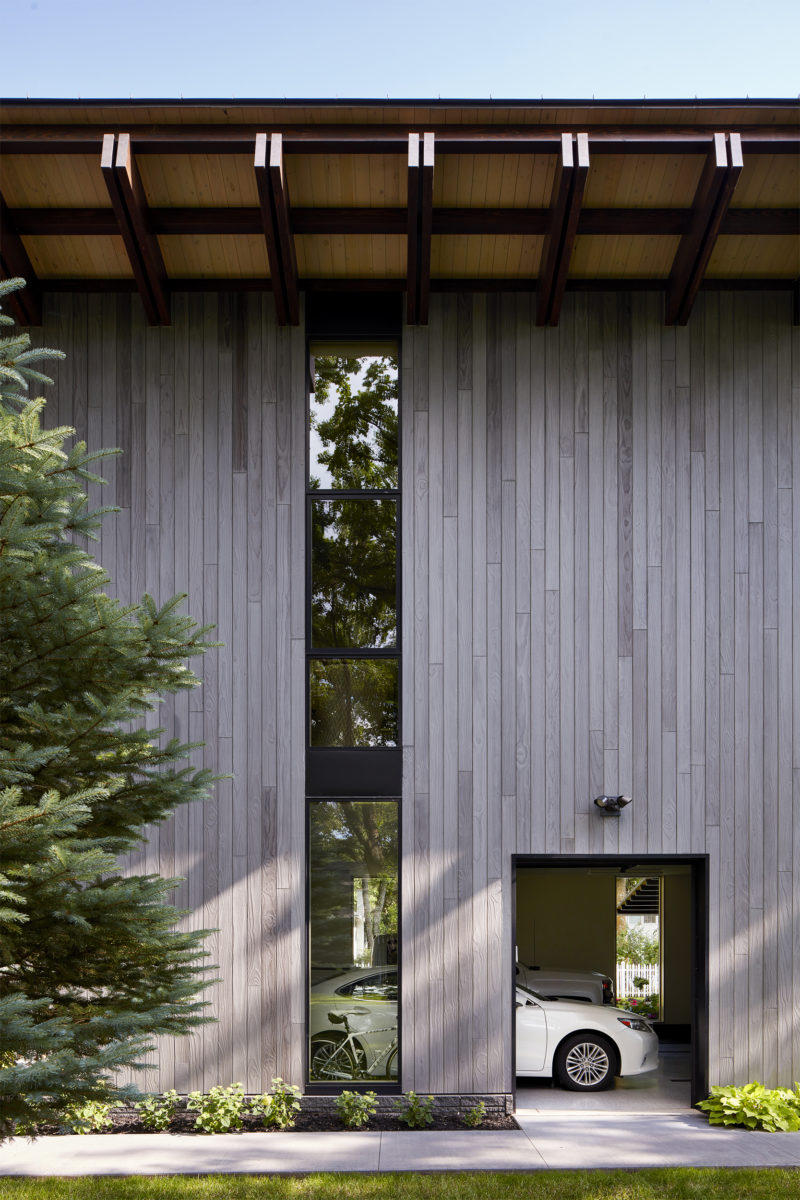 What is Prefinished Exterior Wood Cladding?
Prefinished wood cladding, also known as machine-finished or factory-finished is pre-coated or finished to a certain specification by a manufacturer prior to it being installed at a job site.
Even for the most experienced painter, it can be difficult to avoid minor on-site mishaps like oversprays, streaks, drips, job site dirt pick-up, or lap marks. Utilizing prefinished wood products provides several advantages over site finishing. When factory finished exterior wood cladding products are specified, it expedites field time and provides a consistent, fully vetted, quality-controlled product that can be installed year-round.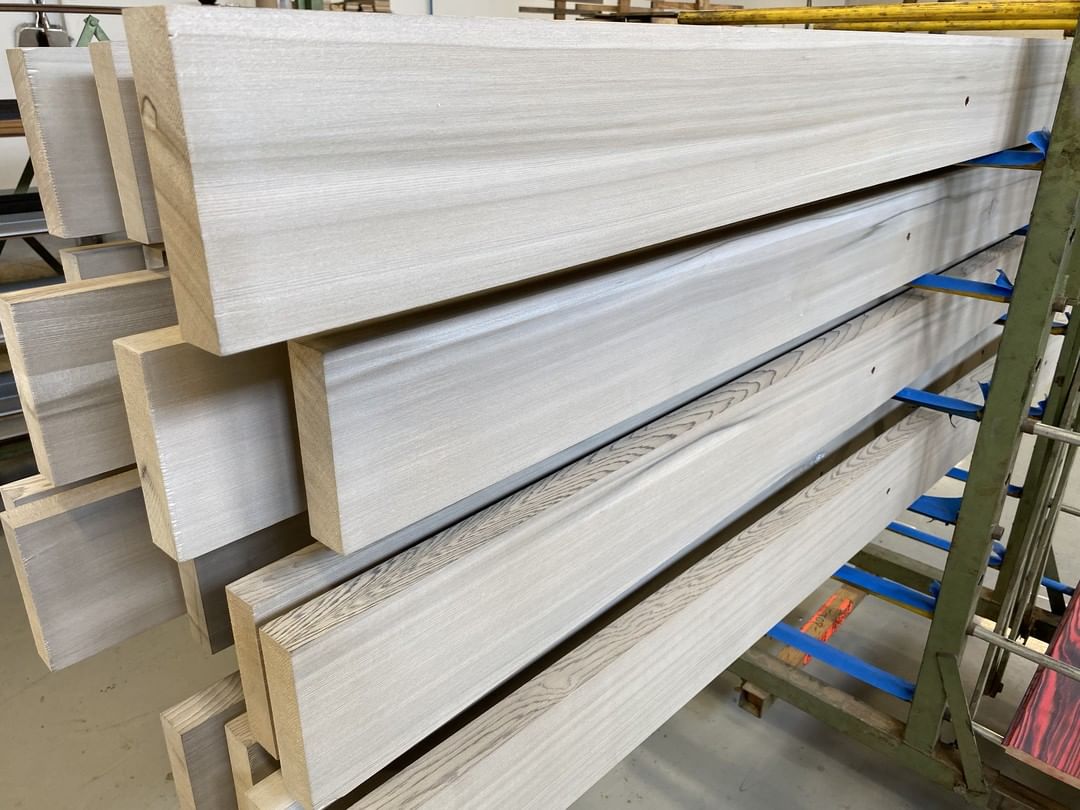 Benefits of Specifying Prefinished Cladding from reSAWN TIMBER co.
Research & Development – For each wood species, a certain understanding of how that species accepts finishes and how it will weather is crucial. reSAWN has the research, industry knowledge, and exterior wall assembly expertise to guide a specifier, builder, or end-user through the process.
Choosing Finish Options – We will ensure that the correct species and finish is selected for aesthetics, optimal coating, and product life cycle performance. Depending on which species is selected, many different finishes are possible.
Environmentally Responsible Finishes – Our finishes are ultra-low/zero VOC, plant-based, sustainable and can contribute to LEED projects.
Aesthetics – Our designs display wood's sought-after texture and character in their rawest form and provide a bespoke, modern, natural, visually appealing facade with exceptional durability results.
State of the Art Finishing and Texturing Equipment – Our state-of-the-art finishing and "texturing" equipment offers sophisticated results that cannot be achieved during on site finishing. While allowing for the beautiful natural variations inherent to wood, each board will be consistent in color from end to end and from the first piece to the last piece.
Maximum Finish Penetration – Our machine application ensures proper spread rates are maintained. Finishes are brushed deep into the surface for a longer product life span.
4 Sided Protection – reSAWN's products are sealed on all 4 sides, including the backside and the tongue and groove ensuring total protection from UV and moisture for the best protection.
Drying Time & Space – Drying racks that are used to hold wet cladding on a job site are costly and take up much-needed space. Prefinished wood materials are finished and dried in a controlled environment prior to arriving on a job site.
Product Protection – siding is protected from exposure to water and sunlight until it arrives at the construction site.
Cost – Prefinished wood siding may appear to cost more however this differential is made up for in terms of time saved. Factory-finished cladding can be installed much more quickly when compared to a facade that needs to be installed and painted. In many cases, the all-in cost of site finishing is likely to be more or at least equal to buying prefinished.
Save Space – Save physical space on a job site by eliminating the coating phase from the construction process.
Year-Round Finishing & Installation – No weather or humidity delays for stain application. reSAWN's manufacturing facility is climate controlled and operates 12 months out of the year.
Easier Maintenance – Our prefinished products look beautiful on day one and continue to weather as nature takes over – with little to no aesthetic maintenance needed. This leaves more time to enjoy the product and less time taking care of it.
Maintenance Free Options – Save time and money. Modified wood brands like Accoya® and Kebony® don't require any maintenance or additional treatment beyond standard cleaning.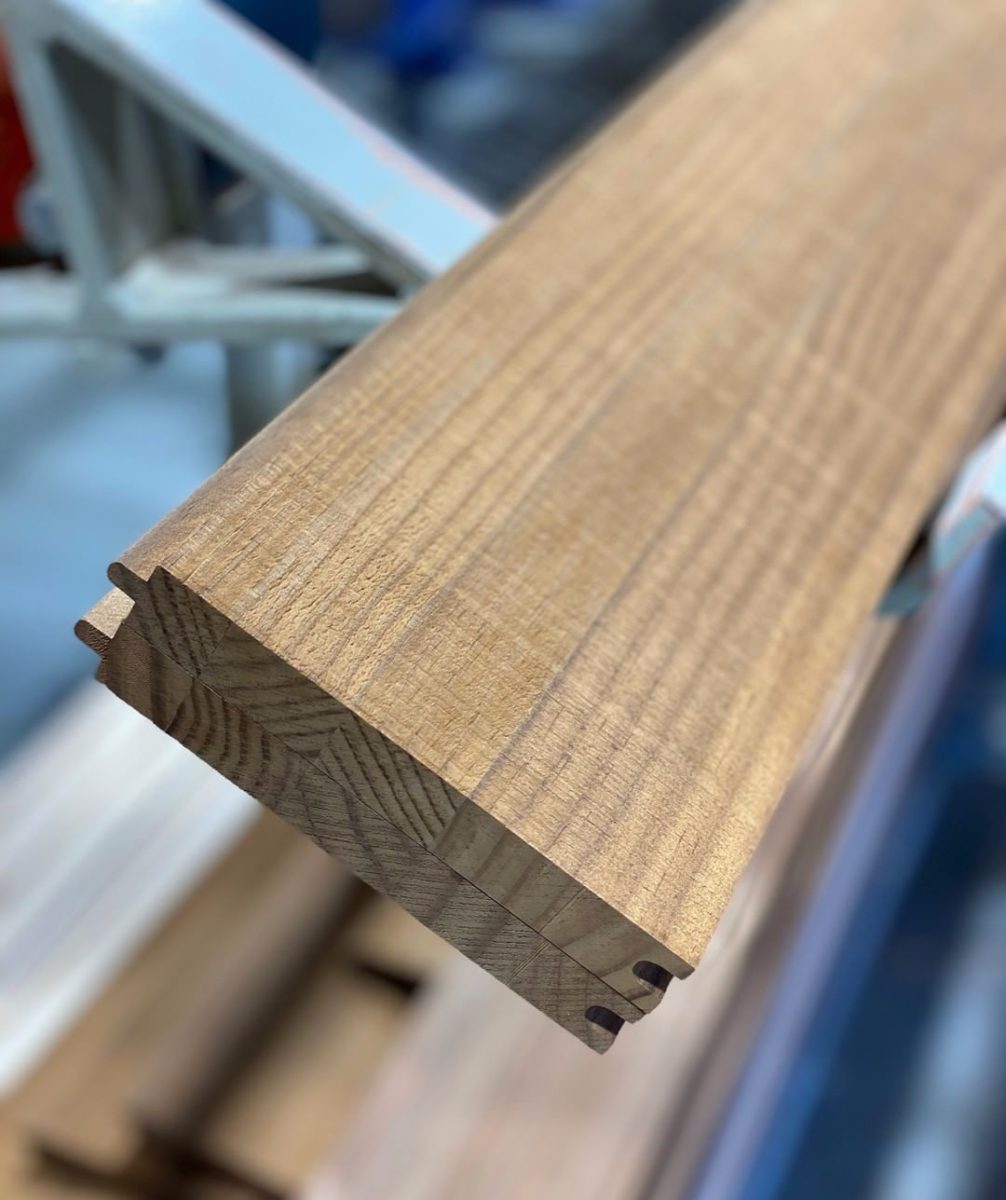 Prefinished Exterior Wood Cladding Provides Many Aesthetic Benefits
At reSAWN TIMBER co. we celebrate and visually leverage wood's inherent tendency to weather over time by designing stunning, modern, high-performance products that are rigorously tested and meant to patina gracefully. We offer a variety of aesthetically pleasing, low maintenance, plant-based, environmentally responsible factory finishes in a wide range of color options. If there's a specific color, stain or texture needed our finishing experts can craft the desired custom finish with ease.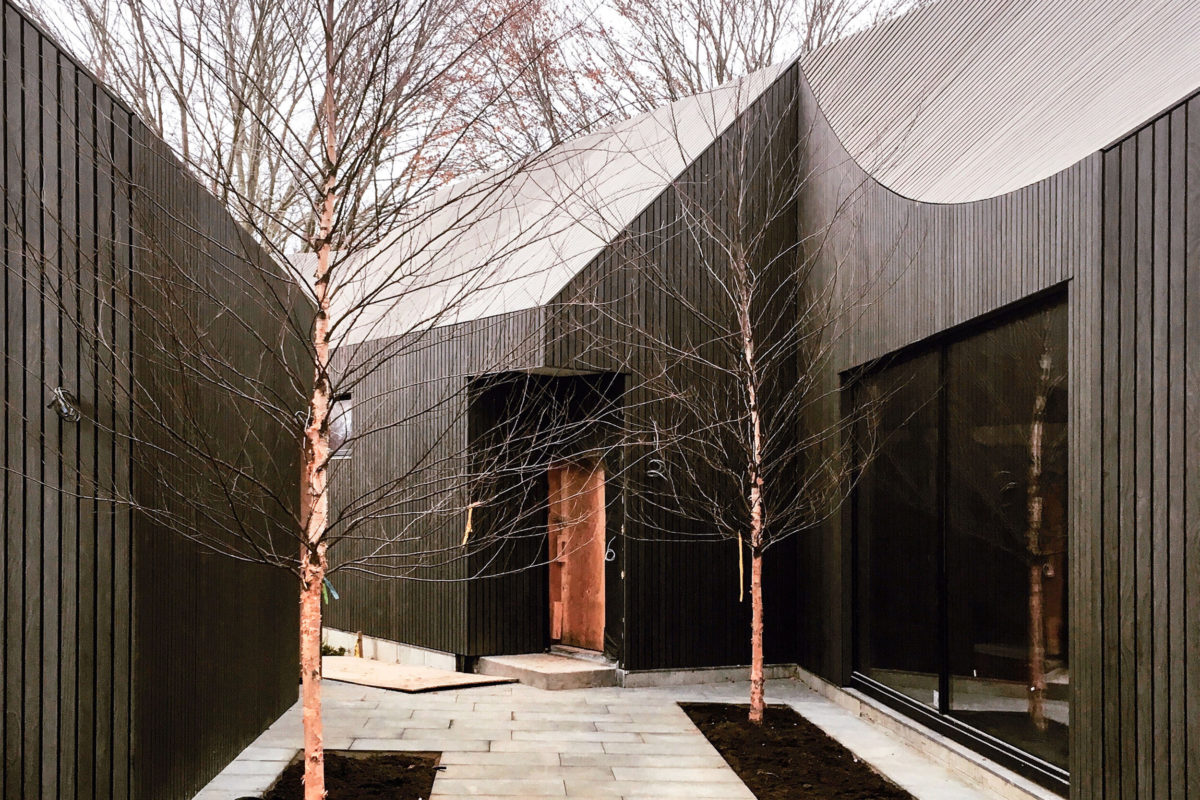 We developed our exterior prefinished product lines based on a need in the building materials market, the observations of experienced industry leaders, and a first-hand understanding of customer desires and expectations. That, combined with our exceptionally durable species offering and stunning No/ Ultra-low VOC finishes, will help maintain the value of a wood investment for many years to come. reSAWN offers a multitude of high-performing prefinished exterior species that include western red cedar, Atlantic white cedar, Abodo, Accoya, and Kebony.  In addition to weathered finishes, reSAWN's exterior offering includes award-winning charred designs. 
Pre-Weathered Designs
From day one, our pre-weathered designs pay homage to wood's naturally warm and cool tones without the need to wait years for it to patina. The prefinished material mimics the look of textured wood that has been exposed to years of exterior elements and left to weather with grace. This design solution solves for wood's natural propensity to gray out by resembling a weathered look at the time of installation, with little aesthetic change as it ages in place. Color and weathering expectations are set at the time of material specification since there will be little to no change in the color of the wood as it ages. reSAWN's pre-weathered offerings are sustainably harvested in the United States.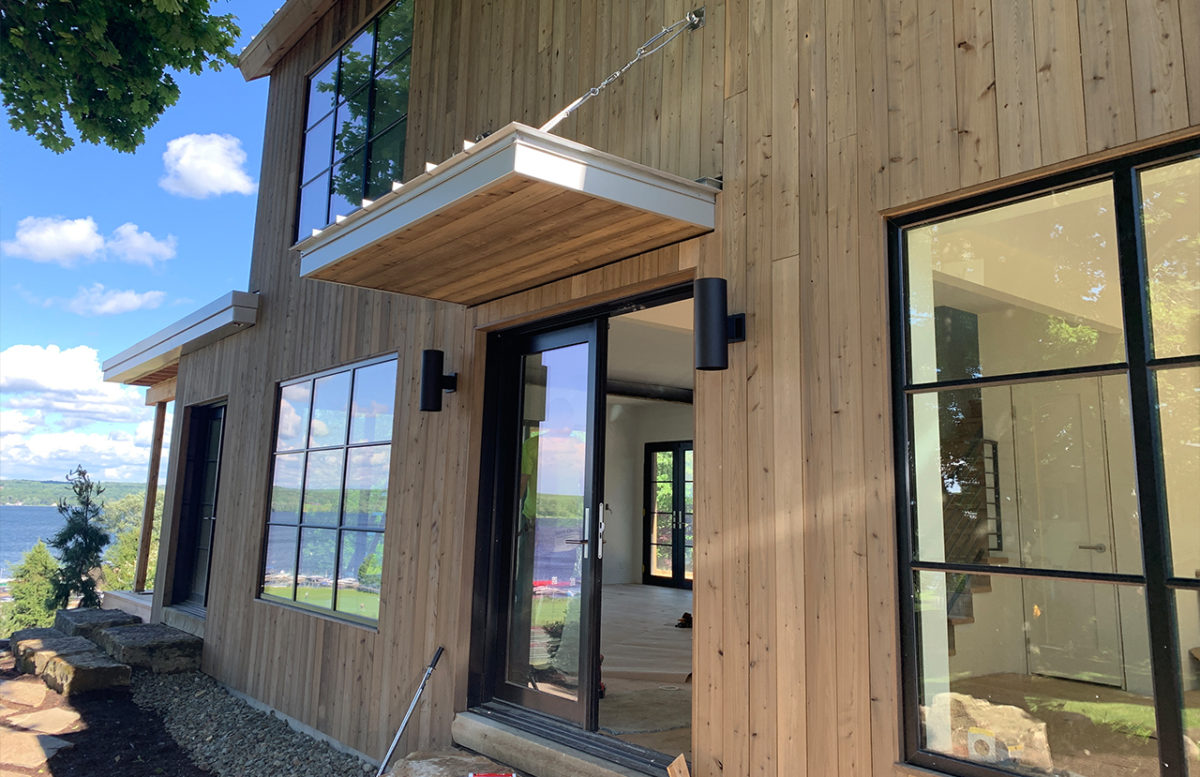 In many structures that utilize interior and exterior cladding, there's a visual division between the exterior wall cladding and interior wall cladding. With our pre-weathered wood designs, there can be a seamless interior/exterior aesthetic from day one when prefinished exterior cladding is continued into the interior of the structure.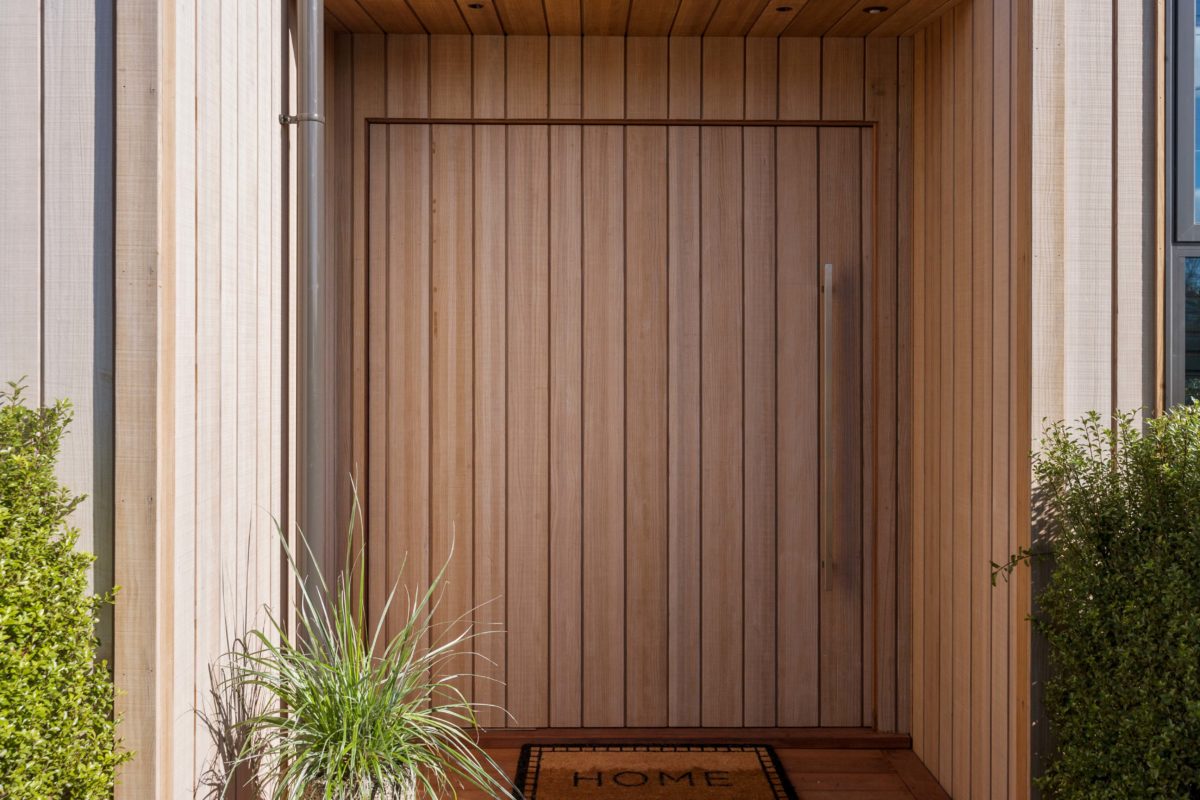 We work with a number of wood finishes to recreate the look of weathered wood. For example, SiOO:X is a premium wood protector that provides a long-term weathered look while providing protection – and can last up to 10+ years. This protection lasts a long time, so maintenance cycles are lessened considerably. In addition to the protective benefits gained, as the mineral silicate cures over time, it will start to turn the timber a beautiful, even silver/greyish tone starting from 10-16 weeks (depending on the timber species the weathering period may vary).
Charred Designs
reSAWN's CHARRED offering includes modified woods like Accoya and Kebony, Abodo, cypress, cedar, black walnut, reclaimed hemlock, and newly harvested western hemlock. The designs and species used vary greatly in color and aesthetics from a fully charred black to light, subtle gray.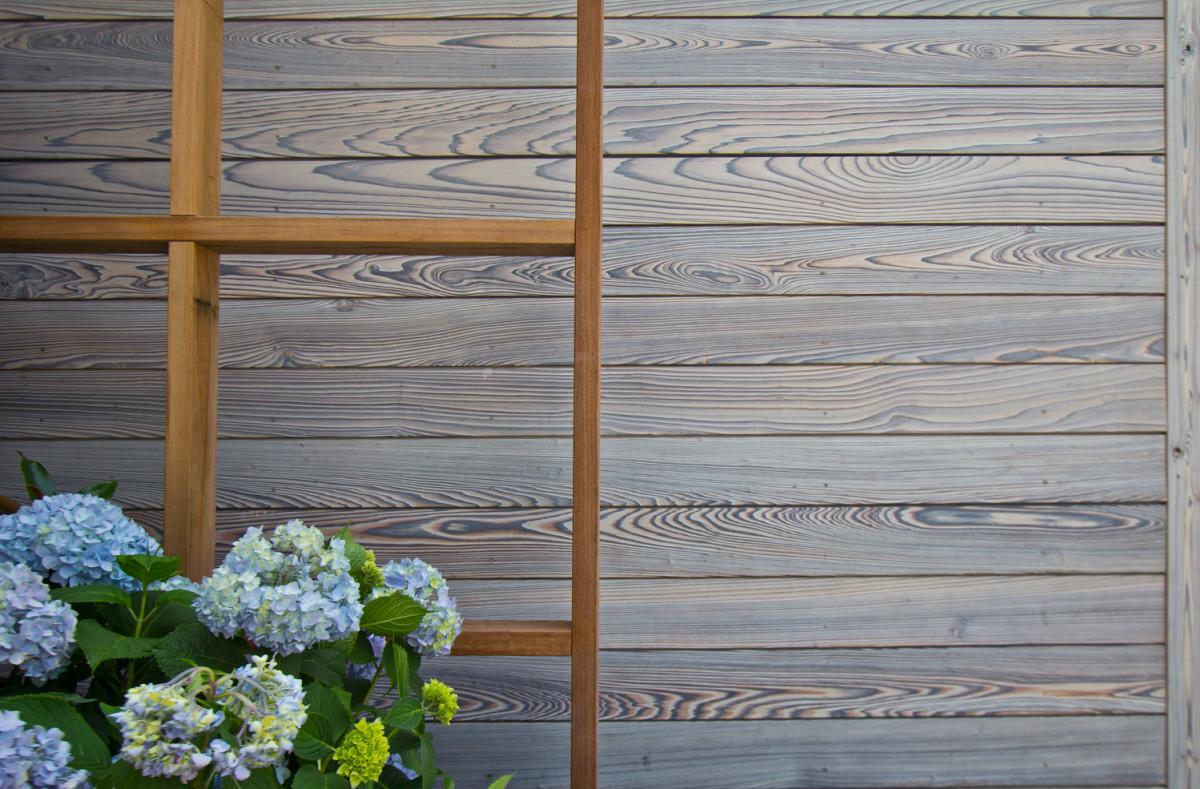 We apply our own interpretation to the ancient Japanese shou sugi ban process and take great pride in designing shou sugi ban products on high-performance modified woods. Modified wood aims to overcome the shortcomings of standard timber. The modification process enhances the performance of the wood, resulting in improvements in the longevity of timbers – dimensional stability, decay resistance, reduced water absorption, less expansion/contraction, etc. In addition, since most advanced modification processes are environmentally friendly, the materials can still be disposed of properly at the end of the product life cycle.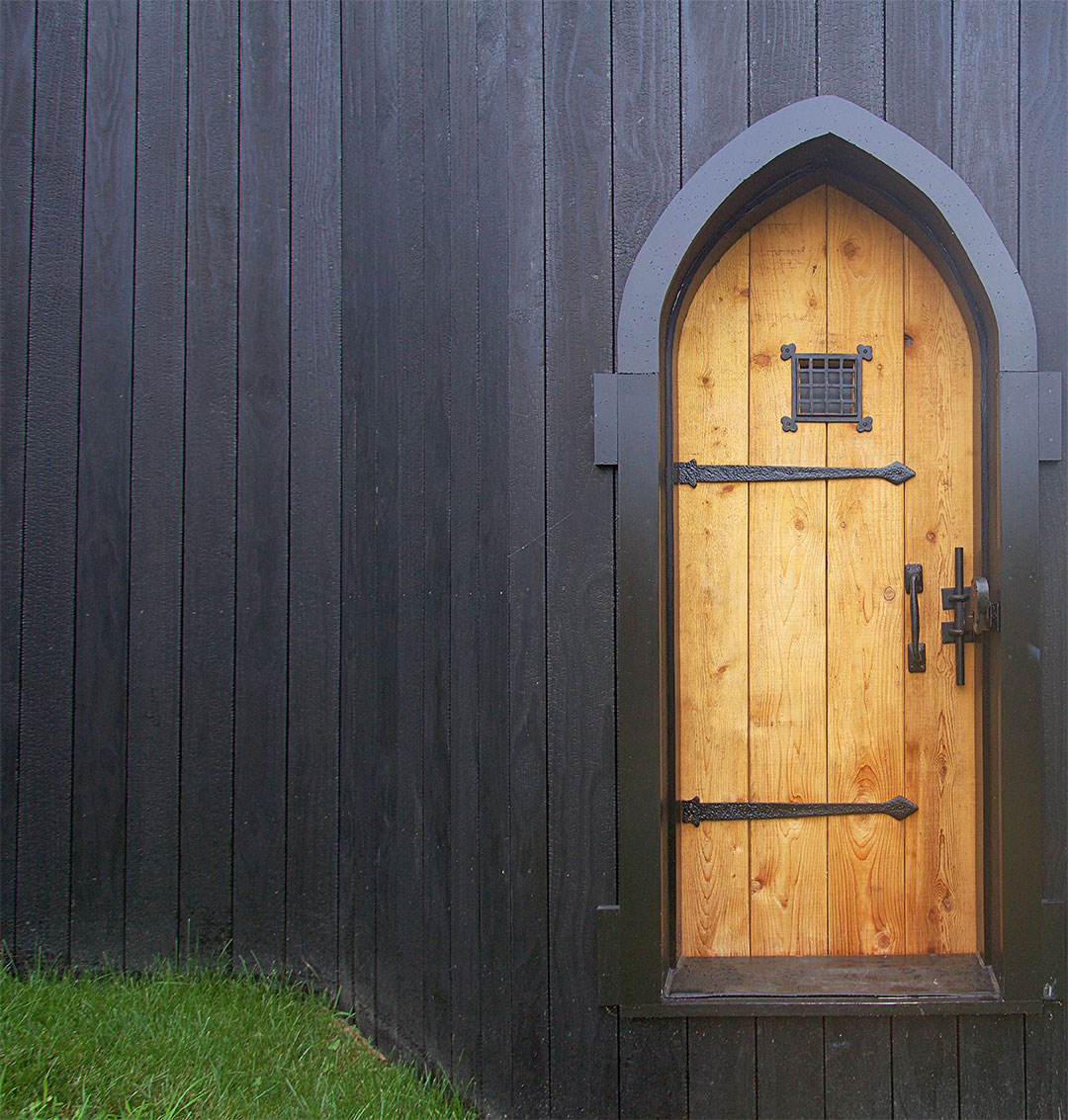 Using modified wood as a base for charring increases the durability of the wood, which makes it an excellent choice for a dimensionally stable option that will perform well when exposed to harsh exterior conditions like snow, sun, and rain. Plus, charcoal stays on the surface of modified wood much better than standard softwood species that will chip over time. Our modern manufacturing techniques allow for a higher production yield and many design variations.
reSAWN TIMBER co. Philosophy
The reSAWN team works with wood's natural tendency to grey, not against it. Our prefinished products look beautiful on day one and continue to as nature takes over – with little to no aesthetic maintenance needed depending on aesthetic expectations.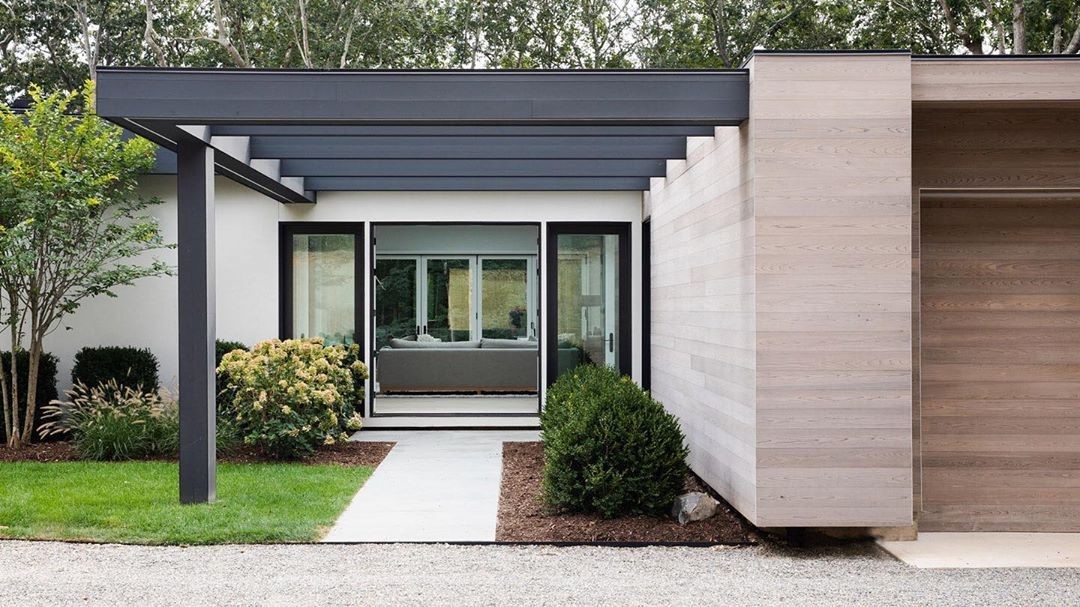 Each board works cohesively together, yet each board has its own visual story. The result is modern textural beauty & inherent originality with each and every project. From the start, expect color and texture that is one-of-a-kind and incredibly interesting.
Samples of our prefinished wood are available for architects and designers at no cost and shipped via UPS Ground. Click on the button below to explore reSAWN's complete product offering – sort by species, color, or application.