For specifiers and building owners who are considering roofing options for a new or existing structure, weighing the pros and cons of building material options is part of a typical build process. Roofing material is highly visible and takes a beating from climatic elements, so choosing a high performing, durable, energy-efficient material is a must on the priority list.
In the United States and throughout the world, the former and current concerns about climate change and the environmental health of our planet are propelling a large number of homeowners, architects, interior designers, and building owners to search for sustainable, eco-friendly building materials. Due to this much-needed shift in focus, timber cladding products have seen a resurgence and are steadily becoming the material of choice for many buildings and structures that we see in our cities and suburbs today.
To be clear, cladding is the application of one material over another to provide a skin or layer. In construction, cladding is used to provide a degree of thermal insulation and weather resistance, and to improve the appearance of buildings. Cladding can be made of a wide range of materials including timber (real wood), metal, brick, vinyl, and composite materials that can include aluminum, blends of cement and recycled polystyrene, wheat/rice straw fibers.[1] When we refer to timber cladding (as it's commonly referred to in Europe), we're referring to real wood cladding or as it's typically known in the United States, exterior siding.
According to Statista: The green building market will be among the fastest-growing industries worldwide. The number of LEED-certified projects in the United States rose from 296 certifications in 2006 up to over 67,200 in 2018.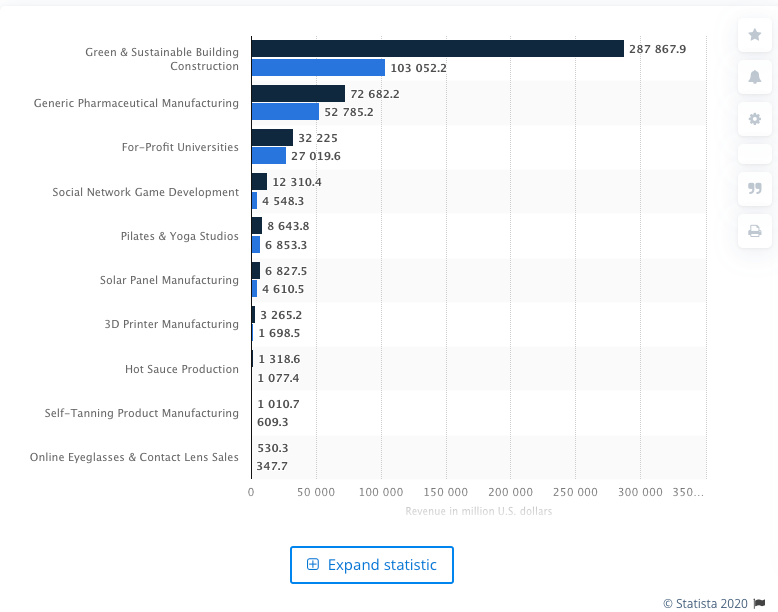 When it comes to roofing materials, wood cladding that is sustainably harvested is arguably one of the few environmentally-sound roofing options. It's well-positioned as an eco-friendly alternative to Zinc roofs which have been popularized in recent years.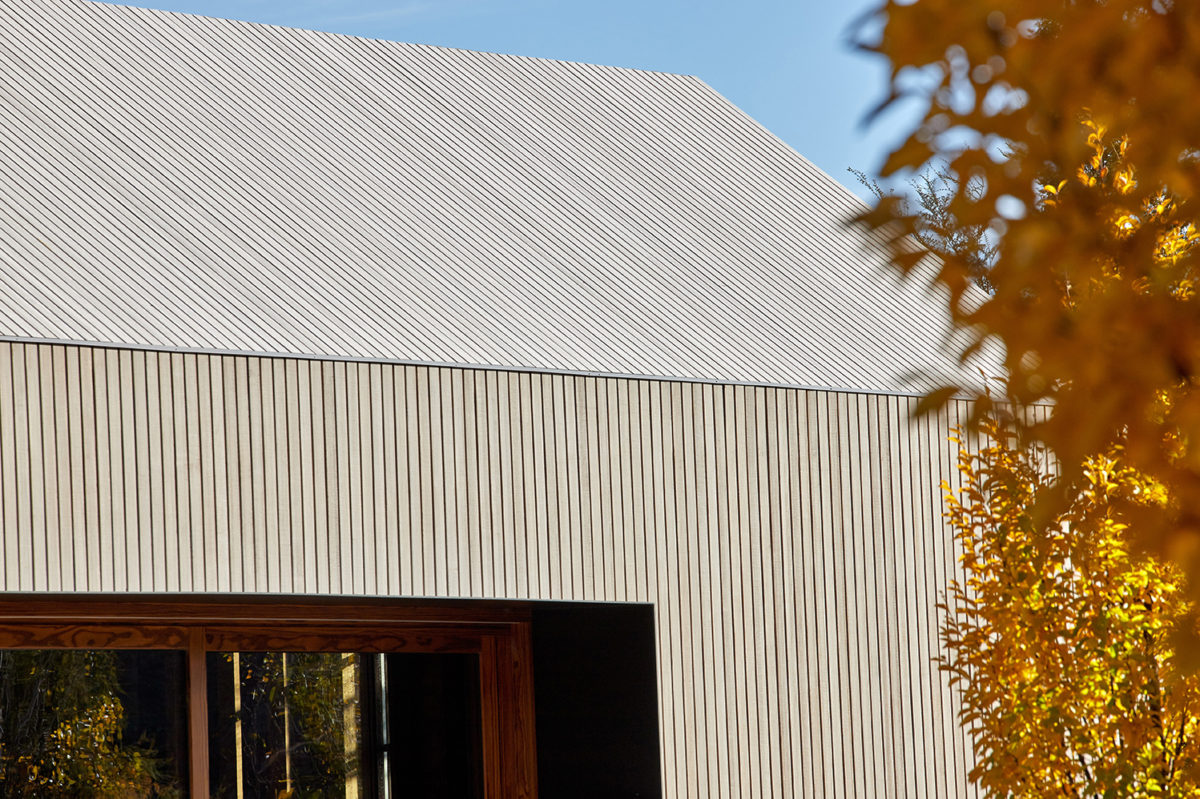 Real wood is a renewable and recyclable resource. It's energy-efficient to produce, it performs well over its lifetime, and at the end of the product life cycle, can be disposed of or up-cycled in an environmentally sound, and friendly manner. Plus, timber stores carbon, which plays an important role in reducing carbon emissions outdoors.
The application of exterior wood cladding protects structures from outdoor elements like sun, wind, rain, and snow and helps to maintain the structural integrity of the built environment as well.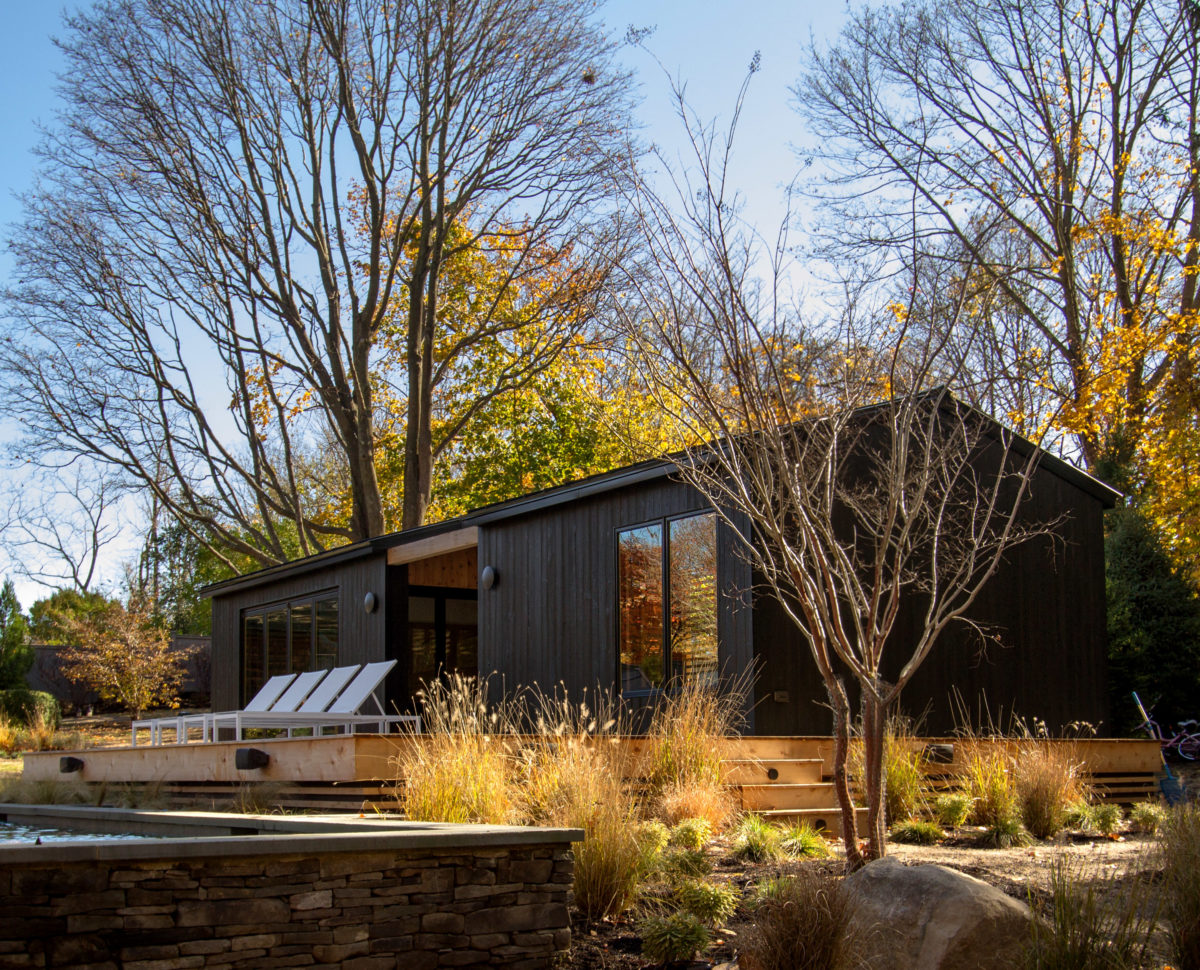 The Revival of Real Wood Siding in the Built Environment
Evidence of the timber cladding revival becomes increasingly obvious when we look to current day exterior and interior designs in the architecture, design, and high-end construction industries. Timber is regarded as the 'natural' building material of choice and its use denotes an industry shift to choosing building products that are a good fit for the built environment and our planet.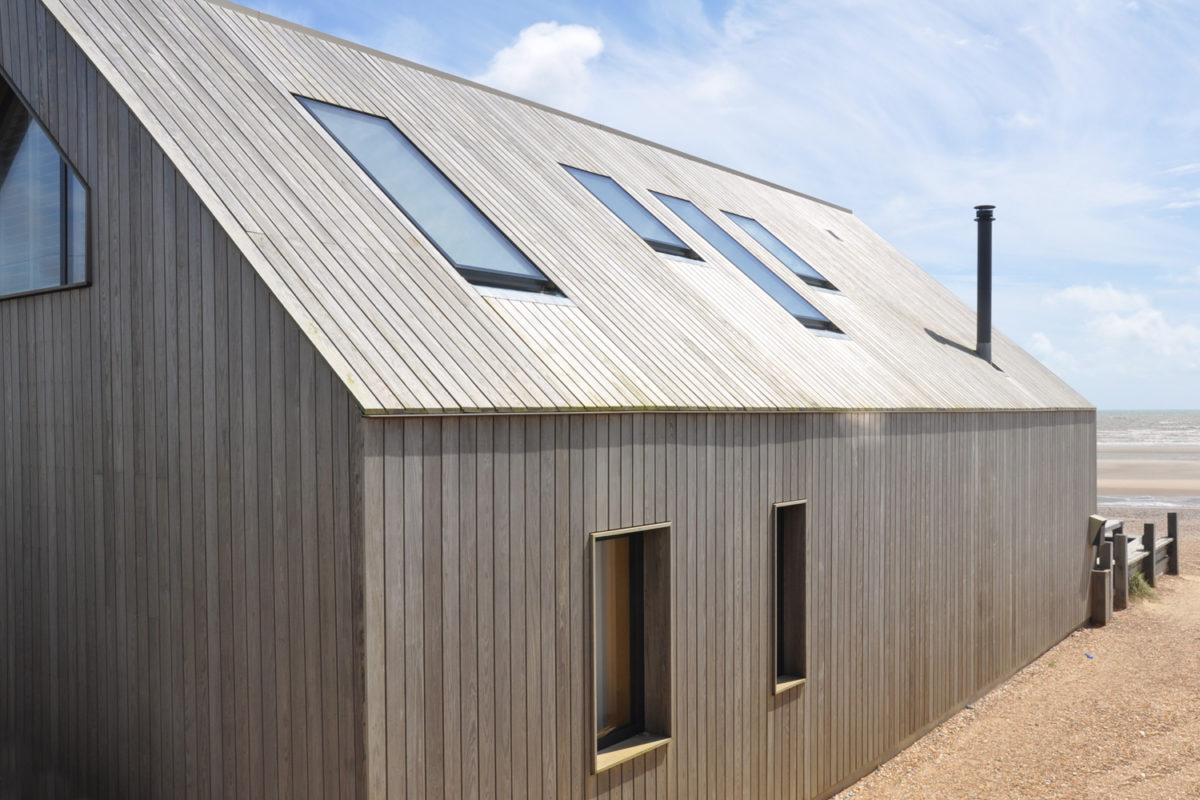 Examples of timber-clad roofs can be found in areas within northern Europe, like Norway, Sweden, Finland, and beyond. Scandinavian style, vertically laid timber-clad structures have been an eco-friendly, highly-stylized choice for many architectural designs throughout history and in modern applications as well.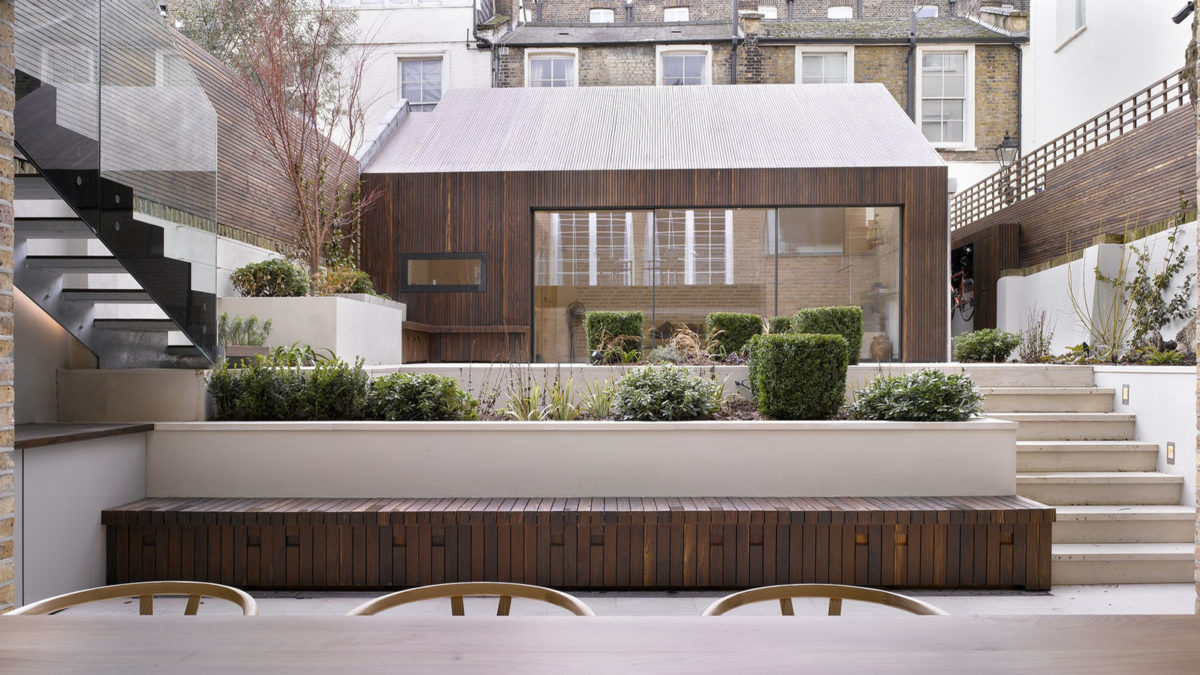 The United States has seen an uptick in interest for timber roof cladding and timber clad structures within recent years – especially in progressive areas like the Hudson Valley region of New York state, Los Angeles, California, and the Hamptons on the southeastern end of Long Island. The design typically utilizes the same timber cladding species and finishes on the exterior walls and the roof which creates a bespoke, avant-garde, seamless timber-clad structure. Exterior cladding can be installed in many different configurations and patterns, though timber-clad roofs are typically installed vertically. This style is ideal in modern architectural designs where the slope of the roof is highly considered and regarded as a key focal point.
Weathering Characteristics of Real Wood Roof Cladding
When real wood cladding is exposed to environmental elements such as moisture, sunlight, and wind, the physical attributes of the material will change in appearance in a few months or years, aesthetically evolving over time. Weathering should not be confused with rotted or decayed wood. Wood rot is a form of decay that results from a combination of fungi (microscopic organisms) and moisture. Wood must be consistently damp to foster fungi growth since fungi will not grow on dry wood. On the other hand, weathering is a surface phenomenon that typically only affects a small portion of the surface area. The material will stay almost unaltered for a long time. If modified wood is used for the application, maintenance is not needed to keep a warranty valid with certain manufacturers, like Accoya. The weathering characteristics of real wood cladding create a unique, timeless, and durable roofing material. The benefits and style cannot be recreated or mimicked with any other roofing option on the market today.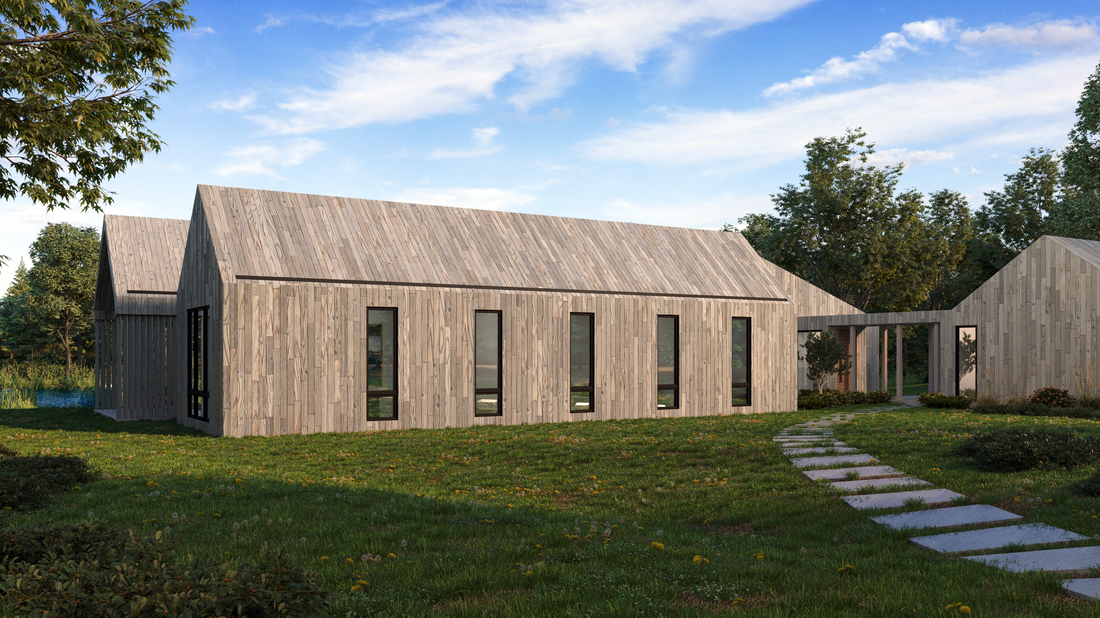 Timber Roof Cladding Benefits
Timber cladding is a versatile, timeless building material that works well in traditional or contemporary architecture.
Real wood cladding offers a range of aesthetically pleasing, environmentally friendly species & finish options.
In most cases, a timber-clad roof does not need to be replaced in its entirety. If damage is found on a wood plank roof, only the damaged boards need to be replaced.
Aside from bringing warmth and beauty to the exterior of a home/structure, timber cladding is dimensionally stable, water-tight, and high performing. It handles harsh weather conditions with grace.
When it comes to weathering of wood plank roofing, the shift from day-one color to soft greys & light brown tones is an aesthetic by-product to be savored and celebrated.
When you choose wood cladding for your clients you can guarantee a modern, one-of-a-kind aesthetic that cannot be replicated. Each board works cohesively together, yet each board has its own visual story.
Wood has the lowest carbon footprint of any conventional building material. It requires less energy to create the finished product than other manufacturing materials such as concrete, metal, or plastic. Plus, most of the energy used comes from renewable biomass like sawdust which is a natural byproduct when timber is sawn and milled.
Due to air pockets in its cellular structure, wood is a natural insulator. Therefore, it is 15 times better than masonry, 400 times better than steel, and 1,770 times better than aluminum, according to Planet Arch.
Not only is wood cladding as a roofing material renewable, recyclable and biodegradable, but it also has strength, toughness, and durability that far exceeds many other roofing options on the market today.
Timber Roof Cladding Product Options
Modified wood brands like Accoya, Kebony & Abodo are great options for timber roof cladding. State-of-the-art wood modification processes enhance the performance of real wood, resulting in improvements in the longevity of timbers – stability, decay resistance, reduced water absorption, less expansion/contraction, etc. In addition, since most advanced modification processes are environmentally friendly, the materials can still be disposed of properly at the end of the product life cycle.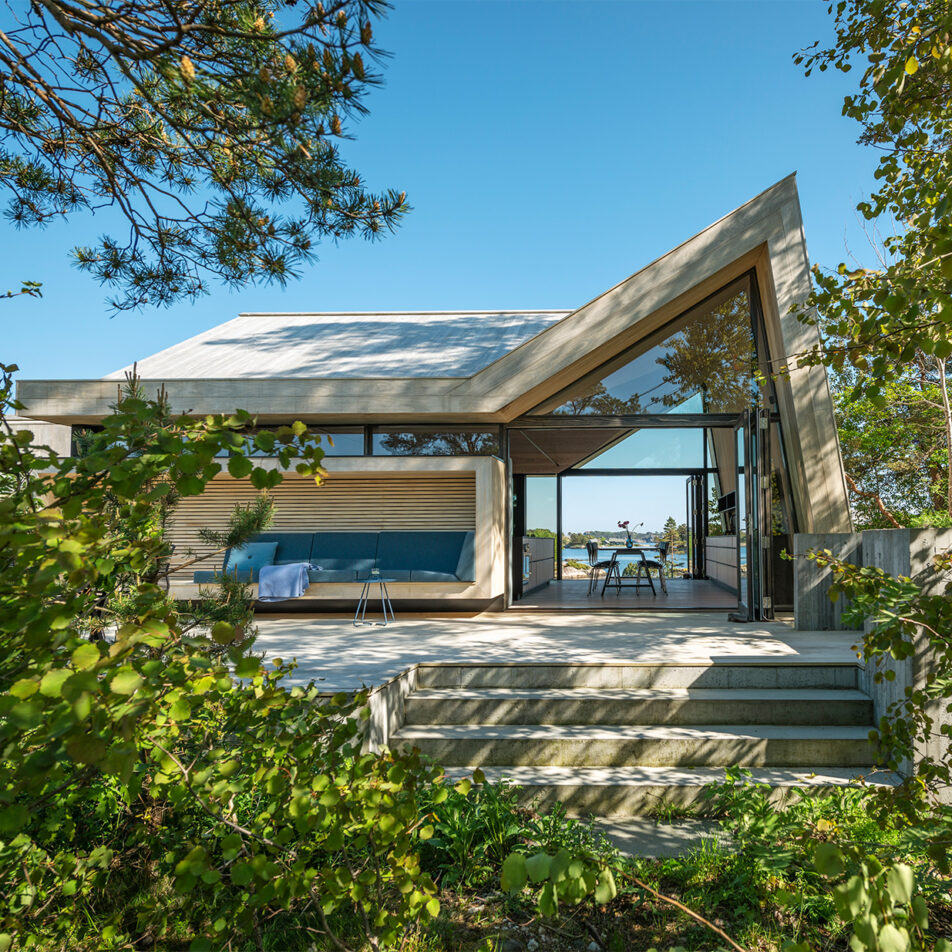 Selecting clear vertical grain timbers is also an option since straight-grained timber is more dimensionally stable in challenging environmental conditions. WILLIWAW by reSAWN TIMBER co. features Alaskan yellow cedar that is sourced from Alaska to Oregon and intended to provide a high performing, natural material with a weathered aesthetic. In addition to modified wood and Alaskan yellow cedar, reSAWN offers a multitude of high-performing exterior species that include western red cedar and Atlantic white cedar. We also offer charred designs, which are inspired by the Japanese tradition "shou sugi ban."
Best Practices and Installation Suggestions for Wood Roof Panels
EJOT® EJOBAR PVC – The Simple-Fix Solution for Reinforced PVC Membrane
EJObar is a multi-purpose bridging bar that creates a fixing base for a wide range of applied systems, including wood roof cladding. It's easy to use for almost anything that needs to be secured onto or over the single-ply membrane system.
Simple to Use and Easy to Install
EJObar can easily be installed to new or existing reinforced PVC single-ply membrane roofs where approved by the specific membrane manufacturer. For applications where an item needs to be restrained or secured to an approved reinforced PVC membrane, like wood cladding, especially where resistance to uplift is required, EJObar should be hot-air welded by a suitably qualified installer.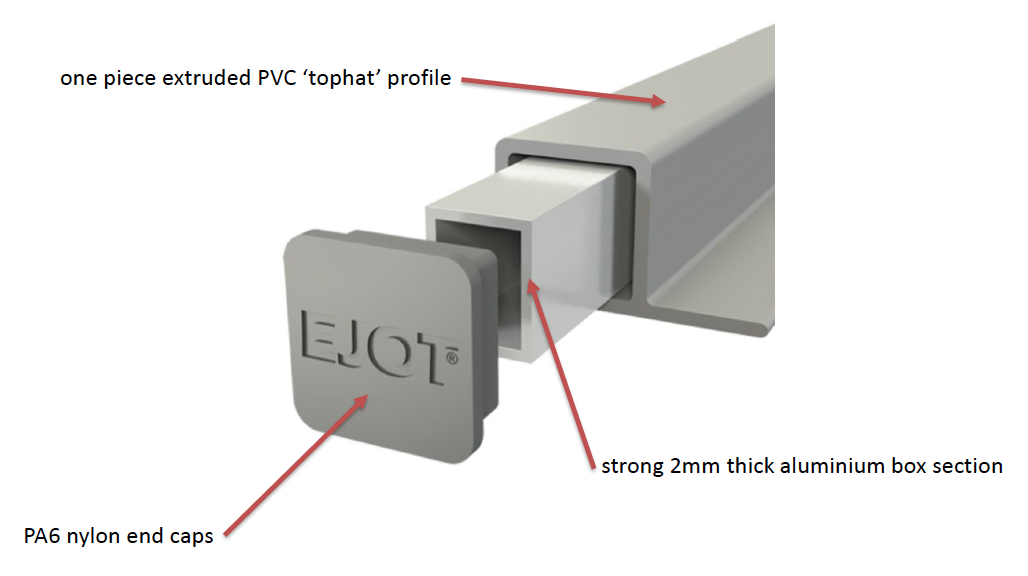 EJObar Benefits:
Clean, professional solution – no penetration of the roofing membrane is required
Creates a strong, watertight fix
Ideal for most single-ply membranes
Ideal for carrying applied cladding systems
Practical, adaptable, and low in cost
Easy to weld or can be used free-standing
The profiles can be fitted on a new build and just as easily on an existing roof membrane as long as it is in good condition
The lightweight profile can be used as carrier support for cedar shingles, metal or wood planking, or as a carrier for trellising for vegetation.
EJObar is supplied in a number of helpful lengths and consists of a PVC profile that encases a solid aluminum insert with two end caps sealed tightly. Contact us for section details of recommended roof assembly when using EjotBar and reSAWN Cladding.
EJOT, the maker of EJObar is a family-owned business headquartered in northern Germany. The company was founded in 1922 and consists of 5 manufacturing sites in 10 countries.
reSAWN TIMBER co. is dedicated to providing high-performance, long-lasting wood roof cladding material, and has developed its product line based on observations of experienced industry leaders and a first-hand understanding of architectural market needs. If you'd like to learn more about using our timber cladding as a roofing material with the EJObar, get in touch with us. We're happy to assist.
reSAWN makes no claim to the effectiveness of the designs or the performance attributes that can be expected if any of the following details are executed on a project. As is always reSAWN's recommendation, all project conditions should be executed ahead of time via performance and/or a visual mock-up well in advance of material delivery to the project site. All architectural details and attachment solutions should be vetted by an architect or engineer prior to installation.